Google Games feels a bit like the Olympics of tech, with teams from rival colleges coming together to strive for victory in events that test the limits of their endurance -- mental endurance, at least.
This is the biggest year yet for Google Games, which began in 2007 as a battle between Stanford and Berkeley at the Mountain View campus. It's now expanded to seven Google offices around the country, including New York City, which hosted its first Google Games Saturday. Despite competition from NYU's HackNY, Google Games drew over 30 teams and 175 students.
Organized by the university outreach program, the event is designed to give students a taste of the Google lifestyle. Teams raced to complete challenges designed by Googlers, featuring geek trivia, puzzles, a word association game, coding challenge, and game blitz, with favorites like Angry Birds, PacMan, and Sporcle. Top performers in each event earned Lego blocks and battled to be the first to build a complete Lego hot rod, at a pace Rutgers's Vaibhav Verma called "frantic but fun."
Princeton's Chick Magnetic dominated with an overall speed record, and each member left with a new Nexus S phone. They beat Carnegie Mellon's previous record while solving an additional puzzle, which team members boasted was also the hardest. Nucleon, also from Princeton, took second, while Columbia's Charles and the Zhangettes nabbed third place.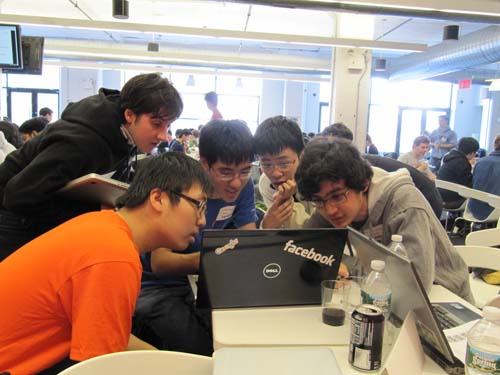 Princeton's Emily Lancaster speculated that Google was interested in recruitment, though she noted that "Google doesn't need to get more people interested, everyone's already interested in Google." Most participants weren't too worried about Google's motives -- they were just there to enjoy it.
Though Michael Sobin, of Chick Magnetic, thought the victory could be "a mark in [his] favor," students planning to gain an advantage in next year's recruiting cycle shouldn't get their hopes up.
"Coming in first will not get you an interview or a job at Google," said Jessica Bagley, the official Google Games organizer. "This is just a great way for us to introduce students to Google and bring the culture to colleges."
Nonetheless, it can't be a coincidence that the largest year yet for Google Games coincides with its attempts to bring on record numbers of employees.
Rebecca Ginsberg, from Google's communications team, said they couldn't release official target numbers but planned to top the 6,000 new Googlers brought on board in the 2007 record hiring year.
The Google Games initiative certainly fits with recent statements from Google executives that they're trying to streamline a hiring process said to be quirky at its best, but also needlessly arduous with a tendency to neglect entrepreneurial talent.
A few participants interned at Google the summer before, and said that although the interviews still feature the famous Google brainteasers, the application process wasn't as bad as they'd heard, and no worse than those of other popular companies, which also featured on-site interviews, an emphasis on credentials like students' GPAs, and challenging questions.
Students were kept on a tight leash -- no photos were allowed outside the competition room, the puzzles and coding challenges required non-disclosure agreements, and no information about the games was "Google-able" prior to the event (Bagley said the latter is because the event wasn't open to all universities).
Still, given the notoriously secretive hiring process, a full-day Google extravaganza was a rare opportunity for the students who came, and for Google. Though it's no secret that Google is one of the most sought-after employers among today's top technical students, with the exception of the handful of former interns it was participants' first interaction with the company.
"Everyone I talked to was so excited about Google, since it says a lot about the company that they'd organize something like this, even if it is recruiting," said a participant from Columbia. "It's the exact group of people they're hoping to hire, so I think it was a really smart move."