One explanation for the fact that the first production since 1865 of a major historical Italian opera based on Shakespeare'e Hamlet was presented in Albuquerque, New Mexico could be that Albuquerque is less than 200 miles from the city of Roswell where UFOs are routinely sighted. A better explanation is the extraordinary enterprise of Opera Southwest and the obsession of Anthony Barrese, its Principal Conductor and Artistic Director since 2011, who in 2004 produced a critical edition of Amleto's score and presented a scene from Act 3 with apprentices of the Sarasota Opera.
The importance of the production was of such magnitude that Opera Southwest attracted major reviewers from New York, London and Milan; in so doing, the 43-year old company put itself on the international operatic map. It also sold out the three performances to a large and similarly enterprising, opera loving audience many of whom Opera Southwest shares with Santa Fe Opera 60 miles up the road and half a mile higher.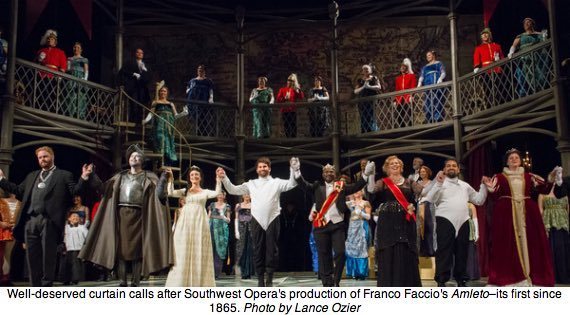 Amleto was composed by Franco Faccio, who was immensely gifted, ambitious and smart. When the two operas he composed failed, he turned to conducting and became one of the major creative forces that drove Italian opera to continued greatness. During his years as music director of the Teatro alla Scala opera house in Milan, Faccio became known as a conductor of Verdi's music at La Scala, in different parts of Italy, and abroad. At the Milan Conservatory he struck up a lifelong friendship with Arrigo Boito, who would write the librettos for Verdi's Falstaff and Otello.
Verdi would not compose his two operas on Shakespeare plays, however, until 1887 and 1893. A quarter of a century earlier, Faccio and Boito couldn't wait and went ahead with their grand opera based loosely on Hamlet.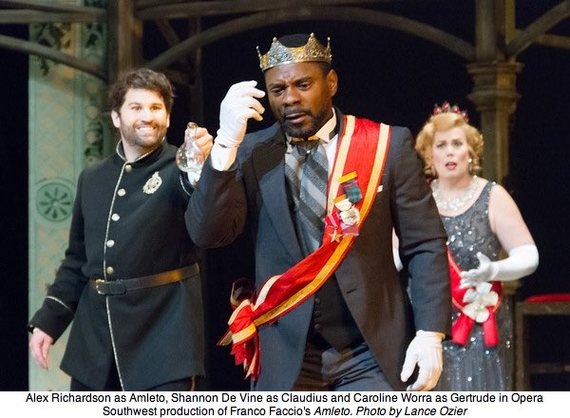 Written for Genoa's Teatro Carlo Felice, Amleto was given its premiere on 30 May 1865 with some of the finest singers of the day. There were several highlights-Ofelia and Amleto's duet at the finale of the second act, Ofelia's canzone in the third, and the funeral march of the fourth-but nothing particularly memorable.
With a limited budget that would have had other, less risk-taking companies wringing their hands, director David Bartholomew mounted a production, set in Denmark in the early 20th century, that persuasively captured the opera's epic theatrical flow and sweep.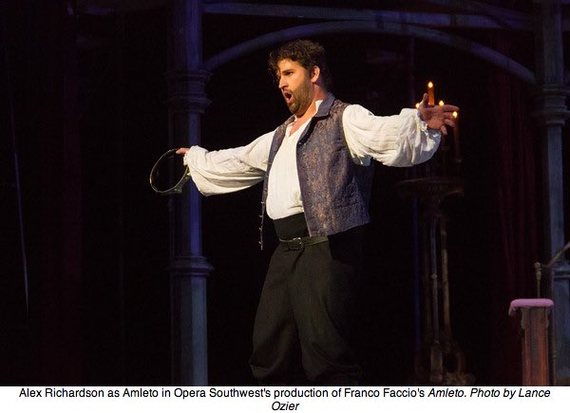 The cast was led by a charismatic Alex Richardson who triumphed throughout as the heroic yet disoriented Prince of Denmark, Abla Lynn Hamza as a touching Ofelia, and Shannon De Vine as a profoundly conflicted Claudius. The rest of the cast may have been uneven but were obviously spurred on by Barrese in the pit at the helm of an occasionally virtuosic orchestra.
There is something endearing about Italian opera from the second half of the nineteenth century even when it scaled less than Verdian heights. When Amleto was composed and briefly produced before being lost in the mists of operatic time, the newly invented daguerreotype was high tech. If you wanted to be entertained by searing romantic soap opera--and in those days it was in the literal not the figurative sense--you depended on a regular flow of new episodes. It was inevitably hit and miss; but let's face it, Seinfeld's George Costanza didn't always save a whale, but you watched each new episode just the same.
In the dramatic truth and emotional passion of the production, and the skill of the ensemble, Opera Southwest's Amleto was unforgettable. But it was no whale.