For a month I've been away in Europe covering festivals for Strings magazine.
I have not been to the great festivals of Salzburg and Lugano, Verbier and Aspen. Instead I habituated small chamber music festivals in Tuscany, the Périgord Vert part of the Dordogne, Prades near the Pyrénées in southern France, and Kaposvár. Once more, the proof was made: Under the right circumstances, and surprisingly often and vividly, these smaller festivals can be your best bets for finding that ambience of intimacy and relationship under which music rises to its most heightened levels of experience. A great return on your cultural travel investment dollar, too.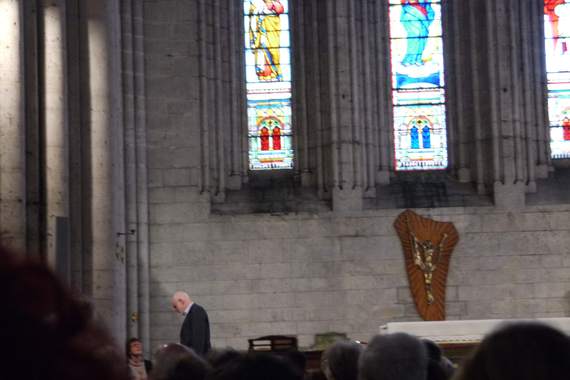 Ton Koopman at the Itinéraire Baroque festival 2014. Photo by Larisa Pilinsky
One of these magical events was the 13th season of Ton Koopman's Itinéraire Baroque festival in the Dordogne region of France at the end of July
The festival consisted of a five-day series of pilgrimages to towns and villages in a quiet, rural region 400 miles southwest of Paris, which also provided the perfect excuse for celebrating the 35th season of Koopman's world-famous Amsterdam Baroque Chorus and Orchestra.
The region is remarkably rich in history. 2014, for example, marks the 400th anniversary of the death of a colorful Renaissance chronicler from the area named Brantôme; and the totally delightful concert of his music took place in a former château where his body lies to this day. It was part of the Saturday agenda.
The festival also reflects a close bond between Koopman and the hosting communities. Initially the great Dutch musician and scholar had moved to the Dordogne simply for a vacation to recharge his batteries. Once he settled in, and began to know his neighbors and make new friends, he created Itinéraire Baroque as a gift.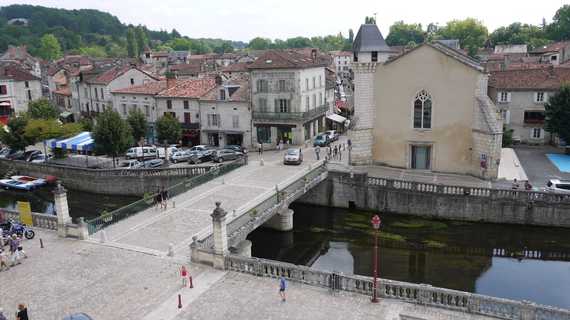 Brantôme in the Dordogne. Photo by Larisa Pilinsky
The Dordogne is a wonderful place to travel to and the reasons are many; there are friendly people to meet, beautiful places to visit at your leisure, and pleasant, reasonably priced places to stay. The area is full of picturesque chateaux, numerous small restaurants, fields of bright yellow sunflowers, and lots of picture post card hiking, biking and just plain tooling through the terrain.
There aren't too many tourists, either, for the pleasures of the region are often small but timeless, simple but exquisite like its duck and goose patés, truffles and Bergerac and Monbazillac wines. There is a way of life in the Dordogne which is as much removed from reality as if you had chased after Alice.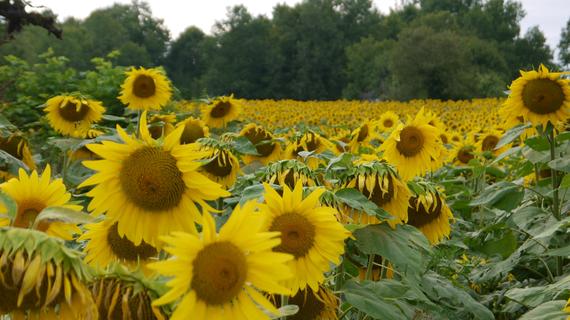 Sunflowers in the Dordogne. Photo by Larisa Pilinsky
The most intense pilgrimaging activities took place on Saturday, July 26, as laid out with precision and attention to detail by the organizers:
"The idea of this day is to attend six consecutive concerts in six historical sites not far from one another. All ticket holders are invited first to an organ concert in the church of Brantôme, beginning at 9:45. After the concert, everyone will be divided into one of five groups and given indications in which order they should attend the remaining concerts."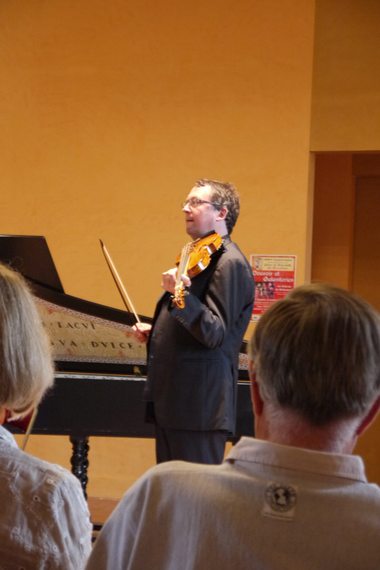 From an Itinéraire Baroque 2014 rehearsal. Photo by Larisa Pilinsky
If you were the anxious type, not to fear.
"Each concert will last approximately 30 minutes. Starting times at the five sites are at 11, 12:15, 15:00, 16:15, and 17:30. The musicians will repeat the concerts with each new group. Sufficient time has been allowed for participants to get from one church to the next without rushing. Additionally, two hours has been set-aside for lunch, from 1:00-3:00."
Marching along like good pilgrims from historical site to historical site, grabbing quick delicious bites to eat in the local markets and cafés, the musical order tended to become lost in the sweep of the overall chronology.
After an opening concert featuring endearingly obscure Baroque composers, the festival launched itself proper with Flavors of the Orient with Lully's march of the Turks. At the concerts thereafter there were operatic songs by Handel, Vivaldi and Hasse, and recitations of La Fontaine's Fables and songs from the Renaissance court by Dutch counter-tenor Maarten Engeltjes. It was like a Renaissance pleasure faire where Renaissance pleasure faires once really happened.
The Festival's most unexpected, and unexpectedly delightful, concert took place in Brantôme Abbey itself, where a dulcimer player named Margit Übellacker and Jürgen Banholzer on a small positive organ charmed the paying customers and perhaps Bach himself the way the Lady of the Lake had once charmed Merlin.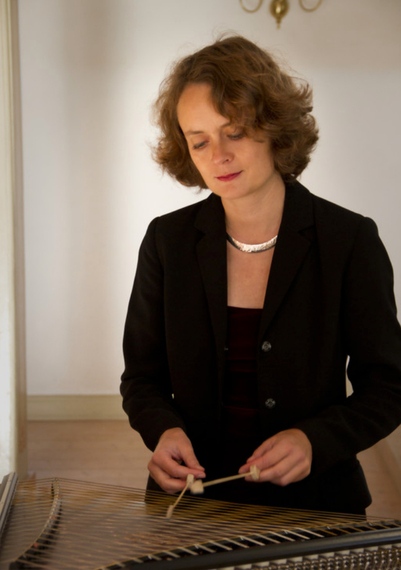 Margit Übellacker. Photo by permission of La Gioia Armonica
The program, which was called Bach and Herbenstreit, revolved around a variant of the hammered dulcimer known as a pantaleon, invented by a German musician named Pantaleon Herbenstreit who was much appreciated by Louis XIV.  Whether Bach, a contemporary of Herbenstreit, actually knew much less appreciated the dynamic possibilities of this instrument remains unclear, but when such beauty is at stake who cares?
The festival finished with an unforgettable experience as Koopman and his Amsterdam Baroque forces played and sung Monteverdi's great Vespers in the church of Saint-Astier, a thrusting edifice whose acoustics made sure the joyous sounds of praise and devotion went straight up to heaven. Critics often get annoyed when an "authentic" recording is made in such a resonant space; but in the flesh, and considering the exhilarating response it drew from the overflow audience, it's clear that Monteverdi knew what he was doing.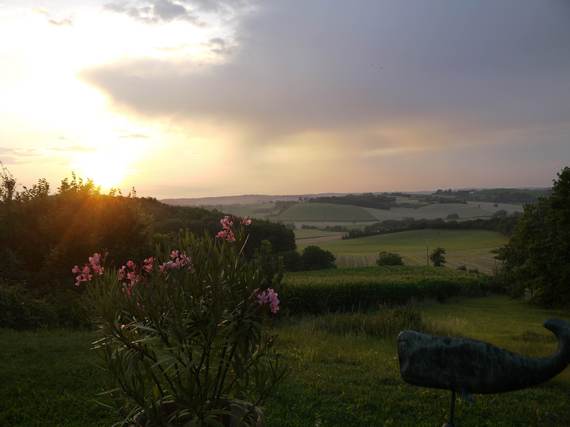 Sunset in the Dordogne. Photo by Larisa Pilinsky