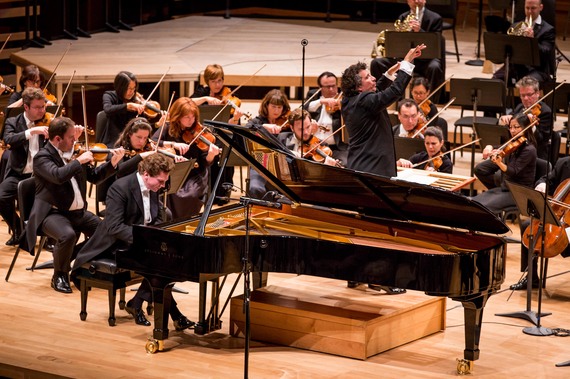 Jayson Gillham Takes Home the Gold. Photo by Antoine Saito
The streets of Montreal these days are littered with a dazzling range of Ferraris, Bentleys and other exotic super cars that would make Monte Carlo proud. This dynamic island of music in the St. Lawrence River will be segueing this Friday from the intoxicating exhilaration of its just concluded, already iconic 2014 International Piano Competition to the 36th running on Sunday of the Canadian Grand Prix.
While the Grand Prix racers and fans have been pouring into the metropolis, gunning their engines and sniffing the exhaust, equally high-octane displays of musical genius at Maison Symphonique have been roaring, growling and purring in their attempts to win Gold by outplaying their opponents in two nights' worth of titanic, full-out Romantic and impossible to play piano concertos.
The composers were Rachmaninoff, Prokofiev, Tchaikovsky and Beethoven. They came from Russia, Russia, Russia, and Germany.
The finalists were Alexander Ullman, Charles Richard-Hamelin, Kate Liu, Xiaoyu Liu, Jayson Gillham and Annika Treutler. They ranged in age from 17 to 27, and they came from the United Kingdom, Canada, the USA, Canada, Australia slash United Kingdom, and Germany.
The orchestra was the mighty Orchestre Symphonique de Montréal, whose great heritage is now being amplified in their wondrous Maison Symphonique hall so new and untested it only finished the installation of its even newer $4 million, indecently gorgeous Casavant Frères pipe organ a week ago.
With the Orchestre producing Technicolor swirls of power and color, conductor Giancarlo Guerrero moved balletically like a Technicolor conductor should -- yet kept his eye on every note each pianist played. Together pianists, orchestra and conductor made sure that to all intents and purposes they were working as one. It was an amazing, virtuosic and generous feat which entertained the audiences as if the Competition were a Cirque du Soleil of classical music.
The jurors were less visible but hardly less obsessed with musical goals, glories and perfections. Protected from the public by several cordoned off rows of seats, the names were Michel Béroff, Daniel Blumenthal, Hung-Kuan Chen, Abdel Rahman El Bacha, Janina Fialkowska, Blanca Uribe and Zhu Xiao-Mei. They came from France, the USA, Taiwan, Lebanon, Canada, Colombia and China.
Ultimately, as must happen in all competitions, one wins and many lose. And so André Bourbeau, who presided over the jury, paid the original 24 contestants from 15 countries the ultimate warrior's compliment, "They are all incredibly brave."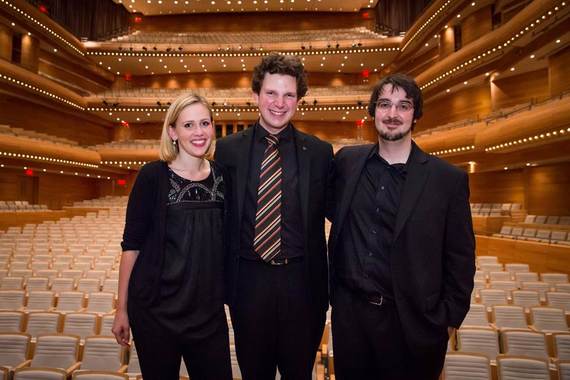 The Top Three Incredibly Brave Winners: Annika Treutler, Jayson Gillham and Charles-Richard Hamelin. Photo by Antoine Salo
The top three incredibly brave winners were Jayson Gillham who played Beethoven's Piano Concerto No. 4 with such streamlined, patrician elegance that he took home the $30,000 First Prize, a string of engagements and the services of top career development professionals.
Silver and $15,000 went to Charles Richard-Hamelin for an intimate bonding with Rach 2 that transformed the concerto into a mesmerizing symphonic fantasy, much as Xiaoyu Liu would do the night following. Annika Treutler took Bronze and $10,00 for showing that Prokofiev's effervescent, spiky Piano Concerto No. 3 could be as industriously serious as his Second Piano Concerto which Kate Liu had blown minds out with the night before.
My unheeded choice for top prize was Alexander Ullman who did remarkable things in the Tchaikovsky Piano Concerto No. 1. He heard the score with immense clarity and vision, and brought it to life as if the composer were watching over his shoulder.
When the Formula One racers start playing with their engines Friday night, the three top winners of the 2014 International Piano Competition will play again with the Orchestre at Maison Symphonique in a gala, black tie event. After intermission, 2007 winner Serhiy Salov will showcase the hair-raising, fun and charming improvising skills that won him the Competition's first-ever Richard-Lupien Prize.
Just another night in the great city of Montréal.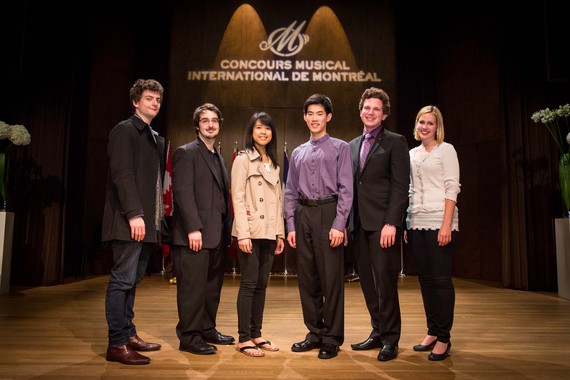 Alexander Ullman, Charles Richard-Hamelin, Kate Liu, Xiaoyu Liu, Jayson Gillham and Annika Treutler. Photo by Antoine Saito
Streaming of the Semi-Finals and Finals will be available on icimusique.ca/cmim and cbcmusic.ca/mimc for listening on demand for one year.