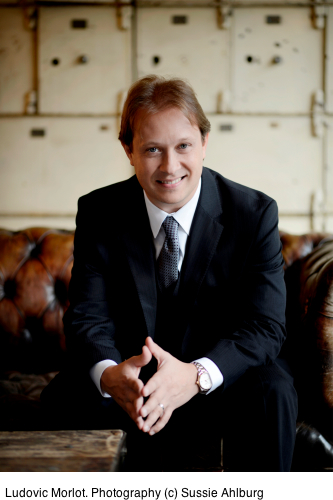 You can get a taste of what's turning on classical music in Seattle at the Walt Disney Concert Hall this weekend when Ludovic Morlot, the Seattle Symphony's sexy young music director, conducts the Los Angeles Philharmonic in Mozart, Beethoven and Henri Dutilleux. If the chemistry is right, you'll get an idea of how Morlot's open-heart engagement with music is captivating Seattle, including teens and 20-somethings used to the Northwest's best regional bands. I saw Seattle Symphony audiences like these in action during an October weekend of the piquantly-named, Symphony Untuxed and [untitled] concerts: three concerts on one Saturday night.
My trial by Seattle Symphony began at 7 p.m. with Morlot leading a reduced version of his full band (the rest were off playing for Seattle Opera) augmented by the International Contemporary Ensemble (ICE) playing in Benaroya Hall, famed for its spectacular audiophile sound. They played Mozart, Haydn (a sterling Symphony No. 103) and the world premiere of an enchanting new work by Dai Fujikura called Mina, inspired by the birth of the composer's first child, commissioned by the Symphony's enlightened donors.
The subsequent concerts that followed at 9 (free) and 10 (paid) took place in the Hall's lobby which had been turned very convincingly into a lounge, complete with a bar -- one that an out-of-town journalist, musicians and a lot of very cool, young people definitely visited on their way to hit some clubs deep into the night, but hung around and even paid to hear the new sounds. At the free concert, ICE played Gabriel Prokofiev's Concerto for Turntables and Orchestra; at 10, it was a trip back to a past which turned out to be the future -- music written in 1962 by Ligeti, John Cage, Xenakis, Earle Brown and friends celebrating in an odd way the 50th anniversary of Seattle's World Fair.
The music on Morlot's L.A. Phil program takes the listener through two deep emotional experiences illuminated by the beauty of Mozartian light.
The catalyst for Dutilleux's Shadows of Time was the half-century anniversary of the end of World War II in 1995, of the discovery of Anne Frank's diary and, specifically, a memory of the deportation by the Nazis to concentration camps of an entire orphanage of Jewish children. Its 20 minutes pass transiently, with the distilled, haunted quality of a Bergman film. Dutilleux's precise architecture is like applying Seurat to vast, plastic dimensions of time and space, which are likely to glow in the dark, curl up with you or sock you on your nose. Morlot shares his love for Dutilleux with Esa-Pekka Salonen (who recently recorded Shadows with a French orchestra). When the musicians connect with the emotional intimacy of Dutilleux's bare musical blueprints, Shadows is a magical, moving work.
Mozart's 25th Piano Concerto, which follows, sweeps along in broad, open strokes, often with a martial air and is frequently adorned with tender, sweet asides of the most evocative kind. The soloist is tested with lots of notes, which sound easy to play but which must be rolled off the cuff with effortless ease. Other keys: The pianist has an exquisite solo with a solo cello in the last movement, and the evening's soloist, Emanuel Ax, has to supply his own cadenza for the first movement (Mozart didn't leave one) -- and the cadenza needs to be a brute because in these days everybody knows cadenzas, and because K. 503 demands the biggest of Mozart cadenzas. Another spot to watch: More than any other Mozart piano concerto, No. 25 depends on chemistry between the soloist and the conductor, and the orchestra's intensity.
Beethoven's Fifth Symphony, which finishes off the program, is not only a great ringtone, but is also iconic and profoundly redemptive in its agony, torment and eventual triumph. Of course, the Los Angeles Philharmonic could play it in their sleep. It will be Morlot's final challenge of the night to see if he can keep them, and us, awake.