This weekend as Disney Hall, the Violin Concerto of Erich Wolfgang Korngold will be played by French heartthrob Renaud Capuçon and conducted by Manchester United-fan Daniel Harding. After halftime for Mahler's Fifth Symphony, the symphony with the beautiful, slow music from Death in Venice.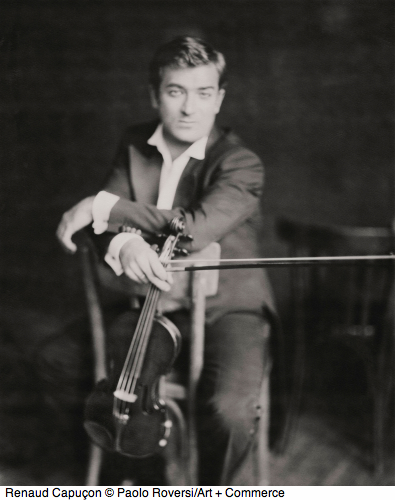 Renaud talked to me about Korngold's concerto earlier this week, and why it makes so much sense in L.A.
LV: Do you like playing Korngold in Disney Hall?
Renaud Capuçon: I love it, it's a great hall; and I love to play it in L.A., because it was premiered here with the L.A. Phil and Jascha Heifetz -- and I've played it in Paris with Gustavo conducting!
LV: Korngold wrote a lot of great Hollywood film music, like Captain Blood and The Adventures of Robin Hood. Does the "Violin Concerto" sound like film music?
Renaud Capuçon: He was absolutely not a Hollywood composer. He was a Viennese, a central European composer, and the "Violin Concerto" is Korngold from Europe mixed with Korngold of the cinema. It's not film music.
LV: What's it like to play the same music with different conductors?
Renaud Capuçon: It's a magical thing when you change conductors. You listen and talk to the conductor, like in chamber music. Of course, I still have my own ideas and my own sound, but it can change in the collaborative process. Even when I tour with the same conductor, the result will be different because of the different halls, or the audience or, sometimes, just a mood.
For a conductor to be able to balance their own ideas of the performance's dynamic range and speed with me in real time -- while the performance is actually going on -- requires that the conductor knows how I use my violin and bow as intimately as that conductor would know how a singer uses their voice. In each, the inevitable, continual adjustments make a performance unique -- not only for the audience, but for the musicians, as well, who are equally curious to see what the results will be.
LV: Do you like to play around with different instruments and bows?
Renaud Capuçon: I loved the violin straightaway, and have played it from the time I was five. It was the sound that got me, and I just kept on looking for more sound -- which meant trying as many violins as I could, because each one sounded different. When I discovered that bows could also change the sound -- well, now I've become a bit crazy about bows. Right now, I have a beautiful Tourte which is so wonderful that I use it all the time, although I am tempted to use a different one for big demanding pieces like Bartok's #2 or Shostakovich's #1.
LV: I'm starting Suzuki with my granddaughter. How hard is the Korngold to play?
Renaud Capuçon: You'll have to wait until you can play the Brahms or Tchaikovsky violin concertos. And then, if you want to play it really well, you must try to guess what Korngold -- what any composer -- wanted to say. Just playing the notes is not the goal; serving the music is.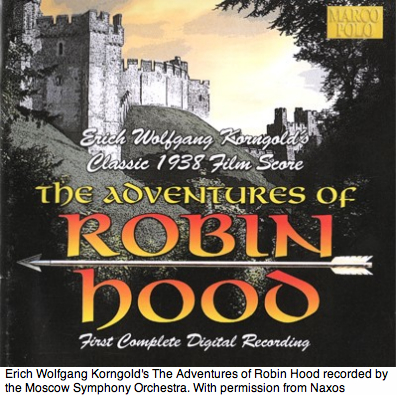 Violin Concerto
Erich Wolfgang Korngold
Composed: 1937-1939, revised 1945
Length: 25 minutes
Orchestration: 2 flutes (2nd = piccolo), 2 oboes (2nd = English horn), 2 clarinets, bass clarinet, 2 bassoons (2nd = contrabassoon), 4 horns, 2 trumpets, trombone, timpani, percussion (bass drum, cymbals, gong, vibraphone, xylophone, bells, chimes), harp, celesta and strings.
First Los Angeles Philharmonic performance: January 8, 1953, Alfred Wallenstein conducting, with soloist Jascha Heifetz.
Read Hugh Macdonald's liner notes here.