To understand what will be at stake and in play in the League of American Orchestra's annual meetings in Dallas from June 5-8, I talked to the League's newly-announced Orchestra Management Fellows for 2012.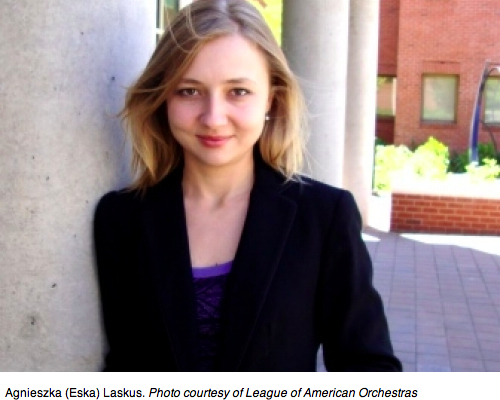 Agnieszka (Eska) Laskus is the Director of Admissions and Recruitment for the University of Oregon School of Music and Dance.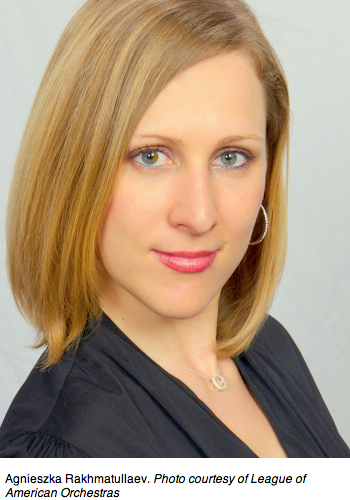 Agnieszka Rakhmatullaev is the Artistic Operations Manager of the Grant Park Music Festival in Chicago.
LV: Biggest challenge facing orchestras?

Eska Laskus: Staying relevant and continuing to meaningfully engage with our communities: A symphony orchestra should be an integral part of the fabric and heart of the city. We have to make sure that our delivery matches the fantastic nature of our product: Expanding beyond the "play a concert and go home" model, exploring interactive approaches to fit individual needs, and customizing people's concert going experience are all things that I see developing in the future.
Agnieszka Rakhmatullaev: Finding new ways to continuously introduce new music, establishing financial security, reaching out to more people, keeping up with constantly changing expectations and daily life styles.
LV: Where do you see technology taking orchestras in five years?

Eska Laskus: I see a higher integration of social media and smart, Amazon-like suggestions for online ticket buyers. Also, HD live broadcasts, plus on-demand as well as theater screenings will become much more prevalent. The Metropolitan Opera has been doing it for years, the Berlin Philharmonic has the fantastic Digital Concert Hall -- and just look at LA Phil's Live from Caracas broadcast.
Agnieszka Rakhmatullaev: We will be seeing technology's increased presence in concert halls around the country and the world. It offers so much potential in reaching out to more people -- especially the younger generation, including Internet projects like MTT's YouTube Symphony. Another example is LiveTitles: real-time translations of lyrics made available on cell phones and tablets to thousands in Millennium Park at last year's Grant Park Music Festival.
 
LV: The importance and influence women in the board room far exceeds that of women on the podium -- what needs to be done about it?
Eska Laskus: Encourage women conductors early on, starting from grade school. Scholarships, recognition and funding for women and girls who are trying to break into the field are crucial. Current female conductors should be more visible and publicized. I see them having a much bigger role in advocating for future generations.
Agnieszka Rakhmatullaev: Overnight change is simply not realistic. It will take many great woman conductors to break this "myth." There are some great role models out there, but we definitely can use many more. 
 
LV: Who were you classical music heroes growing up?
Eska Laskus: Violinists Nigel Kennedy and Nadja Salerno-Sonnenberg! They are not afraid to do things differently, to challenge the status quo. They also wrote wonderful autobiographies that I devoured as a teenager -- and still re-read for inspiration.
Agnieszka Rakhmatullaev: I used to listen to Luciano Pavarotti for hours at time, I loved the way he sang difficult arias so beautifully, yet so effortlessly. Itzhak Perlman was my violin hero: His extraordinary personal story, exceptional musicianship and incredibly sweet tone made him my personal "legend."