Who needs France when you have a French obsession growing in front of you? I was supposed to visit my native country this summer, but instead, as French air traffic controllers will be on strike in a few days, I've chosen to stay put. If you don't go to France, France will come to you.
In June alone, one could enjoy une guinguette in Brooklyn, a nicely done cassoulet on board a yacht, a crusty baguette or two and many liters of vin rouge.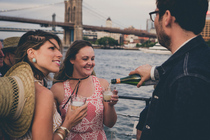 It may have been a good trade-off. Lately, my French friends are all sharing le malaise. The economic situation is going a bit deeper down the drain. According to superstar French economist Thomas Piketty, France is on the way to the deeper portion of the toilet, where no plumber, or economist wants to go. To make matters a tad worse, last month's European election has revealed that the far-right party Front National is healthier than a yoga teacher on a juice diet.
And to add insult to injury, while his party is engulfed in a campaign finance scandal, Sarkozy announced that he would consider running for president again in three years.
So New York is the perfect place to experience the delightful French joie de vivre. My good friends and party promoters from Sud de France are lavishing New Yorkers with a festival of food and wine with strong southern France accents. The wine is gouleyant -- a word meaning lively and refers only to wine. The food is flavorful and hearty. At the launch party, I saw three slender young women pile up to form a human pyramid, which was a prowess after gorging on Paul Liebrandt's cassoulet (a white bean, sausage and pork stew) and a few glasses of Languedoc region wine.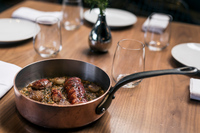 A number of events featured a Slavic brass band, which is so contemporary French, as France, terre d'accueil, welcoming land, does embrace Europe's cultural diversity.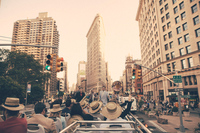 France by the Hudson is going strong. Hop on a bus, join a wine tasting class or share a meal washed down with gouleyant wine. And if you think that a Sud de France Tour is not quite the same as the real deal, you are very correct, my dear friend. Here, you should expect no strike, no rudeness, no famed French surliness.
Only southern (French) hospitality!