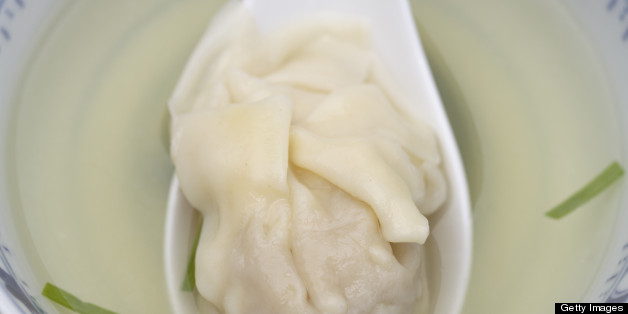 Mixing things up this week, with my spiel at the bottom, behold... My top 5 tastes this week:
1. Spicy Crispy Beef -- RedFarm (New York, NY)
I had long wanted to try this West Village hotspot, but fearing the crowds and wait time, I stayed away. The menu's reimagined versions of familiar Chinese-American fare rendered it universally tempting, as the items strayed not in ethos, but in ingredients. My favorite dish was the Spicy Crispy Beef. Its taste and texture harked back to the fried Chinese beef of yore, but the dish was far more complex, the deep, dark sauce alternately sweet and spicy on the tongue, enrobing slivers of beef, each piece fortressed by exterior craters of crunch and finished with a sprinkling of sesame seeds. My chopstick trajectory involved frequent returns to this plate, with brief distractions elsewhere.
2. Wonton Soup with Roast Pork -- Great New York Noodletown (New York, NY)
When I think of Chinatown in New York, my thoughts immediately arrive at Great New York Noodletown. Sitting in the cramped dining room, one takes in a tableau of action: bustling servers balancing bowls of food on tiny trays, an ever-replenishing stream of patrons from off-work chefs to tired tourist families, and the quick finesse of the rotisserie duck carver in the corner. When this soup arrives, however, my attentions don't wane. The broth is densely flavored and glassily clear, swirling around Burgundy-hued roast pork, tender and packed with Chinese barbecue flavor. Perfect egg noodles both crispy and not snake around the other ingredients, and the pièce de resistance is the wonton, the supple wrapper enrobing succulent shrimp filling, bursting with marine flavor. Every flavor and texture of the soup works in harmony, all for $5.99.

3. Buffalo Chicken Sandwich -- Bob White Supper Counter (New York, NY)
Although fried chicken seems ubiquitous at the moment, who could refuse a perfectly cooked piece of chicken within crispy, crumbly coating? We sauntered into Bob White's ready for some deep-fried Southern hospitality. Being greeted with a bottle of chilled Lambrusco ensured the meal was off to a good start, as my dining companion is a beverage connoisseur, approaching each situation with the appropriate libation (Bless you, Eliza.) Anointed with a dab of herby buttermilk dressing, the buffalo chicken catapulted me back to my buffalo wing-eating college days. While I wasn't quite ready to do a keg stand, the sandwich provided spiciness, crunch and nostalgia in equal parts as I sipped my Lambrusco (instead of Bud Light.)

4. Borscht-Pacho -- Test Kitchen at my Office (New York, NY)
Working at a food magazine, the test kitchen entices me like a temptress, and I usually attempt tunnel vision when I enter to fill my water bottle. Sometimes it's too hard to resist and I cart plates of food back to my desk to be consumed with lightning speed, slovenly covering my keyboard in crumbs. The other day, I spied a bowl of beautiful purplish liquid accompanied by a ladle and some cups. Not knowing whether it would be sweet or savory, I took some nonetheless and sipped it while walking back to my desk. What hit my lips was a cold vegetal soup, "borscht-pacho," a gazpacho-borscht hybrid made with roasted beets and tomatoes. Small cubes of cucumber provided a refreshing crunch and the sweetness of the beets and smoky acid of the roasted tomatoes complemented each other. When the recipe comes out in Food & Wine's August issue, I plan on making it immediately.
5. Cast Iron Seared Octopus with House Made Merguez, Chick Pea Pancake, Kalamata, Lemon Yogurt, Coriander Vinaigrette -- Dressler (Brooklyn, NY)
Octopus is a delicate beast often served as a sad rubbery mess, the tentacles more of a throat-scratching device than a flavorful fruit of the sea. At Dressler, the octopus was exquisite, the charred outer surrounding soft pillowy flesh. The entire dish, an array of re-interpreted North African-inspired flavors, was a masterpiece. The chickpea pancake was dense and substantial while the lemon yogurt was extra-tangy and smooth, an ideal foil to the fire-singed octopus. Olives provided the salty note and the coriander vinaigrette was aromatic and refreshing. The combination of smoky house-made Merguez sausage and octopus was earthy and satisfying, with neither protein overpowering the palate.
Looking back on the food I was lucky enough to eat this week, I'm struck by a culinary leitmotif of sorts. Excluding the octopus dish at Dressler, each item was a re-vamped version of a classic; skilled in its distillation of the original concept and masterful in execution. Crispy Chinese beef, Buffalo chicken, Wonton Soup, Borscht and Gazpacho are all familiar items, readily available but often prepared poorly. The borscht-pacho was an edible portmanteau; combining two soups in one, it condensed flavors from both in a new and delicious way. Although Dressler's octopus dish is not a classic dish, octopus is often a diner's nightmare, but this version was a pleasure to eat. While mediocrity is rife in New York (as in most places), you can almost always find the best version, with a bit of searching.