Today, March 4, is the Day of Action to Defend Public Education, a movement that originated in California last fall in response to threats of staggering university tuition hikes and budget cuts. Students and teachers at more than 32 campuses around the country will be protesting the state of of higher education today with walkouts, rallies and teach-ins.
We'll be live blogging today's events here. Check back for frequent updates and follow our "California Crisis Live" Twitter page.
10:15 p.m. PST
Going to close out tonight with some links to amazing photos from today.
From The Daily Californian, protesters drape a banner that reads "FIGHT BACK" over a CVS billboard near Oakland.
A fantastic assortment of shots from UC Irvine, via UC Regent Live(blog).
And this Flickr set brings together the best images from San Francisco, papier mache skeletons included.
9:18 p.m. PST
Campus papers are publishing comprehensive accounts of today's events.
The California Aggie, out of UC Davis, has a great rundown of the fracas there -- during which a police officer at least held a stun gun to a protester's neck, no word on whether or not he pulled the trigger -- along with a photo slideshow.
San Francisco State University's Golden Gate [X]Press reports on a man who was injured after a group of protesters stormed Highway 980. According to what the article, it's unclear whether the man jumped, fell or was pushed off the highway. Earlier reports stated that he jumped from the highway hoping to land in a nearby tree to escape police.
The [X]Press also has a write-up of the relatively quiet and calm protest in Sacramento (although it still brought out "hundreds" of people).
9:10 p.m./UC Berkeley
From earlier today: A brief yet wild video of a police-student scuffle at Berkeley. Via CNN.
<0--2133--hh> 0--2133--hh>
8:20 p.m. PST
The blog StudentActivism.net, written by Angus Johnston, a historian of student activism and student government, offers a great wrap-up of the day (not that things are necessarily wrapping up). California -- not to mention the rest of the country -- saw a ton of activity today. A huge day for students.
But the real challenge is what happens tomorrow. As Johnson writes --
Today was more about activists talking to each other, working with each other, than it was about talking to or working with -- or working to overthrow -- university power structures.
8:03 p.m. PST/Oakland
CNN: 160 of the Oakland highway protesters arrested. They also confirm the inclemency of police in Davis:
Police held back student protesters who had threatened to shut down nearby Interstate 80, CNN affiliate KCRA in Sacramento reported.

Police fired rubber bullets into the ground in an effort to deter students, who made it as far as an I-80 exit ramp just south of campus.
7:30 p.m. PST/San Francisco
About 500 gathered at San Francisco's city hall, 300-400 remain.
The Golden Gate [X]Press reports on disputes over demonstration methods from earlier today, when protesters blocked off a city intersection, causing traffic delays:
"Students are angry and upset," said Sheila Tully, vice president of the executive board for the SF State CFA and an SF State lecturer. "They're exercising their free speech rights, but what I've told some of them is that when they do things like (block the street) the tactic becomes the news story and you lose the message."
They also gauged campus reaction, from the ambivalent --
"Instead of protesting the negatives they should get involved," [Jonathan] Smallwood said. "Get into committees that can work at ways to try and change the problems instead of trying to bash the government all the time."
to the galvanized.
"This is a long fight," [Russell] Kilday-Hicks said. "It isn't about March 4, it's about March 5. What are we going to do tomorrow?"
6:50 PST/UC Davis
Cops v. students. The California Aggie just posted a twitpic of a California Highway Patrol officer using what looks like a stun gun on a student.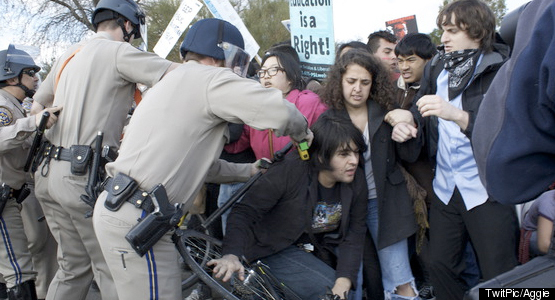 6:12 p.m. PST/Oakland
Here's a live stream of the scene, courtesy of a local ABC affiliate.

5:57 p.m. PST/Oakland
Hat tip to the blog
California Beat
, whose twitpic below shows students shutting down highways 880 and 980 at the height of rush hor.
The Daily Cal
reports that the 100 or so protesters have been arrested.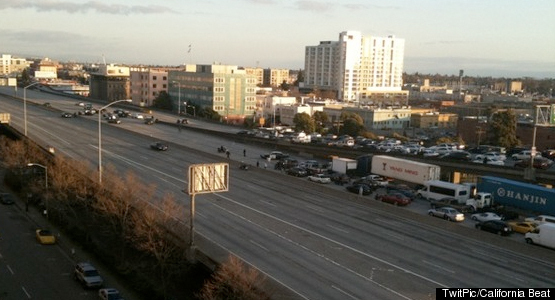 5:23 p.m. PST/Downtown Los Angeles
LA, too, is hot-bed of activity, with thousands of students taking the streets, as CNN shows in the photo below.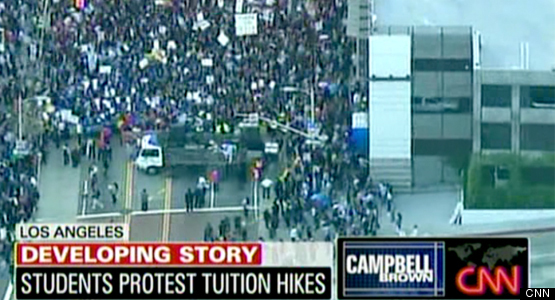 4:45 p.m. PST/UC San Diego
UC San Diego is proving to be a hot-spot in California today, with thousands of high school, community college and UC and CSU students marching in the streets, reports blogs like UC Regent Live:
UCSD students are heading from Balboa Park to Gov's Office, we have reports that at least 4 buses have been moblizied (with around 45 people each, 200 people total) with many people carpooling.

They will be joining SDSU, SD Community Colleges, and SD k-12 people at the Governor's Office, which promises to be a huge rally! UCSD is definitely one of the sources of the action currently.

6:56 p.m EST./University of Wisconsin-Milwaukee
A.P. reports that about 15 people have detained by campus and city police after. The blog Student Activism says that one of those arrested was the student government president.

3:24 p.m. PST/Oakland

"Whose school? Our school!" are the chants being heard at Frank Ogawa Plaza in Oakland, according to the blog Oakland North, whose twitpic is below.

6:15 p.m. EST/NYC
Students and unions unite. At a meeting of the MTA, hundreds of students are reportedly protesting outside to save transit passes for students.

3:10 p.m. PST/UC Irvine
The student activist blog OccupyCA reports that Irvine's Langson Library has been occupied.

2:55 p.m. PST/UC Davis
According to a local FOX affiliate, students protesting close to Interstate 80 are being held back by officers in riot gear. Developing.
1:59 p.m. PST/San Francisco State University
WATCH protesters block intersection of 19th and Holloway earlier today:
1:57 p.m. PST/UC Berkeley Berkeley Police: No reports of property damage or arrests so far.
1:53 p.m. PST/Baltimore SocialistWorker.org reports that 500 students and supporters convened to protest the "schools-to-prison pipeline" in the city.
1:49 p.m. PST/UC Berkeley Protesters have crossed into Oakland relatively quietly. According to the Daily Cal, this is to "conserve energy."
1:38 p.m. PST/UCLA 200-300 protesters have moved into Murphy Hall, where Chancellor Gene Block's office is located. They are chanting, clapping and waiting for Block to hear their demands, which include lowering fees and halting layoffs and/or furloughs. Another 100 protesters are congregating in an intersection near campus.
The scene on campus.
1:30 p.m./UC Davis Protesters march down La Rue, drums in tow.
1:24 p.m. PST/UC San Diego
A sea of people.
1:17 p.m. PST/University of Texas-Austin, City College of New York 200 came together in Austin chanting "take the power out of the tower. Students spoke out against budget cuts in light of Longhorn Coach Mack Brown's million-dollar raise and the construction of a new liberal arts building.
In Harlem, students protested budget issues, including meager graduate student stipends, for several hours.
1:13 p.m. PST/UC Berkeley Daily Cal reports that the current march spans seven city blocks. See livestream here.
1:05 p.m. PST/UCLARally has died down. The Daily Bruin reports a turnout of 500. UCLA is faced with a deficit of $131 million.
1:01 p.m. PST/UC Berkeley Almost 1,000 protesters are marching -- escorted by eight police officers -- south to rally in Oakland with high school students. Twitter reports say that the rally "is bigger than the October one."
12:52 p.m. PST/UC Santa Cruz Police issued a warning to students and staff not to come to the university today and as of now the campus is effectively shut down. Students completely barricaded the campus this morning and traffic was halted. Another rally is scheduled for 5 p.m. PST. UCSC has seen budget cuts amounting to $50 million in the last two years.
WATCH the protest:
'
12:48 p.m. PST/San Diego State University The scene at SDSU:
12:33 p.m. PST/UC San Diego A livestream of the UCSD protest is available here.
Students are protesting in front of the Geisel Library, the epicenter of multiple racially charged incidents in the past week:
12:30 p.m. PST/UC Riverside 450 protesters gathered at campus bell tower.
12:28 p.m. PST/UC Berkeley Protest has grown to 800 people.
12:21 p.m. PST/San Francisco State University Business building cleared after fire alarm pulled. Also, check out the Golden Gate [X]Press for a video of the protest/dance party on their campus last night.
12:16 p.m. PST/UC San Diego Recent pictures from their cacophonous demonstrations:
12:08 p.m. PST/UCLA 200 gathered for rally on Bruin Plaza. Their chant: "Tell the people we have a story, what, tell the whole damn word this is student/union territory."
12:05 p.m. PST/UC Berkeley Police stop two protesters from throwing water balloons.
12:00 p.m. PST/University of Maryland, College Park Here, the mantra is "March Forth. Life Sucks, Let's Change."
11:55 a.m. PST/UC BerkeleyDaily Cal reports that about 300 are gathered on campus for a noon rally, blocking traffic, dancing and singing.
11:29 a.m. PST/Sacramento Sacramento Bee Education Reporter Laurel Rosenhall is at the Capitol talking to students and capturing some awesome pictures of protesters.
10:56 a.m. PST/San Francisco State Nearly 300 are protesting, shutting down an intersection. Students are joined by picketers from the California Faculty Association. An SFSU student told SocialistWorker.org: "Corporations are making record profits this year, but they're putting the burden on our shoulders. That's what we're fighting against."
10:50 a.m. PST/UC Berkeley From UC President Mark Yudof's statement on his Facebook page:
As my predecessor Clark Kerr often said, higher education should never be regarded as a cost, but rather as an investment. The university is an investment, not only in an individual's well being, but also in the public good. Public education drives a society's ability to progress and to prosper. This state's great public universities hold the key to our economic and social growth and are deserving of support by all Californians.
10:40 a.m. PST/UC Berkeley Protesters are traveling across campus, interrupting classes and chanting ""Today we strike, tomorrow we go to school." Police are standing both standing on guard outside building and trailing protesters.
10:27 a.m. PST/Oakland Some Oakland schools are holding mock disaster drills today to simulate the "disaster" that the state's education system has become.
10:12 a.m. PST/UC Davis Twitter reports indicate that multiple fire alarms have been pulled in UC Davis buildings.
10:06 a.m. PST/UC Berkeley An almost-dramatic moment: A parallel group of protesters gathered at Sather Gate with "Impeach Barack Obama" signs, prompting the student protesters to chant ""You're not here for the same reason, we don't support you, get out." But, apparently, the groups were able to overcome their differences; hugs ensued.
9:55 a.m. PST/UC San Diego
First picture out of UC San Diego:
9:51 a.m. PST Democracy Now! reports that higher education protests are also occurring in Johannesburg and Moscow.
9:45 a.m. PST/UC Irvine In a statement released on the UC Regent (Live)blog, UC Irvine faculty announced that they're canceling classes today. The statement reads:
For those who have classes on March 4th, canceling or re-scheduling is not a decision taken lightly. However, given the statewide mobilization of teachers, professors and students, we believe that this one day could make a significant difference in the course of California education politics. For those of us who never miss a day of class, this one feels worth it.
9:09 a.m. PST A blog out of Annenberg School of Communication and Journalism at the University of Southern California offers a few neat interactive graphics explaining the role of student fees in higher education funding and how the situation in California came to be.
9:03 a.m. PST/UC Berkeley
Protesters at Sather Gate:
8:45 a.m. PST/UC Berkeley More than 80 people are gathered near campus, many waiting for buses to Sacramento to demonstrate at the Legislature.
8:42 a.m. PST/UC Santa Cruz
100 protesters block off gates to campus:
8:09 a.m. PST/UC Berkeley Approximately 65 protesters have linked arms and blocked Sather Gate, a prominent landmark on campus. They are chanting "no cuts, no fees, education must be free."
7:57 a.m. PST/UC Santa Cruz A security advisory posted on UC Santa Cruz's web site advises people not to come to the campus for work or school. University police also report that a car windshield was smashed on campus.
Addendum: UC Regent Live(blog) points out an interesting fact about UCSC's campus:
UC Santa Cruz only has two entrances in and out of the campus. The west entrance and the north entrance. This is a well-known and unfortunate fact for administrators. Students have shut down both entrances, effectively shutting down the campus.
7:30 a.m PST/UC Berkeley The Daily Californian reports that union members started picketing on campus at 7 a.m.
5:00 a.m. PST/UC Santa Cruz: According to the student activist blog Occupy CA, students have blocked off multiple entrances to UC Santa Cruz's campus, closing it off to vehicles.