It's beach season! Excited you rush to the store, grab a few bikinis and begin trying on the trendiest bathing suits. Flash forward fifteen minutes and you're not all that gung-ho about the sun and sand anymore. Stressed out about your lack of a swimsuit model body, you decide to ditch the shopping spree and make up an excuse every time your friends invite you to catch some waves. Before you know it, summer's come and gone and you've missed out on the beach bashes and poolside parties.
Nix that!
Whether you're a seasoned mom or naturally curvalicious, there are ways to cover up the unwanted weight and create a flawless, more flattering look. Here are a few swimsuit tips to get you beach ready this summer:
Wear sag-free fabrics
Low water absorption fabrics were originally created to help increase the velocity and quickness of competitors in water sports. It just so happens that it will also help you reap greater benefits at the beach by keeping flabby skin intact. The result? You'll look stunningly thinner thanks to the reduced water weight that would otherwise cause drooping in traditional swimwear fabrics. When buying your next swimsuit, look for brands that use high-tech, lycra-based fabrics including spandex and nylon composites. If you're shopping online, look for the term "low moisture absorption" or "low water absorption rate" under the description specs of the product.

Size up to soften your curves
Hipkinis, cheekies, briefs, ruffles, strings, skorts, low-rise... the bikini bottom options are endless. But regardless of your style selection, keep in mind that if you have voluptuous hips, thighs or backside, it's best to go for a bottom that's one size bigger than what you would normally wear in clothing. This will help soften your curves and divert the eye from disproportionate problem areas. Additionally, if your chest is substantially smaller than the assets below your waist, consider getting a push up bikini top to even out your figure.
Tan to tone
Darkening the skin creates the illusion of a slimmer body and brings the focal point to your beautiful bronze arms, glowing chest and back of the thighs. Since tanning beds age the skin and airbrush spray tans run the risk of fading in chlorine and saltwater, consider affordable self-tanners that can be applied at home.
Avoid in-store fitting rooms
Have you ever tried something on in-store only to take it home and gasp at how different it looks in casual lighting or in photos? You're not losing your mind -- it's actually because some retailers use beauty bulbs in fitting rooms, which is primarily used in fashion photography to hide imperfections. Avoid that startling "WTF" moment by ordering from reliable online retailers that offer free shipping and returns like Voda Swim and Zappos.com.
Downplay the bulges
The key to accentuating your best features is keeping them in the spotlight and more importantly, keeping your least favorite ones in the dark. Use this quick and easy style guide to help you find the right fit.
Bum shelters: Full coverage bottoms will keep your caboose covert.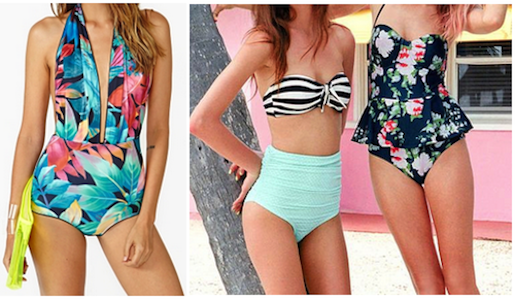 Inner thighs and hip huggers: Skirted bottoms have a way of evening out the hips and hiding the inner thighs.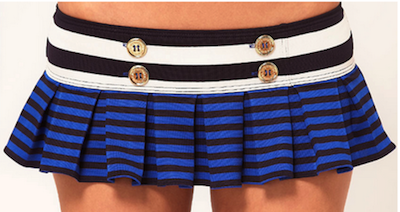 Tummy tuckers: Crisscross bandeaus, ruched accents and peplum one-pieces help to camouflage the midsection.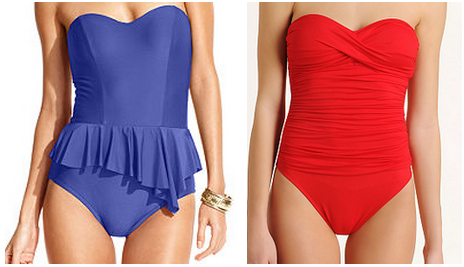 Arm-barers: Cutouts, patterns and asymmetrical styles will draw attention away from your arms and place the focus on the shapes and patterns of the swimsuit.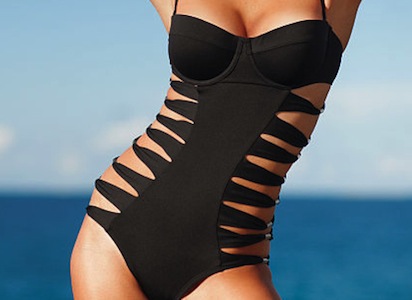 Don't miss a single beat this summer! Simply embrace your curves, choose the right suit, and enjoy soaking up the sun -- along with the compliments of your fellow beach goers!