It's no secret to those in the know in Denver that Clark Richert is an influential artist. From his early days in the experimental avant garde project known as Drop City to his large mathematical paintings and recent digital projections featured in the Denver Biennial, Richert is a staple of the art world in the Rocky Mountain West. But his influence in the classroom at Rocky Mountain College of Art & Design may be his most important impact.
Richert is represented by Robin Rule and her Rule Gallery in Denver, and some have criticized the artist and his dealer for the current exhibition of young student artists entitled 4.0.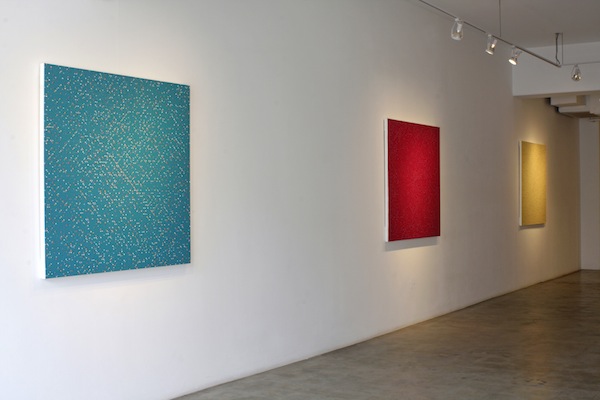 A little networking and encouragement can go a long way. Consider Robert Storr (Dean of the Yale Art School), and all of the artists and curators he has championed who have gone on to launch successful careers. Most recently, Sarah Lewis, a student of his and colleague curated the SITE Santa Fe Biennial The Dissolve. Artists championing other artists is nothing new in the art world and shouldn't raise an eyebrow in the Denver art scene. Student's from RMCAD are being shown at RULE--so what? This student work is better than more established artists' work I've seen at other galleries. If it were not good art, Robin Rule would certainly not be showing it and Richert would not be championing it. Besides which, it's important for dealers and institutions to champion the local talent, something that doesn't happen enough in Denver.
The young artists Dmitri Obergfell, Zach Rein, Christine Buchsbaum, and Joseph Coniff are all current and former students at RMCAD. The idea to show their work combines nicely with the featured artist currently on display at the gallery--Gregory Hayes (a former student of Richert now studying at Brooklyn College). Another Brooklyn College student Hector Mandera Gonzalez is featured in 4.0.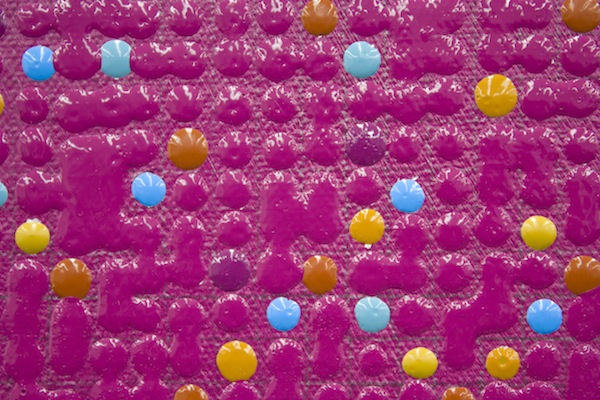 Gregory Hayes' neo-systematic paintings are based on the indiscernible behavior or prime numbers. His 48" x 48" canvases feature a subtle grid upon which he drips colored acrylic paint. The drips expose the prime numbers' elusive ability to create shapes, patterns and a predetermined array. Hayes also explores color pairing and in the hot fuchsia work # 141, there is a Matisse-like quality to the colors used (burnt orange and fuschia? Genius.) Although Hayes is obviously rooted in minimalism, to suggest that he is merely a minimalist painter would be a disservice to the depth of his exploration of the history of painting and mark making evidenced in his work. There is a glimpse of Agnes Martin's grid, Robert Ryman's whiteness and Vito Acconci's architecture.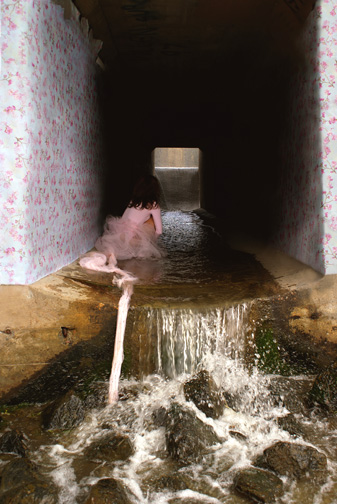 Beyond "re-seeing" the paintings of Gregory Hayes, 4.0 features powerful photographs by Christine Buchsbaum of staged scenes that spark intense narratives for the viewer. In Productive Wallpaper, a girl wearing a pink tutu cavorts in an urban drainage tunnel, the concrete walls covered in pink rose wall paper while a trail of pink fabric attached to the girl is pulled downstream and into the water and rocks. The work speaks of our need to go against the flow and is haunting and beautiful at once. A Bruce Nauman-meets-Dan Flavin inspired sculpture called Here of ceramic hands holding a fluorescent tube light by Dmitri Oberfell is simple yet profound. Detailed and interactive drawings by Joseph Coniff pose questions for the viewer. For instance, Yes-No features a drawing of a candescent light bulb with the text: "This is a light bulb" beneath the image. Hanging next to this is another drawing of a new compact fluorescent light bulb and the text: "This is not" beneath. I really wanted the text to be switched and felt the work would have been more powerful with the oppositional phrasing. Zach Rein presents a large 74" x 74" untitled painting of a Coca Cola label buried beneath layers of sepia brown/gray paint as if the the familiar trademark were being unearthed by some futuristic archeologist. Another Brooklyn College graduate student Hector Mandera Gonzalez is also featured with drawings on notebook paper tacked to the wall in opposition to convention and rule.
4.0 ends on November 13. So if you haven't had a chance to see the future and explore works by young artists who are just beginning to make their mark, head on over to RULE Gallery. If these students are serious about their art careers, these students will soon be joining Gregory Hayes in New York (or London or Los Angeles). And we may never see them again in Denver unless they become huge art stars and the institutions invite them back for a token exhibition. Something about that just doesn't seem right.