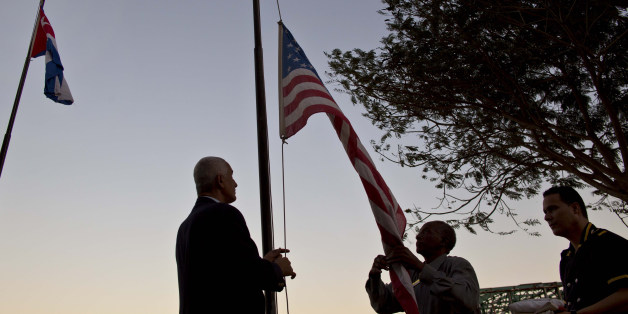 For five decades now, the United States has supported democracy and human rights in Cuba. But we have sought to achieve those goals in a unilateral fashion -- isolating Cuba and imposing economic sanctions for 50 years that other nations have not supported.
President Obama has made a historic move to end this outdated policy and seek a new and fresh way forward: The United States will begin to reestablish the diplomatic relations with Cuba that have been severed since January 1961.
To this end, we will reestablish an embassy in Havana and take steps to increase travel, commerce and the flow of information to the Cuban people. Additionally, we will review Cuba's designation as a state sponsor of terrorism. As we focus our anti-terrorism efforts on threats from Al-Qaeda and ISIS, we are prepared to forego further sanctions if Cuba meets our conditions and renounces the use of terrorism.
In taking these actions, the Obama Administration believes America will advance its commitment to liberty and democracy and make major strides in bringing these cherished rights to the Cuban people.
Our present policy has failed to achieve these objectives, and it is unreasonable to expect that following the same path will achieve a different result. We must make some changes in our policy in order to progress toward our goals.
In developing our new policy, we need to think less about penalizing the Castro brothers and more about how to help the Cuban people. We believe these policy changes will provide a number of benefits to ordinary Cubans, whose living standards have been reduced by the U.S. embargo, an embargo that hasn't damaged the quality of life of Cuban elites.
We want to unleash the potential of more than 11 million Cubans by ending the restrictions on their freedoms and allowing them more open speech and activity. We certainly do not want to add to their burdens, which the embargo has done over these past decades. We want to make their lives easier, freer and more prosperous.
The isolation of Cuba has been self-defeating. Cuban leaders have often told Cubans that the restraints on them are necessary because of the threat posed by the U.S. government. The embargo has, quite simply, given them a reason to cling to power.
By lifting restrictions, we will initiate more contact among various individuals and groups, more economic activity, more prosperity, more freedom of speech and a better flow of information in ordinary activities, TV and the Internet. Over time, these developments will move Cuba toward democratic reform. This reform will certainly not happen quickly, but engagement will gradually produce positive change.
Latin American countries are enthusiastic in their support of the policies recently announced by President Obama. Our previous policies have been a drag on U.S. relations with Latin America for a long time. Now that we're finally removing that hindrance, we can expect relations with this part of the Western Hemisphere to improve. As an early step, Cuba will join other nations from the region at the Summit of the Americas, which will be held in Panama in April.
As expected, the president's new policy has elicited a fair amount of criticism, much of it coming from Cuban-Americans who have made significant contributions to the life of our country. They have a passionate attachment to Cuba. Many of them lost family members and large amounts of property when forced to flee Cuba. They are, understandably, unforgiving.
Some of these individuals will be part of efforts to defeat the new policy, oppose the appointment of a new ambassador and make dire predictions about what these changes will bring about. They will decry America dealing with the morally corrupt Cuban leadership, which, after all, oversees a communist government.
But we have recognized and engaged -- for more than 35 years now -- with China, a country that, likewise, has a communist government. Furthermore, the bitter experience some Cuban-Americans have had must not guide U.S. foreign policy. We must try to persuade them that the policy of the last five decades represents a failure, that the Castros have survived and not only have they done so, they have used the embargo to excuse their deficiencies. They have also poisoned the relationship between the two countries with their anti-American propaganda.
The mutual benefits of cooperation between the U.S. and Cuba are too powerful and promising to ignore. Over time, American corporations will almost certainly benefit from the lifting of the embargo. Businesses will grow, particularly in the areas of agriculture, construction supplies, software development, technology and telecommunications, and perhaps in the automobile industry, as well. Opportunities for expansion abound even today, and businesses will soon scramble to get to the head of the line.
The new policy has already begun the exchange of political prisoners. Just several days ago, Cuba completed the release of 53 detainees. This is not the first time the potential for prisoner swaps have paved the way to policy overhauls, but it was an important factor in triggering these changes.
The normalization of U.S.-Cuba relations offers another indication of the ending of the Cold War. Cuba no longer represents a strategic threat to the U.S., if ever it was. The standoff between the two nations has been a relic of the Cold War, from which Cuba is ready to turn away.
We cannot immediately relieve all of the repressions against the Cuban people. Cuba remains a communist country, and thus the barriers to freedom will not magically disappear. The government will continue to try to suppress its people.
But I believe in the power of connectivity and, specifically, bringing people together to share beliefs, good will and positive values. And no one represents America and its values better than Americans themselves.
As we send U.S. citizens of all backgrounds to Cuba, including athletes, businesspeople, diplomats, farmers, scholars, tourists and many others, the interactions they'll have, especially those with ordinary Cubans, will drive change. And we have to believe that change will be for the better.
Of course, there are no guarantees, but I think building personal relationships represents a very good gamble. We must have confidence in the power of our own ideas, of our way of life and in our own people. Once ordinary Cubans are exposed to our strengths, they will respond.
Americans and Cubans have come together in recent times, such as during the recent Ebola crisis, when Cuba sent hundreds of health-care professionals to Africa, so the benefits of cooperation are obvious. The challenge for us will be how we advance our commitments to liberty and democracy in Cuba.
This post is part of a Huffington Post blog series called "90 Miles: Rethinking the Future of U.S.-Cuba Relations." The series puts the spotlight on the emerging relations between two long-standing Western Hemisphere foes and will feature pre-eminent thought leaders from the public and private sectors, academia, the NGO community, and prominent observers from both countries. Read all the other posts in the series here.
If you'd like to contribute your own blog on this topic, send a 500-850-word post to impactblogs@huffingtonpost.com (subject line: "90 Miles").