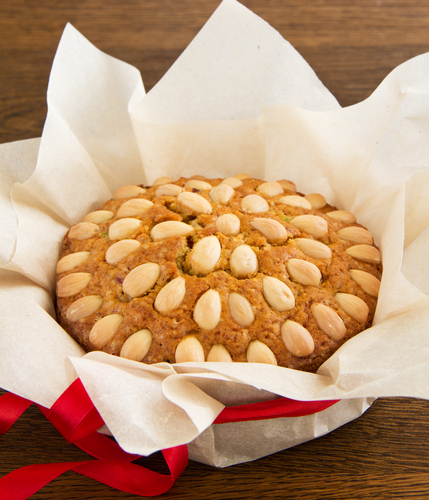 It's unbelievable how quickly Christmas has rolled around this year. It seems like only yesterday we were celebrating ringing in the New Year with family and friends and making resolutions for the year ahead.
Now it's time to share with you today a hot-out-of-the-oven Christmas cake recipe that I concocted in my kitchen this week.
I adore this time of the year, not just because of the delicious treats knocked up in secret stashes for the wind down to the holidays, but also because it's a good time to think about families and individuals embracing their Christmas menus and creating a spirit of festivity with illuminating fairy lights, multi-colored decorations and imaginative window displays. Not to mention baubles and foil-covered chocolate coins.
I hope you'll enjoy my fool-proof Healthy Christmas Fruit Cake recipe, which can be made simply and easily and with a minimum of fuss. It's a handy one to have at home in case a friend drops in or you can leave it in its baking paper and wrap it up in a pretty bow to take to your Christmas party. You have my personal guarantee that everyone will be very impressed!
This cake is one of those flexible feasts for stress-free festive entertaining. You can add in whatever dried or dehydrated fruit you have in your cupboard or try it with a combination of fruits depending upon your tastes, guaranteeing you a different experience each time you make it.
The fruit adds an element of natural sweetness so there's no need to add any refined sugars or sugar substitutes. I bought my dried fruit individually at my local supermarket as many of the mixed fruit varieties had added preservatives and additives as well as sugar.
I used dates, prunes, cranberries, raisins, sultanas and currants and a few of my own dried apricots and blueberries. I also added omega-3 rich walnuts to impart a delicious crunch as you bite into the cake. The richly dark and intense flavor means you'll only need a small sliver to be fully satisfied.
Mixing is the fun part of the recipe. I used my hands to get all of the ingredients conveniently jam-packed into the tin. You can be as creative as you like with the cake tin too -- I baked mine in the shape of a heart because Christmas is about celebrating the love we share for one another.
This cake will keep in a sealed container in the fridge for up to a month.
Supercharged Christmas Fruit Cake
Makes one cake
Ingredients:
200 g almond meal
50 g walnuts chopped
650 g mixed dried fruit of your choice, such as currants, cranberries, blueberries, raisins, figs, apricot, sultanas, cherries, dates
1/2 teaspoon ground cinnamon
1/2 tsp allspice
1/4 tsp ground ginger
1/4 tsp nutmeg
1 tsp gluten-free baking powder
1/2 tsp bicarb of soda
1 tsp vanilla powder or extract
Pinch Celtic Sea Salt
1 TBS lemon zest grated
3 TBS lemon juice
4 TBS coconut milk
3 TBS walnut oil (or almond or light olive oil) 3 eggs lightly beaten
1/2 cup blanched almonds for decorating
Method:
Preheat your oven to 160 Celsius and line an 18 cm cake tin with baking paper. In a mixing bowl combine almond meal, chopped walnuts, dried fruit, spices, baking powder, bicarb of soda, vanilla, sea salt and lemon zest.
In a separate bowl, place lemon juice, coconut milk, oil and eggs and whisk together. Add the dry ingredients to wet and fold through with a wooden spoon. Spoon the mixture into prepared tin then press the mixture down into the tin using your hands so that it is compact and tightly packed.
Bake for 1 hour on the middle shelf of the oven.
Open oven and placed blanched almonds on top and return to oven for 30 min.
Check cake with a skewer and remove the cake from the oven when the skewer comes out clean.
Let cool and then carefully remove from tin.
Stored in sealed container in fridge.
I hope you enjoy my Supercharged Healthy Christmas Cake. Give it a whirl and let me know what you think below. You can also find lots more recipes on my website at www.superchargedfood.com.