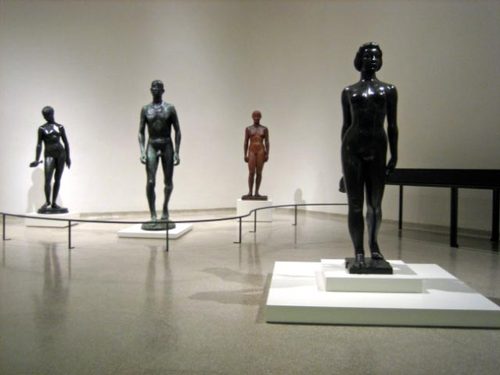 Installation shot from Guggenheim Museum's "Chaos and Classicism" show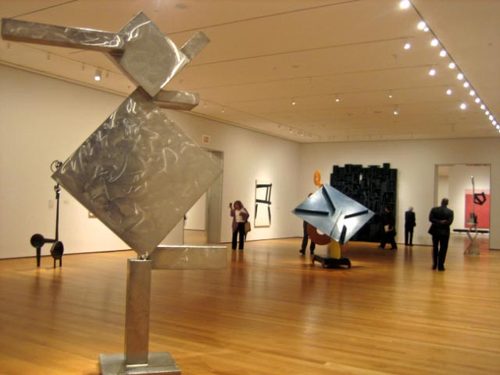 Installation shot from Museum of Modern Art's "Abstract Expressionist New York" show
There's an electric energy in New York right now, zapping between two parallel but sharply contrasting shows that have just opened at Guggenheim Museum and the Museum of Modern Art. MoMA's show, focusing on American art after the Second World War, is beautiful but not too bright. The Guggenheim's show, focusing on European art after the First World War, has less visual appeal than MoMA's, but far more intellectual and historical heft.
In Chaos and Classicism: Art in France, Italy, and Germany, 1918-1936, the Guggenheim's guest curator, Kenneth Silver, a professor of modern art at New York University, has filled nearly the entire museum with an incisive, portentous tour de force, demonstrating how Europe's artists, shell-shocked after World War I, sought to regain composure and sanity through a "return to order." Many eschewed the avant-garde Expressionism and Cubism that had flourished before the war, embracing a reassuringly conservative figuration derived from the Renaissance and antiquity.
The show does make one nod towards German Expressionism, presented in a black case along one wall of the museum's first-level, double-height gallery. You can glimpse the case in the top photo, to the right of the listless statues. A Maillol, the most appealing of the group, stands in the foreground.
The case displays a selection of 15 from the 50 prints of Otto Dix's 1924 series, "The War" -- an evocation of Goya's "Disasters of War" and precursor of Picasso's "Guernica," with its unflinching, heart-stopping depiction of war's destruction and brutality. On the bottom left (hard to make out in my amateur photo) is a dead baby draped limply over a mother whose face has been blasted: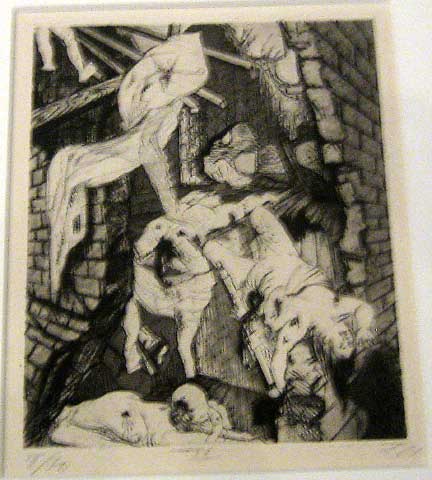 Otto Dix, "House Destroyed by Aerial Bombs (Tournai)," 1924
Silver caused me to do repeated double takes as I savored his deeply informative wall texts and labels, far exceeding the level to which I've become accustomed at megashows aiming for popular appeal. Here's a sliver of Silver:
The idealized beauty of postwar classical sculpture was both a deliberate and instinctive response to World War I....Rather than frank confrontation, a self-conscious forgetting determined many of the significant new forms of art. Naked truth gave way to idealized nudity: intact, undamaged, perfectly formed figures proliferated in painting and sculpture over the next two decades.

Classicism -- the art of ancient Greece and Rome as well as later movements considered to have evolved from antiquity -- offered much to a postwar world in search of security. Venerable and authoritative, familiar yet dignified, it was reassuringly repetitive yet subject to reinvention.
Even my perceptions of the handful of very famous, familiar works that are interspersed through this show -- by such luminaries as Picasso, Matisse, Léger, de Chirico, Balthus -- were greatly enriched, thanks to Ken's ken: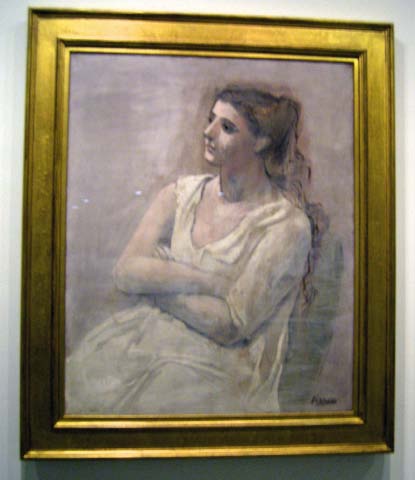 Picasso, "Woman in White," 1923, Metropolitan Museum of Art
As Silver discusses in more detail in his 1989 book, Esprit de Corps (P. 290-291), the circumstances surrounding Picasso's original drawing for the painting above demonstrate its connection to World War I's aftermath: It was sketched (as show's label tells us) "atop an illustrated report on the front page of the newspaper "Excelsior" (July 23, 1923). The article was about the consecration of a military cemetery 'on the place where, for the first time, General [John J.] Pershing's troops blocked the German advance in World War I.'" Silver tellingly describes Picasso's seated woman as "appear[ing] through the veil of time" and "bleached white like antique ruins."
As Fascism darkened Germany and Italy, the craze for classicism, which had often focused on the body, evolved into something more sinister -- the exaltation of a Nazi-endorsed physical ideal. One of the show's most arresting, disturbing sights is a triptych in the final gallery, where the ambient illumination is dimmed to reflect the subject -- "The Dark Side of Classicism."
The frauleins below were painted by the artist who was head of the Reich Chamber of the Visual Arts. He is best known for confiscating modernist works from German museums and displaying them in the infamous "Degenerate Art" show of 1937: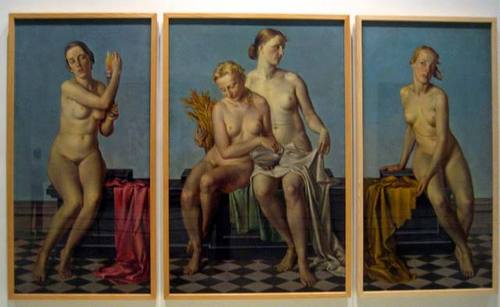 Adolf Ziegler, "The Four Elements: Fire, Water and Earth, Air," before 1937, Sammlung Moderner Kunst in der Pinakothek der Modern, Munich
As shown to chilling effect in this accompanying photo, these Aryan archetypes adorned Hitler's apartment in Munich: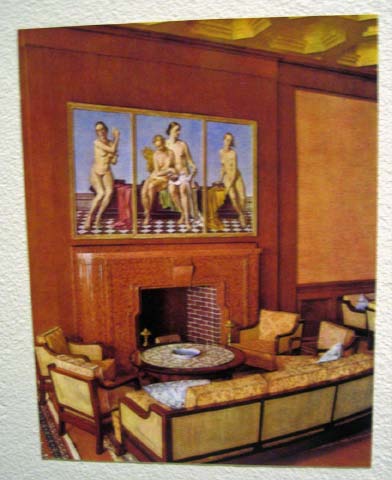 But for all its fascination and hints of coming horrors, "Chaos and Classicism" ultimately caused my eyes to glaze over from viewing too many mediocre works by artists who, to my mind, are little known today for good reason. Silver professes to admire this material. But I'd be content never to see clunkers like this again: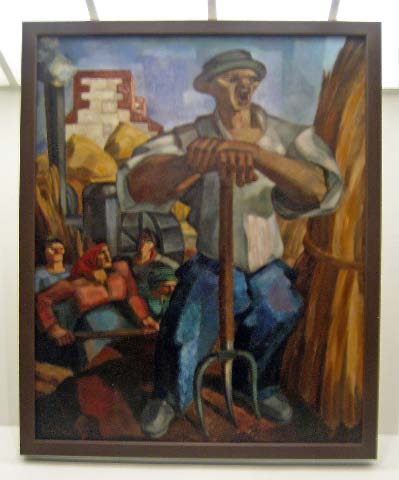 Yves Alix, "The Harvest Master," 1921, Centre Georges Pompidou, Paris
There's one elephant that's not in the room of "Chaos and Classicism" -- Adolf Hitler's de facto court portraitist, Arno Breker. I had been bracing myself for an expected encounter with at least one of his master-race musclemen at the end of the show. But Silver informed me that while Kolbe's "Young Warrior" did make the cut, he just couldn't bring himself to include Breker. "I started to get a creepy feeling," he admitted. "It didn't sit well with me."
This I can well understand. Even publishing this Kolbe image of one of the final works in the show makes me decidedly queasy: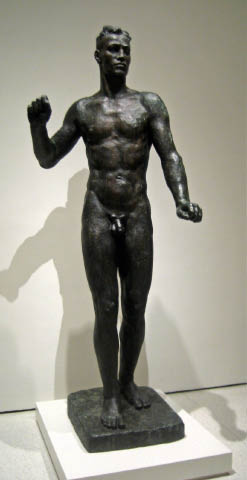 Georg Kolbe, "Young Warrior," 1935, Georg Kolbe Museum, Berlin