Our hearts and prayers -- lots of prayers -- go out to the Ringling Bros. aerialists whose apparatus hovering over 30 feet in mid-air collapsed Sunday morning, May 4, 2014 in Providence, Rhode Island. Eight well-trained females were apparently attempting rhythmic gymnastics type of moves while dangling by their hair, while one dancer below was also injured.
Whether your last performance was in a third grade play of Wizard of Oz, a high school musical or community theatre or you're currently starring in Broadway shows such as Pippin or Spider-Man: Turn Off the Dark, you understand the gravity of pulling off stunts on stage.
I watched the video on CNN Sunday afternoon and gasped, as if I were in the Big Top and armed with pink cotton candy in one hand and a battery-operated blinking multi-colored illuminating wand in my other hand. As a child, I lived in Venice, Florida -- the original winter home of the Ringling Bros. and Barnum & Bailey Circus. This circus would launch its shows (Red Unit and Blue Unit) in Venice -- a gulf coast town famous for its shark's teeth finds on the sandy white beach and its retirees galore. I even remember trekking over to that circus arena for my friend's Venice High School graduation... no air conditioning, but what a historical landmark!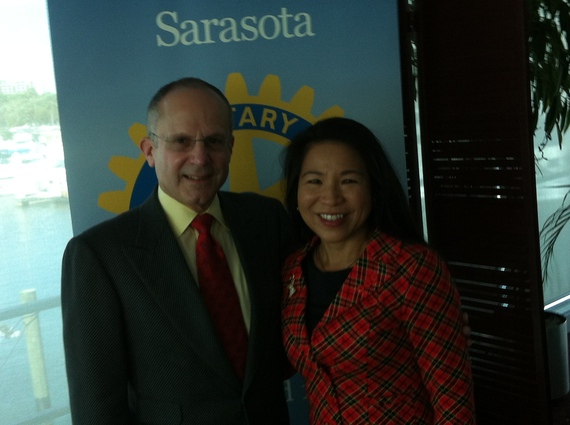 On December 4, 2013, I heard Kenneth Feld speak at the Rotary Club of Sarasota. Son of founder Irwin Feld, Kenneth Feld heads ups Feld Entertainment, which has relocated its Vienna, Virginia digs in 2013 to its new humongous 580,000 square-foot headquarters (former industrial plant for Siemens) in Palmetto, Florida in Manatee County. Feld Entertainment is the parent company of Ringling Bros. and Barnum & Bailey Circus as well as Disney on Ice, Monster Energy SuperCross and Ringling Bros. Center for Elephant Conservation.
At that December luncheon, Kenneth Feld and a few of his executives expressed their interest in getting involved in the sun coast. Sure enough, Melinda Hartline (a Feld director in event marketing and sales) offered to support Rotary Club of Sarasota in its annual pilgrimage to Circus Sarasota -- a one-ring intimate circus known for international acrobats and hometown funambulist Nik Wallenda. So on Friday, February 7, 2014 -- Opening Night of Circus Sarasota's winter season -- 85 Rotarians and guests, including 10 from Feld Entertainment, cheered on trapeze artists, human-balancing gymnasts and comedic clowns.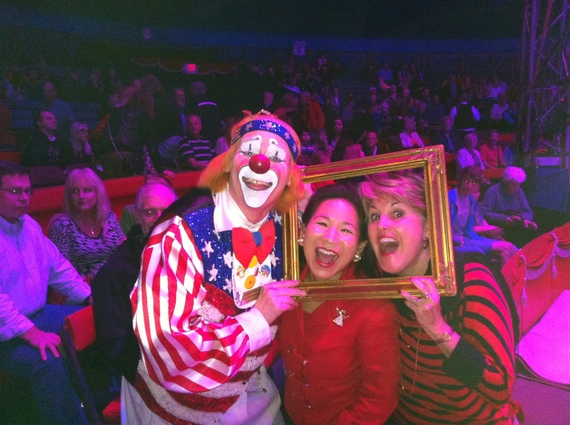 Circus folks have lived and still live throughout Sarasota County (directly south of Manatee County) -- from animal trainer Gunther Gebel-Williams' family to aerialist Dolly Jacobs whose late father is the famous clown Lou Jacobs.
As a structural engineer, I can only surmise that the suspended, rotating chandelier-like apparatus failed due to a combination of a live load perhaps over capacity, excessive vibrations and connections that went terribly wrong. As a past performer/dancer (trained to leap and twirl a 20' long silk ribbon), I hope and pray that these injured professionals recover rapidly. My Asian long, black hair hurts when my ponytail is too tight, so I applaud how these "hairialists" can synchronize their athleticism and beauty. These aerial acrobats go through years of training and auditions before their big break such as touring with the Ringling Bros. Circus. Although bumps and bruises can happen at rehearsals, broken limbs and deaths should never unfold...
So next time you take your kids, grandchildren or even your parents to the circus, please keep in mind that the artistry can be spectacular, the acts can be death-defying, and the show must go on... The performers thrive on your cheers and yes, standing ovations. These beloved Ringling Bros. aerialists risk their lives everyday, entertain us for generations, raise young children for the "family business," and most of all, delight us with phenomenal memories of The Greatest Show on Earth!