Those who know me best, know how much I long to be a Mom. While the process to become a mother, has so far been a long and challenging one for me (which I will share some other time), it is always in my heart. Because of this I find that I am often "mommy-minded" and I am surrounded by many shining examples of awesome Mothers!
With that being said, I am always looking for ways to share kindness with kids, and for kids, throughout my random acts. Recently, my friend Maria who is an owner at EPIC 31 asked her daughters to donate all of their unwanted toys to me, so I could give them out to deserving kids in the area.
Here's a pic of me on my 36th Birthday with a trunk full of those toys that I took over to group foster homes and women's shelters in the area. The day was one of my best birthdays ever, and each child's smile was a gift in itself. This gave me an idea for great blog to share with each of you! Ways to get your kids involved in Random Acts of Kindness....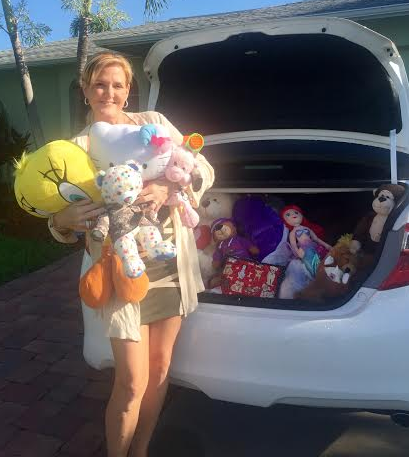 Now that school's out for summer, many parents are looking for things to do with their kids. Often times, parents reach out to me asking for ideas on Random Acts of Kindness for children to participate in.
After polling some friends for ideas through my personal and business social media pages, I was able to compile a list of great acts of kindness to do with kids.
Here are 20 great ideas that you and your kids can do to spread kindness around your community over the Summer!
1. Turn that Lemonade Stand into a charity fundraiser for the cause of your kid's choice. Whether it's donating to a local family, or sponsoring an endangered animal species, use their entrepreneurship to affect change and teach them how to give back.
2. Make Get Well Cards and deliver them to the Children's Hospital
4. Donate outgrown clothes to a local shelter, clothing drive, or a single parent household who could use a little extra help
5. Bring a bouquet a of flowers to a local nursing home. Ask if you can visit with a patient who hasn't had visitors in a while.
6. Room Clean Up Toy Drive - This is a win-win act of kindness. Ask your kids to help go through their toys in their rooms and playrooms and choose toys to donate to children who are less fortunate. Many times Foster Group Homes, Community Day Care Centers or Women's Shelters are always in need of new toys, books and games. If you are not sure where to donate - dial 211 - and ask which local groups could use the support.
7. With your supervision, have the kids hand out water bottles to people at the beach, or people working hard outside in the summer heat!
8. Make up a special little candy jar and bring the kids to deliver it to a neighbor.
9. Offer to help the kids pull weeds in the garden for an elderly neighbor.
10. Leave a bucket of tennis balls at the dog park with a note that says:
"Random Acts of Kindness - Please Take One For Your Furry Friend"
11. Make cards and care packages for soldiers and thank them for their service.
12. Donate old books to libraries or daycare centers. There's always someone looking for a new book to read! And parents, drop those magazines off at nursing homes or dialysis centers, they will be extremely grateful!
13. Have the kids put together a neighborhood food drive and donate to a local food bank or shelter (dial 211 to find out which locations need donations).
14. Write a nice note to a classmate from the past year or even send a "thank you" note to your past teacher for all they did for you.
15. Offer to do the dishes for your Mom or Dad.
16. Pick up trash on the beach or at a local park
17. As a family - choose to sponsor a child - and have your kids contribute part of their allowance to helping out your family's sponsored pal.
18. With supervision, give away flowers to people at the grocery store.
19. Bring someone's trash cans in.
20. Make cookies for the neighbors.
Looking for more great ideas?
Here's some other acts of kindness, you can perform with your kids or family members, from some of my friends around the country....
Rachel G.: Our kids made bags for us to keep in our car. Each was a gallon zip lock bag filled with a water bottle, a snack or two, (pretzels, granola bar), and a pair of socks. As a family we handed these out to someone holding a sign at a street corner.
Mandy C: We also clean out and donate quarterly to a shelter or charity, but the kids have to pick and go with me so they see the impact. We also adopt a family for the holidays and make a day out of picking out their presents and wrapping them, and the kids give up something on their list so we can get the family we adopted toys instead. We also do a baking day at the holidays (although we should do this more often!) where we make several things and then we take it to the local nursing home on Christmas Eve and pass out.
Paul F: Every time we had a birthday party for one of the kids we would end up with too many presents. We would have our kids pick out the top 5 or so that they wanted, then take the rest to the local orphanage and give the new unopened toys to the orphans.
Maria H: We donate a few of our gifts from every event to all children's hospital. They pick the gifts themselves. Very rewarding!!
Anthony M: Take them out to Dave and Busters and when you think you have enough tickets/points tell your kids to give it to a random kid. And the faces on that kid are priceless.
Patty R: Have children keep a jar in the home for mom and dad to dump their change in payment for,chores done. When the jar is full take and donate to Salvation Army or homeless shelters.
Janie K: One of my son's friends parents had a no gift policy for Her child's birthday, instead she asked for "donations" of toys in different age groups so she could donate them to Yale Pediatrics Hospital where children with acute illnesses spend long stretches of time. I thought that was super cool, & it was the child's idea to use his birthday as a means to donate to the children's hospital.
Jennifer M: I had my kids spend one day of their school break making cards for the local nursing home.
Mary Lou M: When I was a brownie leader our troop adopted a senior citizen living alone. Each week one of the troop members hand delivered her Sunday paper. We then found that on their own some of the girls (with a parent) went into her house for visits and brought other gifts like baked goods, flowers etc
I hope you will involve your children in the joy of spreading kindness to others. If you have any other great ideas to share with our readers - please comment below: