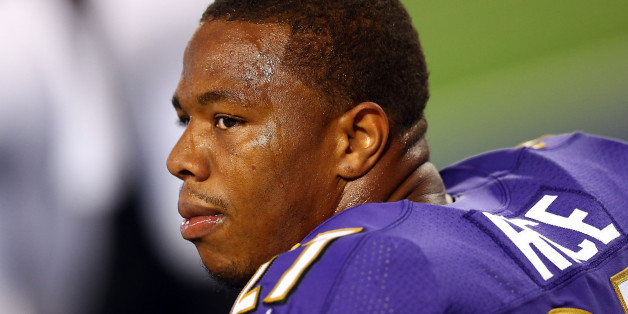 Former Baltimore Raven running back, Ray Rice, has won immediate reinstatement in a decision by Federal Judge Barbara Jones on his November 6 appeal of his indefinite suspension from the NFL by Commissioner Roger Goodell -- but as a practical matter it won't mean much. The chances that another NFL team will sign him this season are close to zero. There are certainly teams that could use a late season boost from Rice's talents, but the firestorm of antipathy surrounding him has made adding him to a roster untenable.
I predicted at the time Rice was indefinitely suspended September 8, in the wake of the release by TMZ of the second tape showing him knocking his then fiancee unconscious, that the suspension would not stand. He had already been disciplined once, albeit way too leniently, and all the facts necessary to judge him were present when the first discipline was levied. This ruling is no surprise. But, the NFL experienced the most adverse public reaction in memory in the three weeks following the release of the tape and Rice became a national villain.
Rice is not at the height of his talents. He has been a major star for years at a position that takes a major toll on the body. Still he could enhance an offense like Cleveland, Seattle, San Francisco, Jacksonville, New Orleans or San Diego. It is hard to visualize any team owner, general manager or coach in this environment approving a decision to sign him.
Had I represented Rice I probably would have advised him to have announced he was taking the year off to work on anger management and his marriage. I would also have encouraged him to reach out to groups active in the awareness and prevention of domestic violence and ask how he could be of help in combating this scourge. History is replete with athletes who have committed serious transgressions, seen the error of their ways, and with the passage of time, come back and been productive on and off the field. We don't throw young men on the trash heap of history forever for one terrible mistake that does not involve loss of life.
Signing Ray Rice at this time could be seen as condoning his misdeed. It would certainly attract an avalanche of media attention. A team could expect that the story line of its push for the playoffs would be dwarfed by Rice stories. This is the opposite of what a front office and coaching staff are looking for at this time of year. Players have been working since training camp with one common goal-making the playoffs and winning the Super Bowl. Signing Ray Rice at this point of the season will not be seen by teams as a positive addition.