So if you're going to write a kids' book called The Greatest Moments in Sports, uh, what would those moments be?
Two of my immediate suggestions didn't make the cut. Bobby Thompson's home run and Don Larsen's perfect game. The publisher didn't want to load up on "old baseball." I understood the point. So we spread around the moments to cover all sports, generations, sexes, and races. Our most magnificent athlete never granted an interview and had 653 kids. Secretariat.
Secretariat wins his Triple Crown.
After Jesse Owens won 4 Olympic gold medals they held a ticker tape parade for him in New York. When he got back to the Waldorf for the victory dinner he wasn't allowed to ride up the elevator with whites, so they made this hero take the freight elevator. The morning that Roger Bannister broke the 4 minute barrier for the mile, he was studying medicine in the library.
Bannister breaks the four minute mile.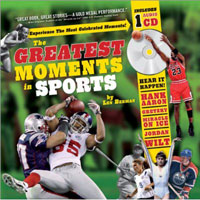 I submit no other athlete was in the library before his or her big moment. I don't rank the 25 moments 1 through 25, but I do choose the #1 greatest sports moment. That would be the 1980 U.S. Olympic hockey team. The book comes with an audio CD of some of the moments.
You may not agree with all the choices (Bobby Riggs vs. Billie Jean King for example), but I'll give you a compelling argument why every one of them has to be considered "great." Enjoy.

Look for me at my upcoming book signings:
Friday, November 13, 2009: Clinton Book Shop - Clinton, New Jersey - 6:30pm
Saturday, November 21, 2009: Barnes & Noble - Manhasset, New York - 12:00pm
Saturday, December 5, 2009: Dolphin Bookshop - Port Washington, New York - 1pm
Wednesday, December 9, 2009: Barnes & Noble - Princeton, New Jersey - 5pm
Saturday, December 12, 2009: Books & Greetings - Northvale, New Jersey - 11am