TGIF everyone, here's my Top 5 for October 29, 2010 from Len Berman at www.ThatsSports.com.

1. Quick Hits
* Matt Cain and the Giants dominate the Rangers 9-0 and take a two games to none lead.
* The World Series resumes tomorrow night with game 3 in Texas. 6:57pm Eastern. FOX.
* As expected, TV ratings for game 1 weren't so hot.
* Baseball Commissioner Bud Selig says the playoffs could be expanded as early as next year.
* The Yankees and manager Joe Girardi agree on a 3-year, $9 million deal.
* Still ticking. 39-year-old pitcher Pedro Martinez is thinking about pitching next season after taking the year off.
* Ya gotta play somewhere. Allen Iverson is heading to Turkey.
* Hot ticket. StubHub says a pair of courtside seats for tonight's Miami Heat home opener against Orlando went for $25,884. Do you get fries with that?
2. Free TV (Sorta)

My subscribers are on the case on how to watch the World Series despite Cablevision.

*Rich W. says, "I went to Radio Shack and purchased one of those digital converter boxes. $59 plus tax. The game came in perfectly."
Hey Rich, Erica and Jay C. said they paid $34.99 plus tax. Hmmm.

*Phil R. writes, "I'm sure you got the email from Cablevision--if we subscribe to the series at mlb.com, they'll credit our accounts for the $10 it costs."
But Roy N. complains, "It's a single camera, trained exclusively on the batter, utilizing the lackluster talent of FOX audio and no graphics. Talk about unconscionable!"
Jeff H. chimes in, "there are 8 different camera angles."

*Christopher G. on Facebook at "Len Berman's Top 5." " I have Fios and get FOX and still watched the New York Rangers game instead."
Editor's Note: Wrong Ranger game.

3. Double Dribble

The line of the week comes from Dwight Perry in the Seattle Times. Maybe you saw the picture of the Victoria's Secret model in Times Square wearing her new $2 million dollar bra? You're probably not interested, but just in case.
Dwight wrote, "Undergarment designers got the idea (for the bra), insiders say, when the Knicks trotted out their latest $2 million bust."
4. Friday eMailbag

G.A. on Facebook: "I'm waiting for one Yankee fan to stand up and say thanks to the team for giving them a wonderful season. They are all so wrapped up in this win-the-World-Series-or-bust thing that they don't even appreciate what they have. This is the core of why I'm a lifelong Mets fan, win lose or draw.
Editor's Note: So when will you stand up and thank the Mets for a wonderful season?

In regards to the NBA wanting to cut salaries and maybe eliminating a couple of franchises, S.F. writes, "Forget dropping a few teams; play 1-on-1 instead of 5 on 5. The game has turned into a 'look at me' league anyway, right?"
Editor's Note: You'll never guess that S.F. is a basketball coach.
When I mentioned the 79th anniversary of the George Washington Bridge, Tom Kaminsky, the chopper/traffic reporter for WCBS in New York, took this great picture!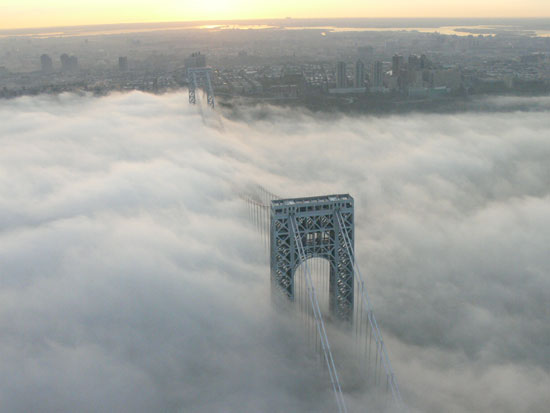 And there were tons of comments about the passing of Paul the Octopus, the World Cup prognosticator in Germany. From D.R. the cold hearted, "Please pass the marinara," to the pragmatic from T.M. "Now Paul is sleeping with the fishes."

5. Spanning The World

This week's Spanning the World Highlight comes from Down Under. Nothing but Net, Matey.

Have a great weekend everyone, with "no worries."


Happy Birthday: Mets knuckleballer R.A. Dickey. 36.
Bonus Birthday: Charlie's Angel Kate Jackson. 62.

Today In Sports: Cassius Clay wins his first professional fight against Tunney Hunsiker, 50 years ago today. 1960.
Bonus Event: A cheerful thought. The stock market crashes touching off the Great Depression. 1929.