Tourists are flocking to New Orleans for Mardi Gras and this weekend it is in full swing. This year's parade season is through March 4th. Of course, there will be a wild time eating, drinking and shouting, "Throw me something, Mista!" And, many will leave New Orleans bloated, with a hangover, and a handful of brightly-colored strings of plastic beads. No-one will leave untouched by this weird, unique, soulful, incredibly delicious American city. Some travelers will be so seduced they will want a deeper understanding and appreciation of this singular place. Here with 11 books as colorful as the city they spring from: some you want to read before (especially Eat Dat!), some after.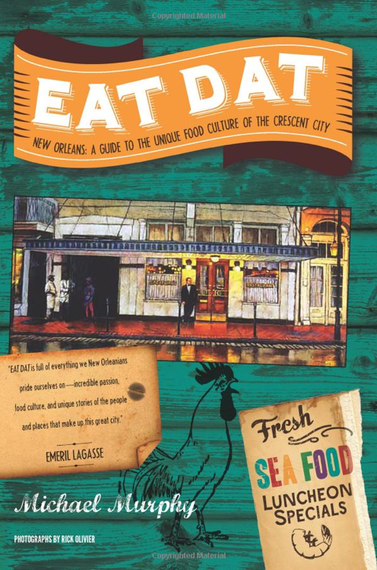 EAT DAT NEW ORLEANS by Michael Murphy
(Countryman Press, $18.95)
How could one small city (370,000 people) have hundreds, maybe thousands, of books about New Orleans' restaurants, chefs and food scene? As idiosyncratic as the city itself, herewith the latest and most outrageous, by the brilliant ex-publisher of William Morrow: Eat Dat profiles 200 restaurants, including many that opened after Katrina and are missing from most guidebooks.
Packed with stories, Galatoire's entry, for instance, is less about their Trout Amandine and instead highlights the time General DeGaulle came to the restaurant (forced to wait for a table like everyone else, he yelled at the maitre'd, "Do you know WHO I am?" Their reply, "Why yes, Mr. President. Do you know WHERE you are?"). Beyond profiles of Commander's Palace, or even great hole-in-the-wall joints like Killer Poboys and Coop's, the reader will learn about Mr. Okra--the favorite local truck vendor, the history of Zapp's Chips, and the derivation of Who Dat. Eat Dat is brought to life by over 50 full-color photographs by Rick Olivier.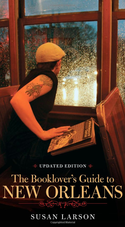 THE BOOKLOVER'S GUIDE TO NEW ORLEANS by Susan Larson (Louisiana State University Press, $24.95)
Overwhelmed by the rich music and culinary histories of New Orleans, it's sometimes easy to neglect the city's equally great literary history. Susan Larson's lively, anecdote-filled Booklover's Guide to New Orleans misses no-one including William Faulkner, Truman Capote and Walker Percy, but goes far beyond the obvious entries. As she notes, "Some books we need, some books enrich us, and some books tell us how to cook gumbo. I wanted to give a lot of entry points to literary culture."
The Times-Picayune book editor for 22 years, she now hosts a local NPR show, "The Reading Life." She is also the Tennessee Williams Literary Festival Vice President for literary programming, serves on the board of directors of the New Orleans Public Library, is a member of the National Book Critics Circle, and the founder of the New Orleans chapter of the Women's National Book Association. In 2007, she received the Louisiana Endowment for the Humanities Lifetime Achievement Award for her contributions to the literary community. No messing around here. Some advice from the book: In between the Krewe Delusion Parade and Zulu Parade, duck into Fleurty Girl T-shirt Shop on St. Peter's to stand where Tennessee Williams lived and wrote A Streetcar Named Desire.

OBITUARY COCKTAIL by Kerri McCaffety (Pelican Publishing, $35.00)
Where Eat Dat is your book about eating in New Orleans, Obituary Cocktail is your book about drinking in the Crescent City. Let the tourists pound down Hurricanes and Grenades. Kerri's portraits, in words and photographs, will guide you to New Orleans' more historic and elegant watering holes. Susan Larson wrote, "McCaffety's book reflects the city in all its drunk splendor, whether it's the golden light of a lazy afternoon or the swirling energy of a dance floor. Like a good bartender, she knows how to listen, knows how to look and knows how to tell a great story. In perfectly chosen words and images, [Obituary Cocktail] captures something timeless and essential about New Orleans."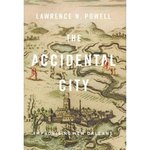 THE ACCIDENTAL CITY by Lawrence Powell (Harvard University Press, $19.95)
For those with more serious tastes, Accidental City was one of the most outstandingly reviewed books of 2012. It is the story of a city that shouldn't exist. The distinguished Professor Emeritus of History at Tulane University has written the definitive portrait of New Orleans and its transformation from a swamp in the 1600s prone to flooding, infested with snakes, and battered by hurricanes into the center of commerce and arts it has become today. Reviewer Ira Berlin said, "The Accidental City is an extraordinary book--hands down, the best account of the first two centuries of the history of New Orleans."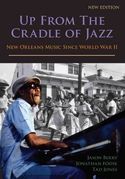 UP FROM THE CRADLE OF JAZZ by Jason Berry, Jonathan Foose, & Tad Jones (University of Louisiana at Lafayette, $30.00)
As was the case with food, there are many, many books about New Orleans music. Louis Armstrong and Danny Barker wrote long anticipated and exceptional memoirs. Dr. John's Under A Hoodoo Moon is as magically cray-cray as New Orleans and the Doctor himself. Donald Marquis' In Search of Buddy Bolden also belongs in the mix. But if forced to choose only one, Up From The Cradle Of Jazz is the definitive story of contemporary New Orleans music (until a newer book that includes Galactic, Meschiya Lake, and Big Freedia comes along). With intimate and evocative writing, the book portrays the moment when the Neville Brothers, Professor Longhair, Fats Domino, The Meters, Allen Toussaint and many others first hit the New Orleans music scene.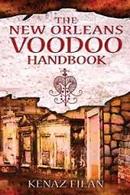 THE NEW ORLEANS VOODOO HANDBOOK by Kenaz Filan (Destiny Books, $19.95)
To understand New Orleans, you need a little voodoo in the mix. Filan's Handbook is not only a guidebook, but also an investigation into one of the South's most enduring, powerful legacies. Voodoo, complex and freeform, a mix of cultural influences from Africa, Italy, France, and Ireland, is still practiced in New Orleans today. If you want the real stuff, skip the tourist shops in the Quarter and visit Sallie Ann Glassman's Island of Salvation Botanica in the Marigny or F&F Candle in Mid-City. Written by a VooDoo priest, the handbook delivers the history from Marie Laveau to the current practices, rituals, and tools of the trade. Now go do that voodoo that you do so well.
Hurricane Katrina was one of the great stories of the 21st Century, tragic at the outset and a remarkable story of resilience and rebirth in the long haul. Most in New Orleans consider 8/29 every bit as important as 9/11. Katrina produced an onslaught of books. Shown below are two of the more lasting ones because both are intimate and extremely well written stories rather than a collection of facts or an indictment against the government's ineptitude.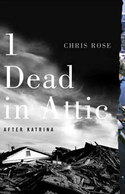 1 DEAD IN ATTIC by Chris Rose (Simon & Schuster, $17.00)
For many years Chris Rose was the literate but lighthearted essayist for The Times-Picayune, sort of a New Orleans style Calvin Trillin or David Sedaris. For his portrait of Katrina, 1 Dead in Attic (for the most part) takes on a more somber tone. One quote from the book's opening should convince you to read it: Dear America, I suppose we should introduce ourselves: We're South Louisiana...You probably already know that we talk funny and listen to strange music and eat things you'd probably hire an exterminator to get out of your yard. We dance even if there's no radio. We drink at funerals. We talk too much and laugh too loud and live too large and, frankly, we're suspicious of others who don't.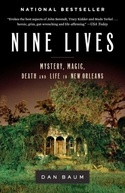 NINE LIVES by Dan Baum (Spiegel & Grau, $16.00)
After Katrina, New Yorker writer Dan Baum moved to New Orleans to write about the city's response. Instead, he was overwhelmed by the stories of individual residents who chose to come back and reset their roots in the forever unstable swampland, often known for violence, corruption, and (oh yes), the occasional devastating hurricane. Nine Lives is the tale of nine wildly diverse residents, from Mardi Gras king to coroner to transsexual, who collectively reveal the spirit of New Orleans. In the introduction of his book, Baum writes, "I noticed that most of the coverage, my own included, was so focused on the disaster that it missed the essentially weird nature of the place. In the context of the techno-driven, profit-crazy, hyperefficient self-image of the United States, New Orleans is a city-sized act of civil disobedience."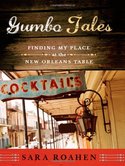 GUMBO TALES by Sara Roahen (Norton, $15.95)
Gumbo Tales is a beautifully rendered memoir about Wisconsin girl Sara Roahen, making a home of her adopted New Orleans. Beginning with gumbo, Roahen explores her new home by examining the signature dishes, and delving into the history of the cuisine and the people who shaped it and keep it alive. Personal and poignant, humorous and heartfelt, the power of Roahen's writing makes Julie & Julia feel like fast food.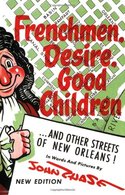 FRENCHMEN DESIRE GOOD CHILDREN by John Chase (Pelican Publishers, $17.95)
The quickest way to expose yourself as a tourist is to mangle the pronunciation of New Orleans streets. Poydras (POY-drass), Terpsichore (Terp-si-core), Tchoupitoulas (CHOP-a-two-las) are not the only hard ones. Burgundy (Burr-GUN-dee) and Chartres (CHART-ers) are equally challenging. John Chase's reference book on the nomenclature of the city's streets may seem like the stuff long naps are made of, but in his hands, Frenchmen Desire Good Children has been called a "humorous masterpiece." Chase creates intriguing tales of the developers, families, notorious and famous people, places, and events from which these weirdly named streets were created. Everything in this one-of-a-kind city is filled with stories, even the street names.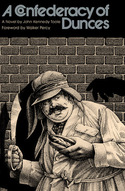 A CONFEDERACY OF DUNCES by John Kennedy Toole (Louisiana State University Press, $26.95)
Any list of New Orleans books must either begin or end with Confederacy of Dunces. The Pulitzer Prize winning novel is considered an American comic masterpiece. Part Don Quixote, part Huck Finn, part Ulysses, the novel captures the unique (eccentric) people and spirit of this city through the stumbling exploits of Ignatius P. Reilly. Several film adaptations fell apart when actors chosen to play Ignatius, John Belushi, John Candy, and Chris Farley, all died before the film was made. Stop in the St. Louis Cathedral while in New Orleans to light a candle and say a quick prayer for Zach Galifanakis, currently considering the role.