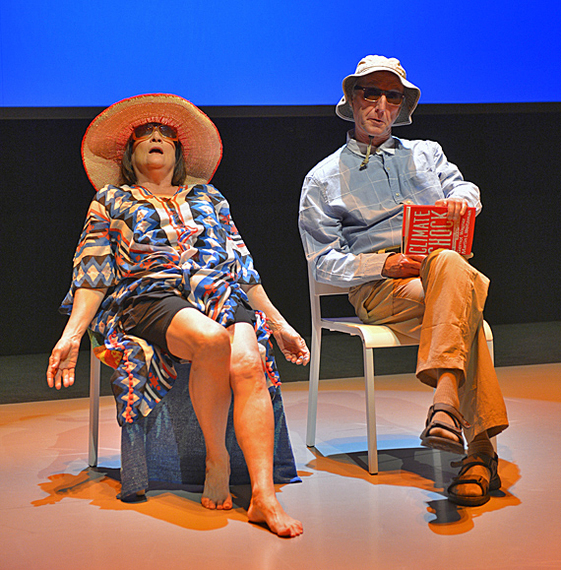 Sharon Lockwood and Dan Hiatt: Communicating isn't easy.
Photos by Kevin Berne
American Conservatory Theater's new space on Market Street was named the Jewel when it opened as a movie house in 1917. In its current and extensively remodeled incarnation, which made its official debut last week with Caryl Churchill's engrossing and enigmatic Love and Information, the facility lives up to its original name. Boasting 283 seats and all the visual and audial electronics that a director might dream of using, it's a gem that gives ACT a home for shows that are unlikely to pay the bills at the company's much-larger Geary Theater.
Love and Information is just such a play. Consisting of 57 scenes that flow through an unbroken 90 minutes or so, it has no plot, no continuing characters and no dramatic arc. Replacing those traditional elements is a vaguely shaped theme about communication, relationships, distractions and obsessions.
The longest of those scenes runs about five minutes, according to folks who watch their timepieces. I wasn't looking; my eyes and ears were focused on captivating performances that shape unique moments in a multitude of moods. The shortest scenes run just a few seconds, long enough for someone to deliver a single sentence.
Most episodes involve two people engaged in ambiguous verbal duels, struggles to communicate or probes into the depths of private psyches. A few look skeptically at the digital saturation that is a hallmark of our time, but that's just one facet among many. Among the others: the scale of the universe, fascination with a snail, frailties of memory, the quest for love.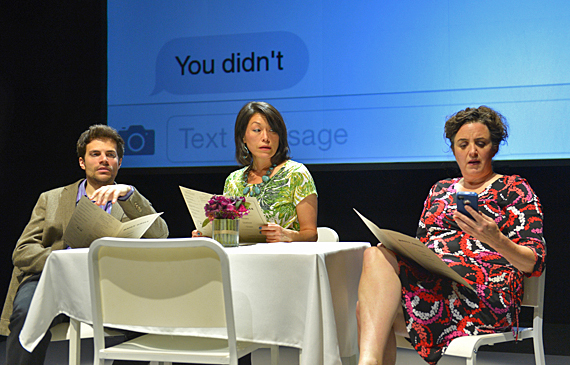 Joel Bernard, Mia Tagano and Cindy Goldfield: a digital divide
Whether those people are male or female, young or old, straight or gay, white or black or Asian doesn't concern the playwright. Her script provides only words to be spoken, with no character descriptions and only one advisory on staging: the scenes may be arranged fairly freely, as long as they remain within the text's seven sections. What if anything holds those sections together is one more enigma that defies my comprehension.
Turning the words into personalities and scenes that engage a viewer is the director's task, and ACT returnee Casey Stangl (Venus in Fur) dispatches it with engrossing skill and variety, using a cast of 12 to play some 140 roles. Singling out outstanding performances is impossible, since the production demonstrates the essence of ensemble acting, made even more impressive by the range of characters that each actor must fill.
The quick-change performances receive expert support from the show's technical team, most notably by Micah J. Stieglitz's projections on a huge screen that fills the rear of the stage. At times those projections take over the dramatic duties, with scenes filled by larger-than-life images and voices. Most often, though, the videos and stills and designs support the mood of the moment or provide dramatic views of San Francisco's downtown core.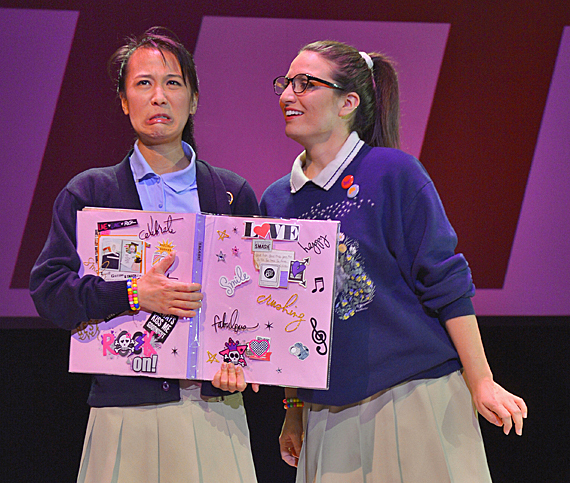 Christina Liang, Dominique Salerno: starstruck teen torment
In a sense, the play's fragmented structure is vintage Churchill, which means it is like nothing she has done before. For more than 50 years she has pushed the boundaries of dramatic form, most memorably with Cloud Nine, Top Girls and Mad Money. At 76, she remains as inventive as anyone writing for the stage.
Although the performance site is billed as the Strand, that tells only part of the story of the facility, which houses two theaters and a spacious, bright and inviting lobby. Love and Information is in the larger theater, the Toni Rembe, and a 140-seat space called the Rueff occupies the second floor, giving ACT resources for new ventures of all sorts.
Love and Information runs through Aug. 9 in American Conservatory Theater's Strand Theater, 1127 Market St., San Francisco. Tickets are $40-$100, from 415-749-2228 or act-sf.org