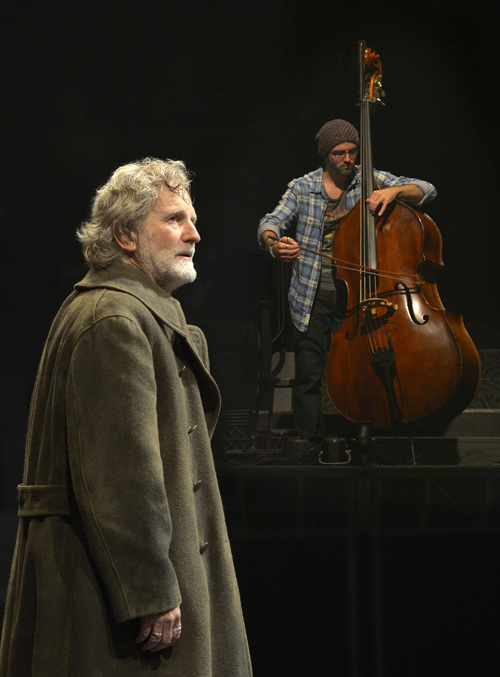 Henry Woronicz recounts an ancient tale; Brian Ellingsen supports its many moods. Photo courtesy of kevinberne.com
One actor, roaming a stage that is nearly bare; one musician, lodged in a tiny balcony overlooking the performance space; a torrent of words -- some ferocious, some tormented, some tranquil -- that recount events which may have taken place some 3,200 years ago.
Those are the basic components of An Iliad, at Berkeley Rep.
But a reduction to elements cannot begin to do justice to An Iliad. The words, delivered with virtuoso range and intelligence by Henry Woronicz, along with the immense variety of sounds drawn from a double bass by Brian Ellingsen, create the brutal chaos of clashing armies, the rage and heroism and vulnerability of men at war, the hope and agony of impotent observers of battle, the sweep of three millennia of violent history.
The text was adapted from Homer by Lisa Peterson and Denis O'Hare, who turned it into as harrowing and heartbreaking a depiction of war as we are ever likely to see in live theater. If I may be excused an overload of superlatives, they also created a role that is more demanding -- physically, mentally and emotionally -- than any that I can recall in more than four decades of theatergoing.
Woronicz, whose credits include a multitude of Shakespearean roles, endows his role with depth and truthfulness that defines stagecraft but never seems stagy. His character is identified only as The Poet, a label that might suggest to modern audiences a person who scribbles or types in solitude, hoping to be read or heard by a handful of admirers.
Any such impression would be totally misplaced, as Woronicz makes clear in the play's opening scene, when he appears as a bedraggled old man rambling incomprehensibly, in what I presume is ancient Greek. This poet is a story-teller of the sort who carried folklore and history from one generation to the next, preserving the legacy of cultures; he is the sort of poet that preserved and embellished -- or perhaps created -- the tale of the Trojan War with such power and beauty that it has remained with us over the millennia.
Peterson, who also directed, and O'Hare made no attempt to compress the entirety of The Iliad into a manageable drama. Rather, they focused on a few pivotal events and personalities in the war's ninth year, beginning with the despair and fatigue of weary Greeks who long to give up the invasion, and ending with the short-lived respite that followed the death of Hector, the most courageous of Trojans.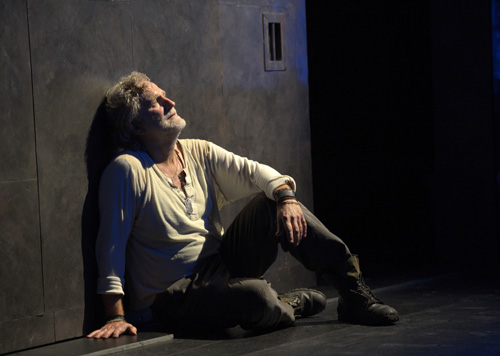 Woronicz, as The Poet, delivers a tale he has told too many times over the ages. Photo courtesy of kevinberne.com
It is a tale The Poet says he has sung countless times, each time hoping it would be the last, but knowing that the end of war stories is nowhere in sight. In an explosion of frustrated rage, he delivers a roll call of conflicts, from antiquity through the middle ages to today, in Asia, Europe, the Americas and the Middle East. He passes no judgment on the merits of any but implicitly condemns the apparent human need to slaughter others, often in the name of one or many gods.
Woronicz gives us Achilles, who refuses at first to fight because of unhappiness with his fellow Greeks, then becomes a whirlwind of terror because of personal loss; he brings similar qualities to Hector, the most feared and tempestuous of Trojans.
But it is in his portrayal of men and women who have suffered loss, particularly those closest to Hector, that Woronicz gives the play its compassionate soul: in the grief of Andromache, Hector's wife, and that of Hector's father, King Priam, who bravely goes to the Greek camp to plead for the return of his son's body.
Each of the play's moods is immensely heightened by Mark Bennett's score, brilliantly executed by bassist Ellingsen, who bows and plucks and slaps his instrument to create a vast array of aural colors that can't always be called musical, at least in any conventional sense. Some are explosive, others are plaintive; all are right.
Add to that the exquisite use of lighting, designed by Scott Zielinski, and you have a magnificent assemblage of theatrical arts. It's unforgettable.

An Iliad runs through Nov. 18 in Berkeley Repertory Theatre's Thrust Stage, 2025 Addison St., Berkeley. Tickets are $14.50-$77 (subject to change) from 510-647-2949 or www.berkeleyrep.org.