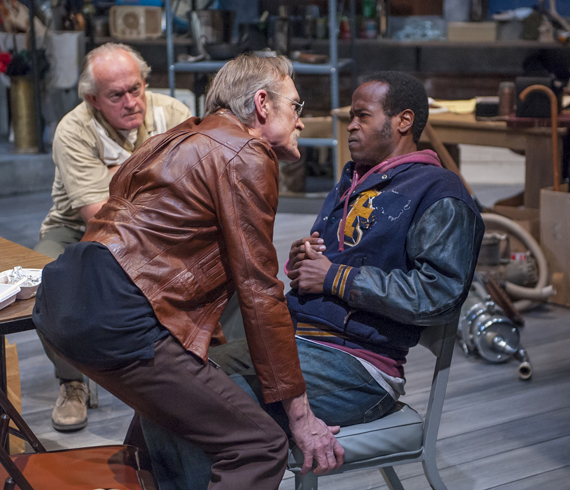 Bobby (Rafael Jordan) catches heat from Teach (James Carpenter), observed by Donny (Paul Vincent o'Connor).
Photos by David Allen
David Mamet's American Buffalo and Aurora Theatre's postage-stamp stage were made for each other. The play crackles with suspicion, strained loyalties, violence and caustic humor; the production comes close to putting audiences into the midst of it, magnifying every layer of its impact.
Considered a classic since the late '70s, when it thrust Mamet onto the roster of our leading dramatists, Buffalo remains as potent and relevant as it ever was. Its three characters are small-time crooks; their attitudes and ambitions would sit equally well on Wall Street, Main Street or in dark alleys.
The action takes place in a grubby Chicago resale shop, whose owner articulates his philosophy with benevolence but in no uncertain terms to a young, naive errand boy: "There's business and there's friendship . . . Things are not always what they seem to be."
Owner Donny is a hustler as well as a peddler of all manner of junk and curios, and furious that he was swindled when he sold a buffalo-head nickel to a collector for $90. He has come to believe it's worth much more, and intends to undo his mistake.
Assisting him in a scheme to steal the nickel and the buyer's entire coin collection are the gofer, Bobby, and a hot-headed crony named Teach.
But things go awry from the start, fueled by personal rivalries, mutual suspicions and simple stupidity, often voiced with absolute certainty. The certitudes, seen from the perspective of a wiser audience, shake the house with laughter.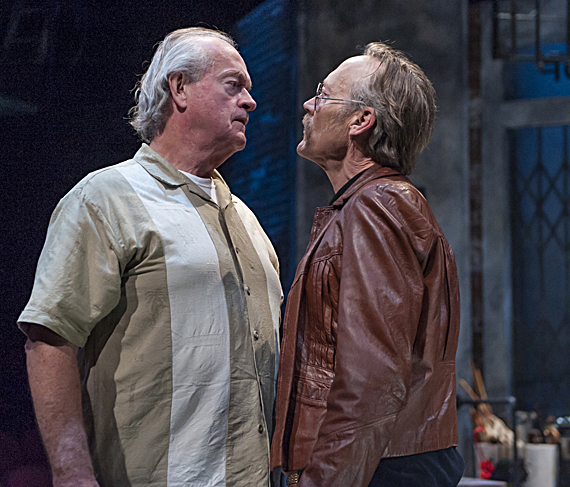 Donny (O'Connor) and Teach (Carpenter), face-to-face: Friends aren't always friendly.
The play starts calmly, with Donny chastising yet encouraging Bobby in relatively paternal terms over a slip-up committed by the young man. When Teach comes crashing through the door, things explode.
Played to the frenzied hilt by Bay Area standout James Carpenter, Teach is a feral creature in perpetual motion: pacing, gesticulating, dropping F-bombs by the dozen, suspicious of everyone and loyal to no one. And brutal.
Paul Vincent O'Connor, another familiar figure on regional stages, brings a strong and relatively rational presence to Donny, who knows what he wants but stumbles over the mechanics of getting it. Despite misgivings and wariness, he's capable of loyalty and even compassion.
Newcomer Rafael Jordan injects a sharp contrast, playing Bobby with an air of timidity that borders on fright, even when the youngster is trying to seem assured. The approach adds an appropriate balance, and a sympathetic presence.
Mamet's cryptic dialogue sizzles with conflict, confusion, rage and fear, dispatched with a wide and nuanced range by Aurora's actors. Even in face-to-face confrontations, fury usually takes forms that are seethed rather than shouted. The approach is refreshing.
The edgy, abrasive interplay was directed with expertise by Barbara Damashek, exploiting not only the skills of her strong cast but also a marvelous set designed by Erik Sinkkonen. It fills the entire playing area with display cases, storage racks, desks, tables and heaps of free-standing junk, plus the likes of bicycle tires and garden tools hanging from above. When Teach takes a club to the furnishings in the furious climax, it's scary, especially for the folks in the front rows.
Except for one element of attire, the action could easily be viewed as contemporary rather than in the '70s. That detail is the polyester leisure jacket and bell-bottom trousers worn by Teach, whose crudity apparently belies a vain streak. Credit Cassandra Carpenter with the costuming.
American Buffalo runs through July 13 at Aurora Theatre, 2081 Addison St., Berkeley. Tickets are $32-$50, from 510-843-4822 or http://www.auroratheatre.org