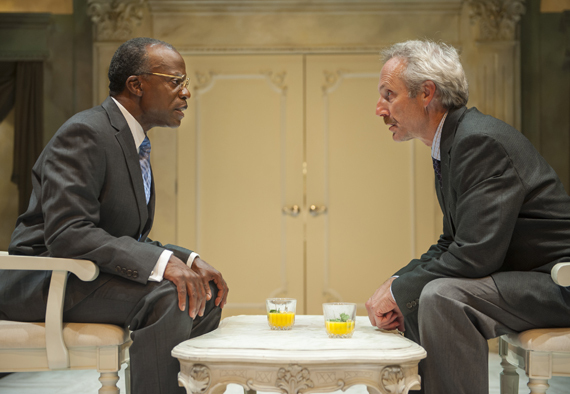 Callender as Mugabe, Hiatt as Peric: sharing authority, insecurity, fear
Photos by David Allen
"Uneasy lies the head that wears the crown." The words are Shakespeare's, of course, voiced by Henry IV more than four centuries ago. They mirror the thoughts and fears of Zimbabwe's Robert Mugabe in the early 21st century, as depicted in Fraser Grace's Breakfast With Mugabe.
Mugabe has ruled his country since 1980, when protracted rebellion led to independence from Great Britain. Initially regarded as a democratic liberator, he gradually earned a reputation for rigging elections, murdering opponents and transforming a prosperous nation into one of Africa's poorest. His standing has plunged from a position that brought international accolades to that of a pariah who cannot legally enter nations that once saluted him.
News reports depict him as the quintessential African despot, obsessed with total control. At 90, he shows no intention of relinquishing power.
Grace's play, based on a well-circulated rumor if not confirmable fact, treats those public aspects of Mugabe as background. Filling the foreground is the private realm of his mind. The drama is making its West Coast debut at Aurora Theatre in Berkeley.
Sharing the foreground with Mugabe is an unlikely figure, considering the time and place. He is a white psychiatrist.
The visibly troubled roles are filled by two outstanding veterans of many Bay Area stages: L. Peter Calender as Mugabe and Dan Hiatt as Dr. Andrew Peric. The doctor was summoned by the dictator because of his reputation as the country's leading psychiatrist.
What ensues is a cat-and-mouse game that exposes the fears and struggles of men accustomed to power. Mugabe's stems obviously from his political status; Peric's comes from the authority of a doctor who routinely deals with emotionally vulnerable patients.
Their first encounter lays bare both men's need for control. From Mugabe's perspective, that need takes laughably/scary form in his insistence that the doctor wear a tie that the president considers appropriate. From Peric's side, there is insistence that his patient follow standard medical protocols, including discussions held in privacy and rigid adherence to schedules.
Mugabe's torment stems from the unrelenting sight of a ghost: an ngozi in the Shona language. Despite a western education and a half-dozen earned college degrees, Mugabe is a product of his ancestry. The ghost, he insists, is fierce, vengeful and visible, if only to him. It takes the form of a one-time comrade and later rival, who was shot to death. The cause of his murder was never solved, and the suggestion that Mugabe is tormented by guilt for it seems clear.
Peric's thinly disguised torment stems from his fear of the violent changes taking place in the country of his birth. Mugabe's land reforms have unleashed undisciplined forces against white-owned properties, and Peric is a soil-loving tobacco farmer in addition to being a doctor.
Frequently pacing nervously around Nina Ball's opulent set, squirming and grimacing as they exchange troubling questions and implied thoughts, Calender and Hiatt play out a game that carries dangers for both. The edgy performances inject drama to a narrative that otherwise might sag as it skims through the history of colonialism, revolution and personal rivalries in Zimbabwe and its antecedent state, Southern Rhodesia.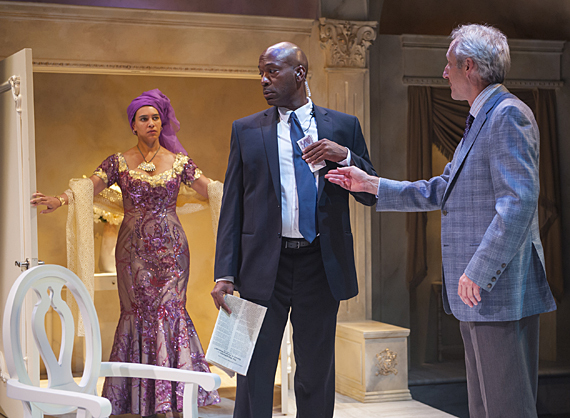 Leontyne Mbele-Mbong as Mugabe's wife, Adrian Roberts as his bodyguard, with Dr. Peric: Bribery is a way of life in a troubled country.
Calender and Hiatt share the stage with Leontyne Mbele-Mbong as Mugabe's imperious wife, Grace, and Adrian Roberts as his physically imposing bodyguard. Both performances are spot-on.
Exquisitely costumed by Callie Floor, Mbele-Mbong reveals Grace as a strong-willed woman with taste for designer clothing as well as a forcefully pursued agenda of her own, which sometimes conflicts with her husband's.
In silence, cryptic words and occasional deeds, Roberts embodies the power of an intelligence service that observes everything, reveals almost nothing and employs violence as it sees fit.
Although the cast manages to overcome the text's potential for occasional sluggishness, they also create what appeared to be a problem for some viewers: accents, especially by Calender and Mbele-Mbong, that may be authentic but can frequently be difficult to understand. From this viewer's perspective, a suggestion of authenticity works more effectively than the real thing.
The performances, directed by Jon Tracy, are supplemented during transitions by black-and-white videos and news photos: images and sounds of a nation wracked by turmoil. The play is fiction; the underlying story is agonized fact.
Breakfast With Mugabe runs through Dec. 20 at Aurora Theatre, 2081 Addison Street, Berkeley. Tickets are $32-$50, from 510-843-4822 or auroratheatre.org