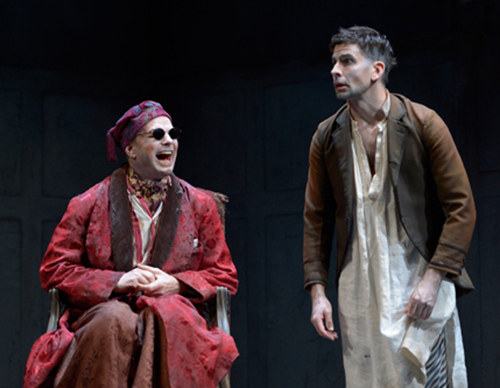 Hamm (Bill Irwin) commands, Clov (Nick Gabriel) obeys in ACT's Endgame. Photo by Kevin Berne.
Art isn't easy. The fictionalized descendant of painter Georges Seurat made that assertion in Stephen Sondheim's Sunday in the Park With George, but it applies far more forcefully to Samuel Beckett.
Making art was never easy for Beckett; viewing, hearing or reading his art has seldom if ever been easy for anyone who has encountered his plays, novels, stories or other works.
But American Conservatory Theater is making it as easy as possible for audiences to come to grips -- "enjoy" is the wrong word -- with his oft-revived Endgame and rarely seen Play in San Francisco. Both are receiving taut, compelling presentations, propelled by verbal conflict and comedy, and in the case of Endgame by sight gags inspired by the likes of Chaplin and Keaton. Credit ACT artistic director Carey Perloff with the fine staging.
She has to be admired for taking on such challenging comedy-dramas in ACT's spacious Geary Street home. With the possible exception of Waiting for Godot, Beckett communicates far more powerfully in smaller spaces, the kind that housed his theatrical works before he attained celebrity as a thinking person's playwright.
The production has several elements that are unlikely to be seen again in these parts: One is the extraordinary clown Bill Irwin, a master of physical comedy, in a role that limits his movements to gestures of hands, arms, head and face; the other is the over-all lack of movement in the entire double bill.
Play, which opens the show and runs less than a half hour, consists of interlocked monologues by two women and one man, confined to huge urns. Only their faces are visible, illuminated by a brilliant spotlight that bleaches their faces bone-white as it jumps from one to the next as each speaks.
The performers are René Augesen, Annie Purcell and Anthony Fusco, who shape a narrative of passion, betrayal and jealousy involving a man, his wife and his mistress. Psychologically and dramatically, nothing about the imbroglio is fresh; the story is so banal that Beckett declined to give names to his characters. He labeled them W1, W2 and M.
That's the point. It's a story that has been repeated countless times throughout the ages, and will continue to be repeated as each generation stumbles through life. Play makes that proposition doubly clear, as the actors zoom through their speeches in high-speed, staccato rhythms that are as lucid as they are crisp; they reach the end, the stage goes dark, and then they repeat the entire story.
(The performance deserves to be seen by every student actor, and many pros, as a lesson in the importance and power of perfect diction.)
Endgame, which runs about 80 minutes, is much more complex, involving the relations among four people in a claustrophobic room from which they not only cannot escape. What they represent is a puzzle that has provoked speculation -- some scholarly, some not -- ever since the play's debut in 1957.
Beckett wanted viewers to take it at face value, accepting specific characters -- a father, a mother, their son and his servant -- interacting in a specific dramatic situation. He reminds us from time to time that we are not watching reality; we are watching a play.
"What is there to keep me here?" the servant Clov (Nick Gabriel) asks. His master, Hamm (Irwin), has an instantaneous response: "The dialogue."
Hamm is imperious yet pathetic. He is blind, crippled, totally dependent on Clov for food and care, aware of his own weakness and mortality, and torn between a wish for his misery to end and fear of what that end will bring.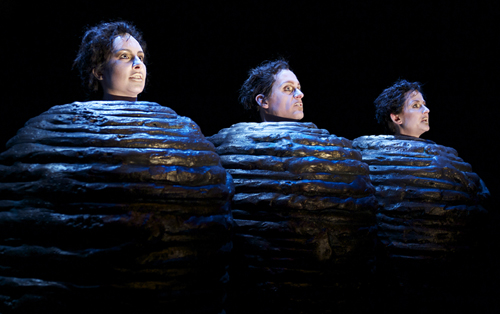 Annie Purcell, Anthony Fusco and René Augesen retell an ancient story of passion and pain. Photo by Kevin Berne.
He commands his domain from the comfort of a brocaded armchair that is fixed to a platform supported by three wheels: a tricycle for a decrepit monarch. Whatever mobility he has requires the effort of Clov, whose body is stooped and hobbled, and whose patience is taxed.
Why Clov remains, despite several declarations of his intention to leave, is a constant question. Dependency, it seems, has many shapes.
Hamm's parents may be the most memorable minor characters in modern theater, because of their lodgings: Nagg (Giles Havergal) and Nell (Barbara Oliver) live in trash barrels, and appear only when the lids are raised. Havergal gives us a droll teller of tall Irish tales and Oliver brings charm and tenderness to her limited interplay with him. In their relations with each other and with Hamm they deepen the complexity of bonds that cannot be shattered, even by death.
But Irwin and Gabriel are the production's key figures, and both dispatch their roles with poignancy, strength and appropriate ridiculousness. Watching them is easy and thoroughly satisfying, bringing pleasure if not transparency to a difficult play.

Endgame and Play run through June 3 at American Conservatory Theater, 415 Geary St., San Francisco. Tickets cost $10-$95, from 415-749-2228 or www.act-st.org.