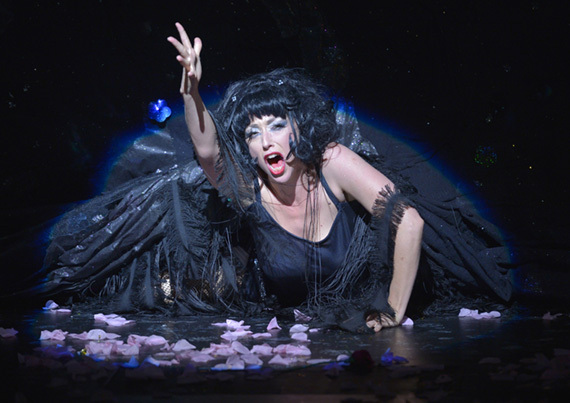 She's appealing: singer-dancer-comic Meow Meow stretches to connect.
Photos courtesy of kevinberne.com
She's bawdy and brash, tender and vulnerable; she's graceful and klutzy, commanding and helpless. She's a singer who hits every vocal nuance, whether serious or satiric; a high-energy dancer who could probably double as a contortionist; a comic who draws roars from pratfalls, subtle glances, punchlines and sensuality. She calls herself Meow Meow and -- need I say this after that lead-in -- she's wonderful.
She's opening Berkeley Rep's season with some 90 minutes of song, comedy, dance and audience manipulation in An Audience With Meow Meow. See it if you can.
"I need you," she coos over and over in the show's closing minutes, and she means it in ways that few performers pursue. Not only does she need the laughs, applause and affection that every theater artist craves, but she needs the customers' bodies, too.
She needs them onstage, in two audience participation bits that fuse the erotic to the hysterical, but she never humiliates the folks whom she dragoons from the front rows. And she needs many more customers to lift and transport her, clad only in a slip, from the stage to the rear of the house and much of the way back. (That schtick added a word to my vocabulary: crowd-surfing. It usually happens at rock concerts.)
The production is billed as A New Musical Play, which might be accurate in some precise sense, but it stretches the facts. It's cabaret, straight and spoofed; it's performance art; it's a tour-de-force for a single performer, abetted at times by two dancers and backed by five musicians. On top of that, most if not all of its material has been used many times before by Meow Meow, in spectaculars that have drawn raves in Britain, France, Germany, China, her native Australia, this country and elsewhere.
She's billed as the show's writer as well as its star, but she received assistance here from Emma Rice, who is listed as adapter and director. Rice is the artistic director of Britain's Kneehigh Theatre, whose Wild Bride and Tristan and Yseult have been Berkeley hits in recent years.
Although it's not to be found in the program's lengthy biography, Meow Meow is not the star's birth name. That, found in a Google search, is Melissa Madden Gray.
She draws on sources as varied as Jacques Brel, Andrew Lloyd Webber, Bertolt Brecht, Pink Martini and Patty Griffin, and delivers their songs with little reverence for the original lyrics or moods. Some get a brisk brushoff after just a few bars, while others get the full treatment.
What she does to Brel's "Ne Me Quitte Pas" ("Don't Leave Me") might leave the Belgian singer-songwriter writhing in his grave, probably with laughter.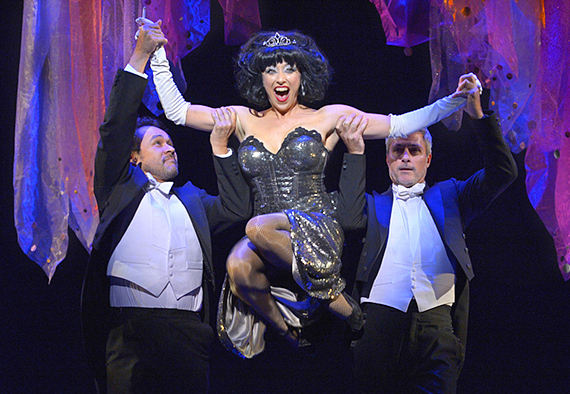 Meow Meow gets a boost from Michael Balderrama (left) and Bob Gaynor, but the show's all hers.
Clinging to two male recruits from the audience, she gropes, pushes, fondles and manipulates them while pouring her heart into the French lyrics and bringing down the house. Close your eyes and you hear pure anguish; open them and it's a riot.
What she does with "Itsy Bitsy Teenie Weenie Yellow Polka Dot Bikini" is low comedy raised to high art, in several languages.
But there's more to Meow Meow than exhibitionistic fluff. Though she handles it with delicacy and sometimes with giddiness, she drops flickers of awareness of mortality and of the need for human connection throughout the show: Several times she asks, "If I die tonight will you remember me?" and insists on answers from the house; she commits a wildly funny pseudo-suicide with a larger-than-life mannequin of herself; she closes with a poignant riff on Griffin's "Be Careful," directing that admonition to the audience that she has enthralled and entertained. It's a touching moment, and one that lingers.
Dancers Michael Balderrama and Bob Gaynor provide wonderful support, sleekly or hilariously as the moment demands, and the musical ensemble directed by pianist Lance Horne does its work perfectly. But they're just necessary accessories. This show belongs to Meow Meow, and to her audience.
An Audience With Meow Meow runs through Oct. 19 in Berkeley Repertory Theatre's Roda Theatre, 2015 Addison St., Berkeley. Tickets are $29-$89, from 510-647-2949 or berkeleyrep.org.