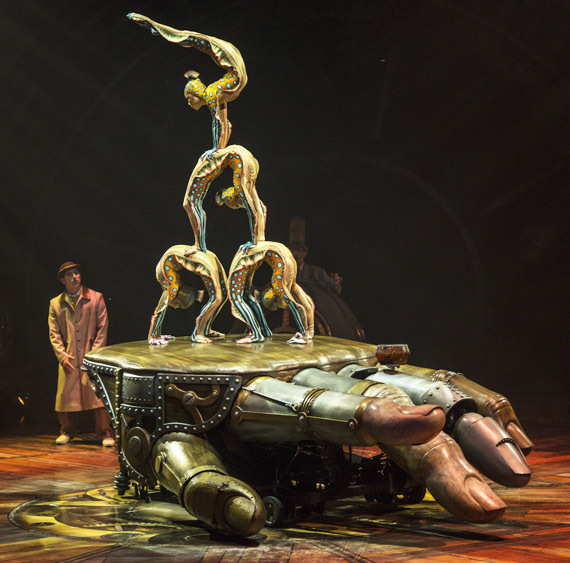 Photos by Martin Girard
Even for a huge mechanical hand, these lithe women are a handful.
Who could fault the creators of Cirque du Soleil's visual extravaganzas for dressing each new show in some fresh and exotic guise? Novelty, after all, is an essential part of entertainment. But in the end it's not the costumes, the props, the music, the characters or the thinly suggested themes that routinely pack the troupe's huge tent: It is the chance to see astonishing feats of agility, flexibility, strength, balance, coordination and inventiveness that draws us back time and again.
The 35th production in the company's 30 years, which opened a few days ago in San Francisco, is no exception. The gymnasts, acrobats and contortionists are predictably phenomenal, and at times frightening in feats that border on the edge of disaster. And, for a welcome change, the show includes a first-rate clown.
Titled Kurios -- Cabinet of Curiosities, the production's settings and costumes suggest a mad scientist's laboratory and fantasies in the late 19th century. A steam locomotive emerges from a tunnel to disgorge a host of performers; a huge mechanical hand crawls across the stage and becomes a platform for contortionists; a hot-air balloon serves as an ingenious projection screen.
But none of the settings outshines the performers who use them.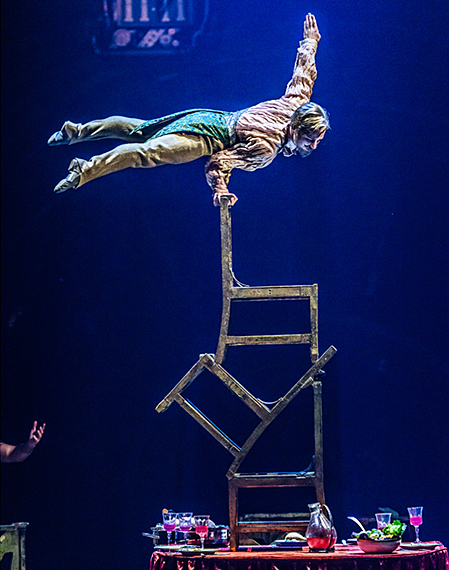 A one-arm stand on three chairs is an early stop on a long climb.
Here's a small sampling, in words that can't possibly capture the essence of astonishing athleticism.
A gigantic suitcase opens to reveal a man and a woman: He bulges with muscle; she's elfin, graceful and fearless: They mount the structure and she takes flight, soaring, spinning, extending, her hands or feet always caught by his powerful hands and her body propelled again, either through his efforts or her own mastery of inertia.
Five men are seated at a dinner table when one sets a chair on top, then another and another and another: six in total, topped by a small ladder. With each addition to the tower he pauses for a one-armed horizontal handstand. And when it seems that he has peaked out, a similar group of men appears at the top of the tent, upside-down, starting an identical trek to meet the climber.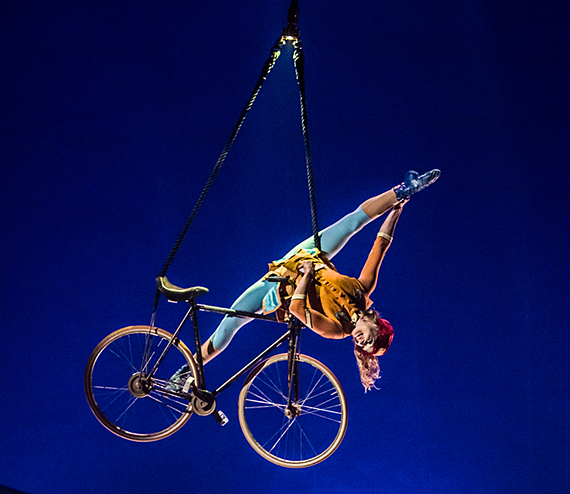 This is one of many ways that Anne Weissbecker rides her bike.
If that balancing act sounds awesome, another is even more so. It involves rola bola cylinders -- tubes perhaps eight inches in diameter and a few inches longer -- and a small balance board. Performer James Correa stacks sections, balances on them, then goes ever higher, sometimes quivering. Would the stack come tumbling down? It looked as if that were a possibility, but it never happened.
The show's laughs come from the masterful miming of David-Alexandre Despres. We see him first as ringmaster of an invisible circus in which disasters are the rule, and later, after intermission, when he recruited a young woman from the house, led her to a sofa in the center of the stage, and proceeded to engage and enchant her from the personna of a guy on the make and then as a cat, rolling, scratching and doing all manner of cattish mischief.
Among the other acts is one in which a stage-filling net serves as a trampoline that propels acrobats almost to the tent's roof, another that spotlights a yo-yo genius who keeps two of the spinning toys in simultaneous blurred motion, and a bicycle rider who does her riding upside down while dangling from whirling ropes.

They're a few of more than a dozen acts in a show that runs close to 2½ hours, including one intermission. Credit Michel Laprise, who has been with Cirque du Soleil since 2000, with directing the complex spectacle with seamless finesse.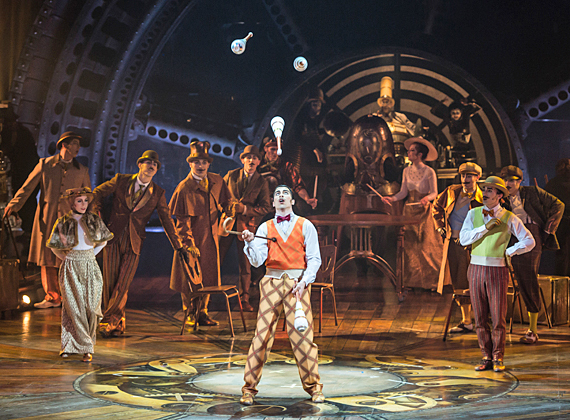 What's a circus without a juggler? Gabriel Beaudoin is the man in motion.
Since words -- or at least my words -- can't begin to capture the show's magic, let me suggest a search for "Cirque" and "Kurios" on YouTube. You'll find a few short clips that offer a choice taste of the treats under the big top.
Cirque du Soleil's Kurios -- Cabinet of Curiosities runs through Jan. 18 in the company's tent at 3rd and Channel streets, near AT&T Park, San Francisco. Tickets are $53-$135, from (800) 450-1480 or http://cirquedusoleil.com