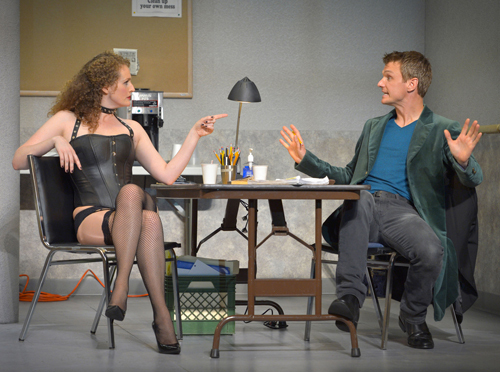 Pleading to audition: Brenda Meaney as Vanda, Henry Clarke as Thomas
Photos by Kevin Berne
Thunder roars and lightning flashes as the translucent curtain rises on David Ives' Venus in Fur in ACT's Geary Theater. The atmosphere is spooky. Moments later the mood takes a 180-degree turn, as banks of fluorescent lights reveal the locale to be a drab, sterile room whose only occupant is a young man babbling hilarious frustrations to his fiancée via cell phone.
The transformation offers a fleeting suggestion of the stream of reversals that will follow in the play's 90 minutes of broad comedy, intense drama and sizzling sexuality. Driving the humor, drama and sex, which often occur simultaneously, is Ives' erudite and tantalizing exploration of the dynamics of power on many levels.
The man on the phone is a dramatist/director named Thomas, whose irritation stems from his failure to find an actress to fit the pivotal role in his new play. Having auditioned dozens of performers, he bemoans the dearth of "sexy-slash-articulate young women with some classical training and a particle of brain in their skulls."
And suddenly, amid more thunder and lightning, another would-be star bursts into the room, dripping wet, shaking a battered umbrella, spouting obscenities and radiating brassiness. She says her name is Vanda, which happens to be the name of the character she wants to play; she peels off her raincoat to reveal a carefully chosen audition costume, most strikingly a black bustier and studded dog collar.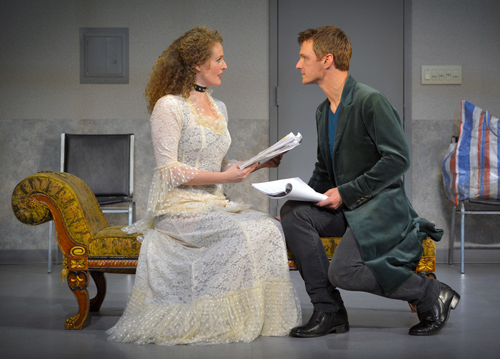 Vanda gets her tryout, joins playwright Thomas in reading his script.
Thomas's new script has the same name as Ives' Tony-winning play: Venus in Fur. The young playwright tells of adapting it from an 1870 novel of almost the same name, Leopold von Sacher-Masoch's Venus in Furs. The novel, a once-controversial examination of sexual obsession, is the one work that history has preserved from the author's prodigious output. It has also preserved his name in the dictionary, in the word "masochism."
Vanda's high-energy appeals leave Thomas unmoved, and seemingly repelled by her garish display of sexiness. She's too late, he insists repeatedly; she should come back for the next round of auditions.
With that clash of wills, the the contest for dominance is joined.

Vanda wins round one; pleading, cajoling and flattering until Thomas succumbs, not only allowing her to audition but also agreeing to read the role opposite her. Tryouts don't usually work that way: Directors normally sit back and observe while auditioners work with hired actors.
He gets far more than he could have expected and far more than Vanda chooses to explain. She not only pulls out a well-thumbed copy of the script, acquired in some unknown way, but reads it with unexpected polish. The crudity of Vanda the actress dissolves into the sophistication of Vanda the character, a poised and worldly European of the 19th century.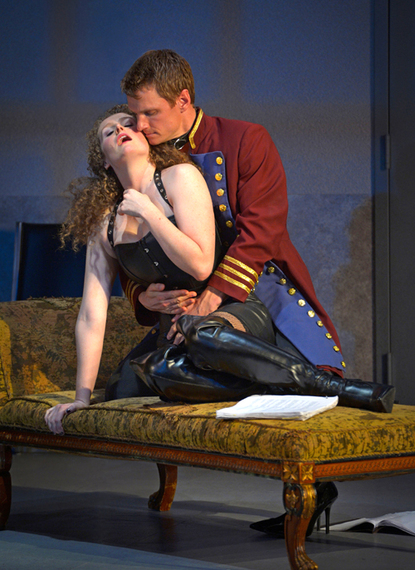 Words give way to action as the audition takes an unexpected turn.
But she goes beyond reading and filling the author's vision of his creation. Vanda questions that vision, sometimes fiercely; she challenges Thomas's understanding of women, of power, of his own dramatic imagery. She sizzles as the voluptuous dominatrix that the script requires, then transforms the role in a grand coup de theatre that explodes into the supernatural. And into puzzles that kept viewers buzzing as they exited on opening night.
Working under Casey Stangl's thoughtful but restrained direction, Henry Clarke and Brenda Meaney fill their roles superbly on two levels: as a director and a performer, working professionally, and as characters in the play-within-the play. Where they fall short is in the failure to suggest any entanglement between the Thomas and Vanda as "real" personalities.
The result is a production that is compelling from start to finish, bristling with humor and sensuality, but essentially cerebral. Had the erotic elements extended into a more personal dimension, its emotional impact would have been far greater. Bit it's still a terrific piece of theater.
Venus in Fur runs through April 13 in ACT's Geary Theater, 415 Geary St., San Francisco. Tickets cost $20-$120, from 415-749-2228 or www.act-sf.org