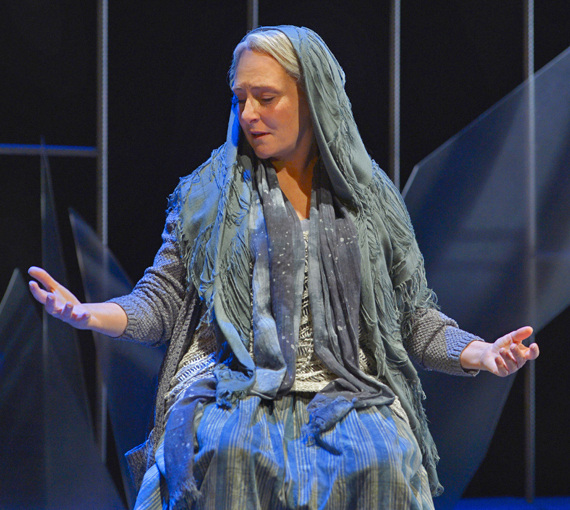 Seana McKenna as Mary: opening her arms to a challenging role
Photos by Kevin Berne
Canadian actress Seana McKenna is divine.
The role she fills in Irish playwright Colm Tóibín's Testament, a one-woman drama, may or may not be. McKenna plays Mary, the mother of Jesus.
Drawn from productions that drew raves and controversy in London and New York, as well as from a novella that expands upon the stage treatment, this Testament is compelling, provocative and consistently riveting in its premiere in ACT's Geary Theater.
Whatever viewers may think of the play's theological aspects, one quality of Tóibín's Mary can't be questioned, as brought to life by McKenna under Carey Perloff's direction.
She is a mother, one whose love for her son -- whose name she never utters -- transcends all else. She is not the ethereal Madonna that artists have presented since the renaissance, if not before, but an earthy woman distinguished by strength, determination, vulnerability, guilt and searing anguish.
This Mary's love leads her to question the company her son keeps, especially the men closest to him, whom she labels "misfits." It leads her to view with flickers of skepticism some deeds with which he has been credited, and to react with astonishment when he raises Lazarus from the dead, before her eyes and in view of a multitude. During the wedding at Cana, she wonders whether the urns in which water turned to wine may not have been filled with wine in the first place.
Dressed in a quilted skirt, heavy sweater and tasseled shawl, principally in subdued shades of gray and blue, McKenna recounts the story within the confines of a bare room surrounded by straight-edged shards of plexiglass and a cage-like rebar frame. Her attire and the set's spare furnishings, which include a folding table and crude chairs, are modern, yet they suggest timelessness. As for the plexiglass and rebar, I found it more puzzling than supportive.
Several times a gritty McKenna makes clear that the history she is relating comes from Mary's own eyes, her own experiences and her own perceptions. Her Mary tells of refusing to be swayed by two scribes who have repeatedly demanded that she change her narrative to one that fits their conceptions. Hers is the Gospel According to Mary, the truth as she knows it, and no one will make her shape it differently.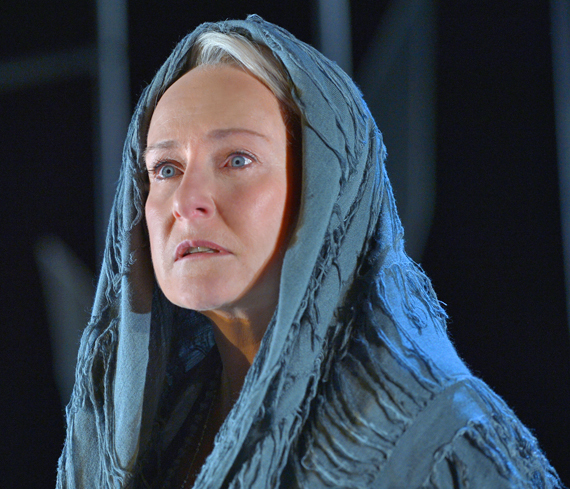 Agonized memories: one aspect of Tóibín's Testament
McKenna shows us a Mary who endures confusion and heartache during an encounter with her son in which he fails to acknowledge her, or perhaps even to recognize her. And she shows us a woman tormented by guilt many years later because she fled from Calvary rather than watch his final hours. Her flight, she explains, was prompted by a friend's warning that she was the target of an assassin.
Before her escape, however, she witnessed the climb to Calvary and her son's impalement on the cross. Those experiences, framed into words by Tóibín and given brutally vivid expression by McKenna, raise the drama to peaks of passion and anguish that theater seldom achieves.
They make us feel the pain of the crown of thorns and the agony of a futile struggle to resist soldiers charged with driving nails through her son's hands and into a wooden cross. It's horrifying.
Those may be the drama's climactic moments, but not its conclusion. The resurrection can't be ignored, of course, and neither can the need to bring Mary's personal story to closure. Tóibín's solution to that takes a strange direction, though it works within the context of the play. She finds peace in a pagan temple, one dedicated to Artemis, the Greek goddess of motherhood, among many things.

This is fiction, after all, and it doesn't call for belief. It calls for engagement, and on that ground ACT's Testament is a triumph.
Testament runs through Nov. 23 in ACT's Geary Theater, 415 Geary St., San Francisco. Tickets are $20-$120, from 415-749-2228 or act-sf.org