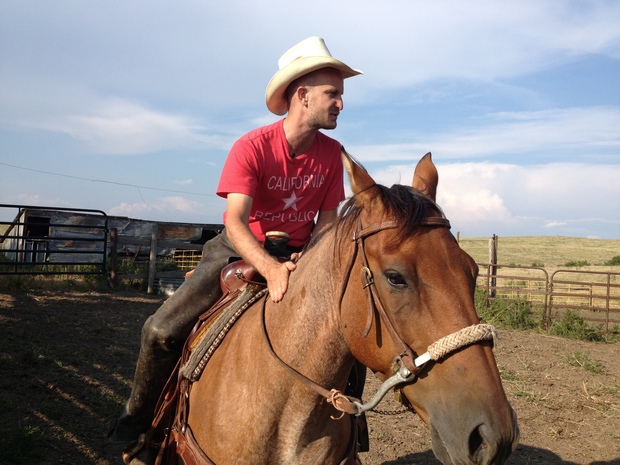 Kindness One® has already faithfully transported me from Los Angeles to the Corn Fields of Nebraska. Although in truth, it is not Kindness One® that has been doing the heavy lifting. Its people like you. Along this journey I have been helped every single step of the way. People have been filling the bike up with Gas, feeding me and opening up their homes from Las Vegas to Colorado.
Kindness, compassion and connection continue to lift me across this great land. Today was no different. I arrived in the Nebraskan town of Lexington and crossed paths with some bona fide cowboys. I approached them and explained my trip across the globe. They wanted to be part of the chain of kindness and offered me to stay the night at their farm 18 miles away. I hopped onto Kindness ONE® and drove to what I was expecting to be an idyllic location. I was not to be disappointed. The beauty was scintillating. The sense of peace intoxicating.
What I wasn't expecting was a crash course in the Art of becoming a cowboy. My training included being kitted up in full cowboy regalia. I wore my Stetson hat and Cowboy boots. Then it was off around the farm to learn how to ride a horse. Fire a 1927 antique gun at rattle snakes. Luckily for the snakes, I missed. Then I Preg tested a cow! Yes that means I put my whole hand where the sun does not shine. I learned how to lasso and was finally driven back to the farmhouse in an ATV by an 8-year-old girl, not something that happens everyday...
After eating a Slap up BBQ made just for me I spent the night in this slice of Americana and was once again blown away by the kind-hearted spirit of America. The trip continues and so do the memories...
*As the sun was setting I couldn't help myself but to recreate the famous scene from the movie "Field of dreams". I walked out of a picture perfect cornfield speaking the immortalized words "If you build it they will come"...