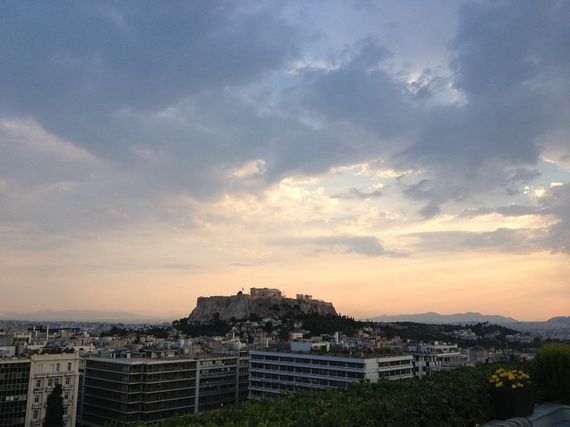 "You really don't need more than a day in Athens."
Everyone says it. Whether it is true or not, Athens is the red headed stepchild of the Greek Islands. I personally believe that any city can be exciting and fun if you know the right places to visit and where to eat, but with my flight schedule limiting me to just an overnight stay, I found myself in the pool of quick and dirty visitors to Athens.
More specifically, I wanted to see the Acropolis.
I'll admit it, I wasn't 100% sure of the difference between the Acropolis and the Parthenon (thank you, Google!) but I knew that I had to see them both. Preferably at sunset.
I spoke to a few of my friends in the travel industry and came up with the following game plan:
TO STAY
I stayed in a hotel in the neighborhood of the gods, or Plaka. Plaka is the old historical quarter of Athens, and conveniently it is the surrounding neighborhood to the Acroplis. Stroll through the winding streets and pick up a strong Greek coffee at one of the local coffee shops before you make your way to THE ONE REASON YOU CAME HERE. The Acropolis.
TO VISIT
During the hot summer months, visiting the Acropolis during the peak heat of the day can be painful. I would recommend visiting first thing in the morning, when the crowds are thin and the temperature is a bit cooler. The site opens at 8am, but I recommend starting out at 7:30. Depending on the number of photos you take, you really shouldn't need more than 1.5 hours to wander around the ancient ruins, eavesdrop on an English speaking tour guide, and Instagram some classic shots. By that time the sun will be out, your shirt will be damp, and you'll be ready to race to the airport for that flight to Santorini.
TO EAT
Your first (and presumably only) night in Athens should be spent getting a taste of Greek cuisine, and enjoying a blush tinted sunset view of the Acropolis (see more photos here). Every major hotel has a rooftop, as well as some great local restaurants, but I loved the Grande Bretagne rooftop. I went off of a recommendation of an in the know travel friend and was pleasantly surprised. I was seated at one of the prime outdoor tables, with a panoramic view of the Parthenon and Acropolis in all their glory. The sun was setting, painting the landmark's backdrop with brush strokes of pinks, yellows, and reds. The food was fresh and welcome after a long flight, but with a view like that, with the wind gently brushing at my shoulders, I had eyes only for the city.