Hunting down a tapas bar in Madrid is like looking for a Starbucks in New York City: Not hard. Some are big and airy and cater to tourists, while others are small and filled with the lively chatter of the locals. However, if you are looking for a tapas experience to remember, head to Madrid's centrally located Mercado de San Miguel.
If you've been to some of the markets scattered throughout Europe, you may be expecting noisy stalls, unswept floors, and the stench of meat and fish swirling throughout the narrow aisles. Not so at Mercado San Miguel. This covered market is pristine, with a high metal and wood paneled ceiling and beautiful lights brightening up each corner. The aisles are wide, providing a clear sight of the specials of the day. Each counter resembles a tiny restaurant rather than an actual stall, and vendors take real pride in the quality of their wares, from the preparation, and taste, even down to the presentation.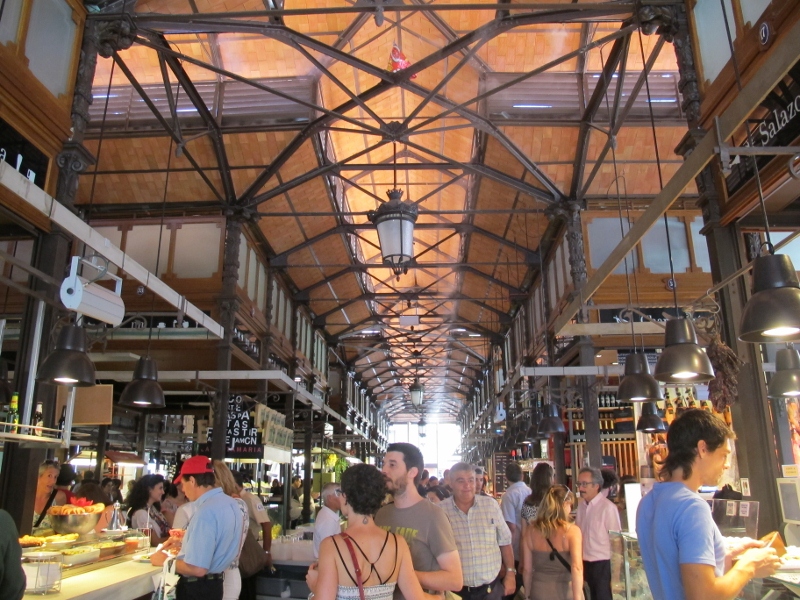 There are two types of stalls here: built in counters boasting a huge array of tapas, or small carts serving up one specialty. Here you can find Jamon Iberico on thick slices of bread, mini tripe salads, huge bowls of neon colored sangria, and every type of cheese imaginable. In addition to the tapas counters there are also wine and cava bars, a fish counter, and a whole area for postres, or desserts.
The central area of the market is filled with counter top tables, some with stools, some without, where friends and strangers can gather together and share a meal.