At last: fall is arriving. In fashion terms, autumn means tall, gorgeous boots; it means delicious layers of cashmere. Ta ta, ugly gladiator sandals; hello, luscious leopard-print swing coats.
What it also means: those mega-issues of Vogue, Bazaar, and W have been weighing down newsstands and crippling postal-workers across the country.
I don't know about you, but those phonebook-sized magazines scare the hell out of me. I'm too exhausted from negotiating the first 800 pages of ads to drag myself through the editorials.
So to learn more about what the fashion world has dished up for us this fall, I took the easy way out and called up stylist, trend expert, and Huffington Post contributor Kate Schelter (www.kateschelter.com). Here is her shortlist of five major trends that designers and retailers are peddling this season:
1. The tuxedo shall reign supreme.
An appropriate homage to the recently-departed design master Yves Saint Laurent, who introduced Le Smoking to watershed-moment acclaim in the 1960s. This autumn, practically every designer under the sun -- from Zac Posen to Calvin Klein - has reinterpreted that Victor-Victoria sensuality.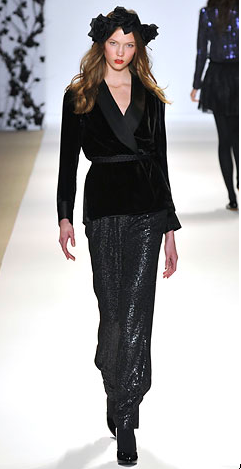 above: Erin Fetherston, fall '08 ready-to-wear, photo from style.com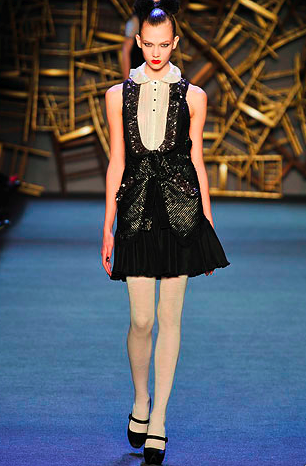 above: Zac Posen tuxedo dress, fall '08 ready-to-wear, photo from style.com
On that note, Schelter reads me a delicious Catherine Deneuve quote about the masculine-feminine tension in YSL's designs:
"Saint Laurent designs for women with a double life. His clothes for daywear help women to enter a world of strangers ... thanks to their somehow masculine quality they give her a certain power, arm her for encounters which may lead to disputes. However, for the evening, when she may chose her company, he makes her seductive."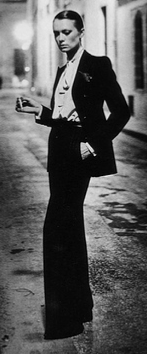 above: Yves Saint Laurent's original 1966 Le Smoking tuxedo suit
With that in mind, go forth and smolder.
2. Beyond Le Smoking, there will be a major glut of menswear-reinterpreted-as-womenswear.
Suits, suits, everywhere - but nary a padded shoulder.
"This is a very empowering look, but it's less of a Working Girl moment," says Schelter. "It's sexier."


above: Band of Outsiders, fall '08 ready-to-wear, photo from style.com
Look for suits made from materials like silk, as opposed to chunky, tweedier threads: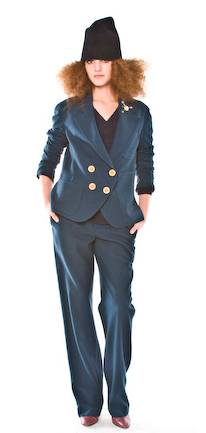 above: Chris Benz, fall '08 ready-to-wear, photo from style.com
Also, those roomy, slouchy 'boyfriend blazers' with rolled up sleeves "were everywhere" -- from Balmain to Rag&Bone - worn over threadbare t-shirts: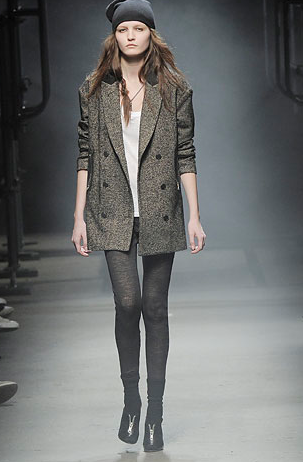 above: Alexander Wang 'boyfriend blazer, fall '08 ready-to-wear, photo from style.com
Omnipresent as well: mens' shirts reinterpreted as dresses, seen here in wunderkind Alexander Wang's fall ready-to-wear collection: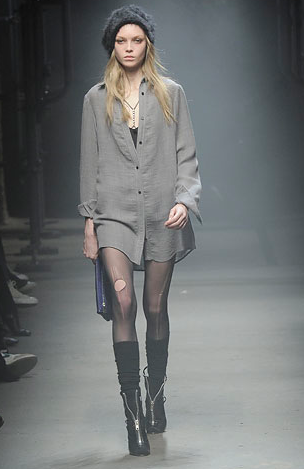 above: Alexander Wang shirtdress, fall '08 ready-to-wear, photo from style.com
3. High-octane color.
"Color blocking was really important for this season," says Schelter. Many collections featured "big colors like mango orange, saffron yellows, pinks ... it's like getting lost in a Ciao Bella ice cream store," she adds.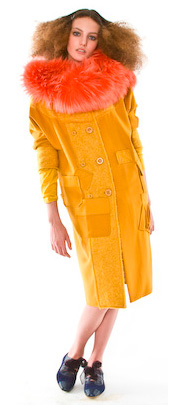 above: Marni, fall '08 ready-to-wear, photo from style.com


above: Chris Benz, fall '08 ready-to-wear, photo from style.com
On a less encouraging front: neon colors are back too. Marc Jacobs's neon bags (with names like "acid yellow") are still in vogue; fingertips will be going day-glo.
At least it will be harder to get run over by a car at night.
4. Simply irresistible: The Robert Palmer look has been resurrected.
Says Schelter: "We're seeing the return of the supertight little black dress, referencing Alaia, exentuating the female form."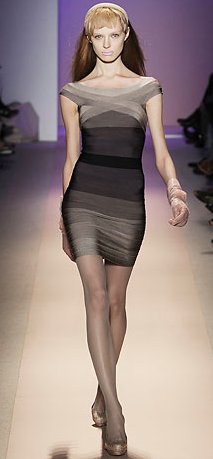 above: Herve Leger, fall '08 ready-to-wear, photo from style.com
Actress Rachel Bilson gave a preview of this look at a recent New York City party: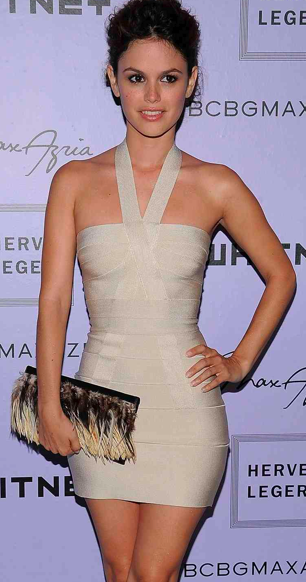 above: photo from Patrick McMullan
I wanted to die as we looked through runway images of the elastic-y, fat-thigh-showcasing new fare, but Schelter was reassuring: "Don't worry; there are different degrees of covering up this season."
Thank God for le smoking.
5. Costume jewelry is de riguer.
Now, this is a very happy, humane trend indeed - flea market chic will be hitting the big time at last. Expect to see big, wonderful, shining brooches and necklaces and bracelets everywhere.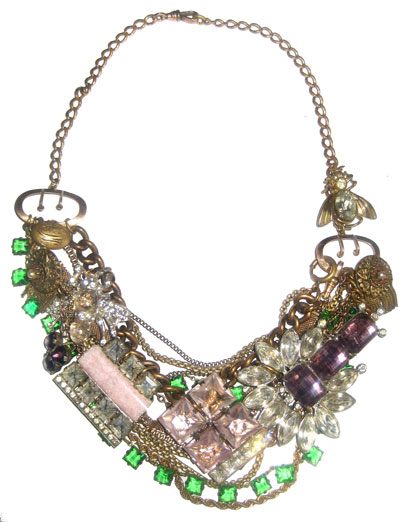 Lulu Frost necklace
"Costume jewelry is the new statement piece, whereas it used to be the 'It' bag or shoes," says Schelter. "But don't wear it prim and prissy; layer it on."
Yes, ma'am!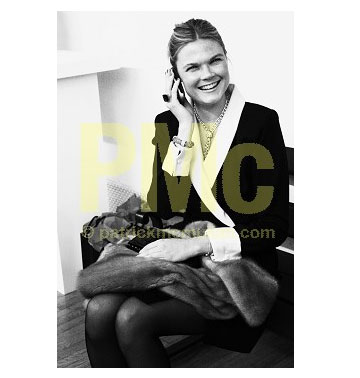 Kate Schelter, photo by Patrick McMullan