Award-winning chef Matthias Merges is pushing the boundaries of Japanese cooking in Chicago at Yusho, where sushi isn't even on the menu. Instead, you'll savor crispy pigtail, steamed buns, grilled fish heads and some of the best chicken wings. Merges also puts his wealth of experience and unconventional ideas into a special tasting menu so that foodies, tourists, and the rest of us, can delight in an exclusive dining experience.
Born in New Jersey, Matthias spent 14 years as executive chef at Charlie Trotter's before setting out on his own in 2010. Yusho was hailed as one of the nation's best new restaurants by both Bon Appetit and Food + Wine Magazine in 2012. Since then, Merges has expanded his empire to include cocktail destination Billy Sunday, fine-dining A10 and a new Yusho outpost at the Monte Carlo in Las Vegas.
I spoke to Chef Merges to find out about his dining philosophy, daily life as a chef, late-night dining choices and more:
What can we expect from Yusho's tasting menu?
I think what we try to do at Yusho is work with seasonality. If there's certain seafood out of Japan, like Ayu, the sweet fish that runs in this part of the summer, we're gonna have that. We're really connected with the market when we're creating new dishes, so it's very spontaneous. Our clients expect it from us now. We try to provide an experience. If you're a regular customer, you'll never have the same experience twice.
What is your favorite dish on the tasting menu, and why?
Right now, here in Chicago and the Midwest, there's such great produce coming out. So we have heirloom tomato salad with green tea and herb cake we make. It's a play on a bread salad but more in Asian flavors which is fantastic.
How would you describe your food philosophy?
We take some hues and notes from Asian cuisine, not just specifically Japanese, but also Chinese, Malaysian or Korean, and we use our philosophy -- being in Chicago, being locavores and using farmer's markets. We bring all that together to make some very interesting food that is very specific to Yusho and we call it 'Yusho cuisine.'
Describe what your typical day is like as a chef?
A typical day is getting up early on days of the farmer's market. We do a round at the farmer's market looking for new things or fruits coming up in season, taking those back to the restaurant, planning the menu for that day. Working with the front house team as well to do some pairings to make sure we're ready for the evening. We want people to know that we're inviting them into our home and plan that their experience is like no other.

What has been more difficult for your team - working in Logan Square, Hyde Park or Las Vegas?
For us, we wanted to make sure we didn't expand too quickly. It's worked so well and we're so happy that it has. I think the biggest challenge is being able to spread yourself over, especially for me it's important that I maintain a personal touch where on given days people can see me and ask me questions. We still have that small restaurant mom-n-pop feeling. None of our restaurants are very big, except for our one in Vegas. We try to maintain that personal touch.
It's late at night, you're hungry, what do you whip up in 15 minutes?
Last night, I got home about 1:30am. We have a big garden in our backyard and right now the things coming up are swiss chard, kale, heirloom tomatoes, lots of herbs. I always have a couple grains in the house. So I put together a salad with bulgar wheat, kale from the garden, all the herbs, tomatoes that I picked right off the vine, extra virgin olive oil, feta cheese and made a great salad. Sometimes I come home and make a great sandwich with a great piece of bread.
What do you like to do when you're not cooking?
I do a lot of camping with the kids (girls 10, 13yrs) as much as we can, so we've been to Iceland and last year we went to Yellowstone. We try to get as far away as we can from being in an urban dense environment. Pitching a tent, grilling over a fire, getting back to those basics, turn off the cell phone and just do some fly fishing. It's great; I love traveling.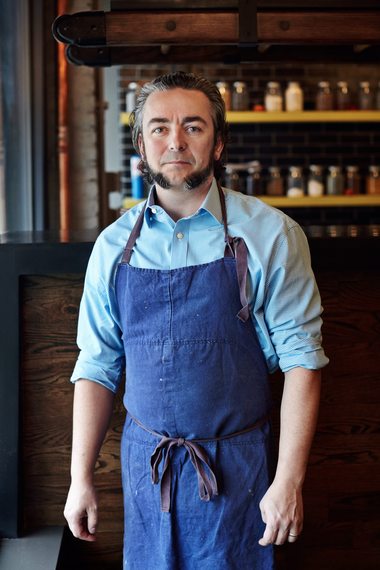 Yusho is located at 2853 N. Kedzie Avenue, Chicago. To experience chef Matthias Merges' local, fresh Japanese cuisine, you can find more information about an exclusive 7-course chef's menu at Travelzoo.