Winner of the third season of "Top Chef," chef Hung Huynh is the executive chef of trendy Manhattan restaurant Catch, popular for seafood (including a new Tasmanian sea trout dish smoked tableside), and The General, known for its modern Asian fare.
Chef Huynh was born in Vietnam and grew up in Pittsfield, Massachusetts, where, starting at nine years old, he worked in his parents' Vietnamese restaurant. After earning his culinary degree from the Culinary Institute of America, Huynh worked at top restaurants such as Per Se, Solo, Ajna Bar and Gilt in New York City and Guy Savoy in Las Vegas.
Chef Huynh has re-appeared on "Top Chef" occasionally over the years as a guest judge. He also won Best Fish in the 2008 Bocuse d'Or USA competition.
I talked with Chef Huynh about his latest travels to Asia, "Top Chef," food philosophy and more: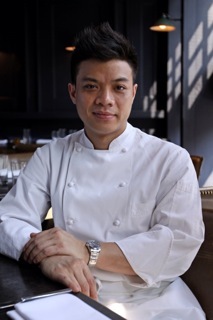 At The General, what is your favorite dish on the menu, and why?
Well, can I have two favorite dishes? [laughs] They kind of have to go together. One is the bourbon-miso seabass. And you have to have that dish with the Hung's fried rice. Because I love the fish. I love the sweetness and savoryness from the miso and the bourbon -- it's broiled and roasted with seabass. And you can't eat seabass by itself, it kinda needs like some amazing fried rice with it -- and Hung's fried rice goes pretty good.
After winning "Top Chef," what is the biggest surprise about being considered a celebrity chef?
My biggest surprise is the term "celebrity chef." I think it's blown out of proportion. Yeah. I don't consider myself a celebrity at all. People know me; there's hype around it, but I wish that the term "celebrity chef" would end right now. I cook. I'm no celebrity like Tom Cruise; I'm sure we can all agree on that one. [laughs] Yes, call me chef. I think all chefs are chefs, period.
Have you kept up with any other chef-testants from your season?
Yeah, it was a popular season. It was also eight years ago. So, I don't really keep in touch that much. We text each other once in awhile and that's about it. We all have our busy lives and we see each other at events and text each other once in awhile, but that's about it.
How would you describe your food philosophy?
My philosophy is serving straight-forward food using flavors and combinations that are both crazy and familiar. I like taking older, traditional dishes -- like traditional combinations -- and just really modernizing it. Putting a little bit of my spin on it. My spin meaning all the flavors that I've experienced through travel. All that I've experienced through my work career, from Spain to French-European style of food, to my background as an Asian person living in Vietnam, born into Asian flavors -- combining all that in a fun way.
Since you're best known for seafood, what's your favorite fish or shellfish to eat?
My favorite shellfish would have to be blue crab; love them. I like to cook it with a lot of spicy stuff, anything spicy. There's no particular way I like to eat it. I like it in curry. Cooked in curry with rice of course. I get it [blue crab] in Chinatown on Grand Street and Mott Street. I go there five days a week.
Since we are all about travel here at Travelzoo, I have to ask: Where was the last place you traveled?
I just got back from Seoul. Then I went to Ho Chi Minh City. Then to Manila. Then Bangkok. Traveled, ate, and just ate and ate. Just explored the cities, explored the food scene. Seeing what locals ate. Just went off the beaten path looking for food. I went by myself for about three weeks. I have friends in each country that I met up with, showed me around, you know. This is something I do every year, just explore.
On your recent travels, what was the best thing you ate along the way?
There's so many good food. But I think one of the most memorable meals was in Ho Chi Minh City, of course. It was in a restaurant where the theme was really country home-style cooking. Everything was old, broken down, the plates were chipped, you know. They served traditional Vietnamese food that you find on the farm, or what your grandmother made, which is really comforting. I needed to take a breath, you know, relax. Come back more energized, more ideas, you know, to keep on going.
The General is located at 199 Bowery in New York City.
UPDATE: The General is now only open for private events.