RivaBella is a celebrity hot spot on the Sunset Strip in West Hollywood. Michelin-starred chef Luigi Fineo may rub elbows with the stars, but it's his accolades and authentic Italian fare that keep people coming back for more.
Born in Italy, Fineo trained at the Italian Culinary Institute I.P.S.S.A.R.T. After being mentored by renowned chef Francesco Berardinelli, Fineo moved to Los Angeles. As executive chef of La Botte, he earned consecutive Michelin stars in 2008 and 2009. After honing his skills further at Enoteca Drago, The French Laundry, Bouchon and Andrea Ristorante, Fineo took the reins as RivaBella's executive chef in 2014.
Fineo puts his wealth of experience into a special tasting menu, and the result is an exclusive Tuscan-inspired dining experience. For Travelzoo, I spoke to him to find out more about his new hot spot, food philosophy, why he turns off his cell phone and more.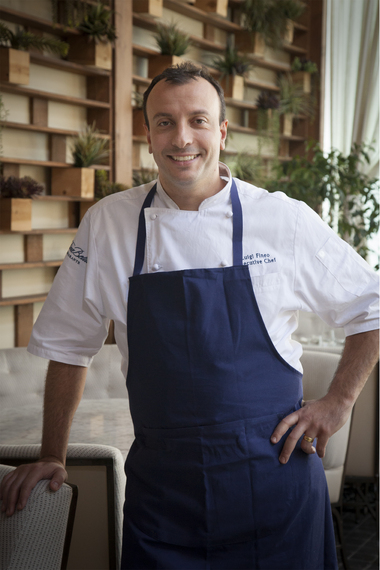 RivaBella is known as a hot spot for celebrities. Who was your favorite celeb to cook for, and why?
Well there are so many of them that come in, Leonardo DiCaprio, Robin Thicke. On a daily basis we have a few of them at the restaurant. The one that I love the most is TI, the rapper. For one reason, if you don't know who he is, you will never find out. He is so humble. He always uses the words "please" when he asks for something. You know, he tries to make it as easy as possible. I want to personally take his order because I love him as an artist, so I think he is definitely my favorite. He is so humble; he appreciates everything we do in this restaurant.
What can we expect from RivaBella's exclusive menu?
Well you know there's one dish that guests like the most, which is the pappardelle made with pistachio flour with braised lamb shoulders and a peach. That's a dish that I created a long time ago when actually I was a chef in Santa Monica and it sticks with me every restaurant that I go.
What is your favorite dish on the three-course special dinner menu, and why?
The same one -- the pappardelle. The reason why is because the dish came out from an old recipe from a Sicilian dish, which is a lamb loin with pistachio crust. So I want to translate that into pasta, that's why I created the pasta with pistachio flour and braised lamb shoulder ragu and peaches. It came out on one of my menu about seven years ago. I love it. [It's a] big success, and I'll take with me everywhere that I go.
How would you describe your food philosophy?
I cook what I really like to eat. At RivaBella, it is a Tuscan-inspired [restaurant], we try to touch every region -- from Sicily to Puglia to Naples. We use a beautiful buffalo mozzarella cheese that comes from Naples, for example. For our heirloom tomato and truffled mozzarella caprese, we have truffles that come from Umbria, where truffle season just [began]. We have dishes from Liguria, we do lots of seafood here. So crudo, seafood carpaccio, seafood salad, tuna carpaccio, tuna tartare. We try to make everybody happy.
What does it feel like to get the call that you've been awarded a Michelin star?
At the time, I was really young and I was like "okay, I don't know if I can deserve this, I don't know if it was meant to be." Back then, it was excitement but at [the] same time it pushed me to work even more because I was thinking if I lose it after, it would be an embarrassment. The first year was [a] shock for everybody. ... We received another one the year after.
So I thought, OK, we were doing something right. I was moving in the right direction with food, with our guests, making sure to listen to them. At the end of the day, it's the guests that really make sure the restaurant is successful. So it's a good call, it's a good experience that I went through. And [I] hope many other chefs can go through that because it's really an awesome moment.
What do you like to do when you're not cooking?
I used to surf, a lot. You know traveling, [going to] the gym a lot. ... I live close to beach, so. I like to be outdoors. You know, where I can see the ocean, you know I can walk, I can run, I can exercise. When I am not in the kitchen, I need to be out in open space.
We're all about travel here at Travelzoo, so I have to ask -- where was the last place you traveled?

Last week, just came back from Europe. I spent eight days in Greece and eight days in Italy. I didn't take a vacation between RivaBella and the previous job, so I decided to take it now. My rule was no cell phone. No communication with anyone else besides my wife. So we were there, we had no idea what time it was during the day, waking up with the sunrise, you know go for a walk, breakfast, lunch, take a nap, eat, for two weeks. So we just enjoyed ourselves. I just wanted to taste some good food, tried to pick some good ideas seafood wise, and all the good stuff they have in Europe. You know, [leaving] the cell phone at home was definitely the key.
RivaBella is located at 9201 W. Sunset Blvd. in West Hollywood.