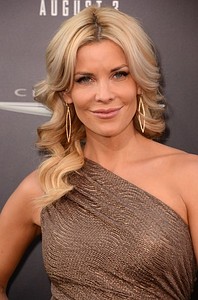 Face Off, the hit Syfy show that pits special effects make-up artists against one another in weekly challenges, returned for a fourth season with big numbers in the ratings. The season four premiere on January 15th drew 1.04 million adults aged 18 to 49 and 930K adults aged 25 to 54, while averaging 1.8 million total viewers and a 1.2 rating.
Michael Westmore, the legendary Hollywood makeup artist best known for his 18 years of Emmy award-winning work across the Star Trek series, as well as for winning the Oscar for the movie Mask, joined the show as a mentor to the contestants. Westmore is also the father of McKenzie Westmore, the show's host.
Face Off debuted in January 2011 to critical and ratings success. The show has won rave reviews for lifting the veil on the secretive special effects world and revealing the complicated artistic process necessary to bring science fiction, fantasy, paranormal creatures, and blood and guts to life in both film and television. Unlike the typical reality TV formula that amplifies petty drama between contestants, Face Off is a more intelligent show. Face Off is all about artistry.
Each week, the challenges incorporate a wide range of skill sets involving the use of prosthetics, 3D design, sculpting, eye enhancers, casting and molding. At the end of the episode, the contestants' finished work is revealed, and one contestant is sent home by the panel of expert judges.
A few of the challenges this season include creating fantasy goblin kings, original comic book superheroes, delicious candy creatures, two-headed giants inspired by Bryan Singers' Jack the Giant Killer, Avatar-inspired bioluminescent sea creatures and zombie hordes.
The winning makeup artist will receive $100,000, a 2013 Fiat 500 and the opportunity to become a guest lecturer at the Make Up Forever Academies in New York and Paris.
Host McKenzie Westmore -- along with judges Ve Neill (The Hunger Games, The Amazing Spider-Man, Pirates of the Caribbean), Glenn Hetrick (CSI: New York, The Hunger Games, Heroes) and Neville Page (Avatar, Prometheus) -- have all returned for season four.
McKenzie Westmore discussed the new season of Face Off, and described what it was like working with her father.
Lesleyann Coker: What is it about Face Off that you think has resonated so strongly with the audience at a time when most shows are struggling with declining viewership?
McKenzie Westmore: I feel it's the artistic value and the immediate payoff of the transformations that resonates so strongly with viewers. Face Off doesn't dive into house drama but focuses more on the artistry of SFX [special effects] makeup.
LC: How has the production of the show changed from season one to season four?
MW: As a whole the ante is upped with each season. We also have many more location shoots now that add to the visual quality of the show.
LC: How long does it take to tape one episode? How long does it take to tape the entire season?
MW: It takes roughly three to four days per episode, with two episodes a week. We now do 12 episodes per season.
LC: What is your typical week like while taping the show? What preparation do you do to host each show?
MW: A typical week is day one, I announce the challenge to the contestants, be it a foundation or spotlight challenge. The artists get to work, which brings us to day two, where I do a walk through with my dad to see the progress of the work and any tips or help that can be given. Day three then is finish time, and we gather at the elimination stage to see who wins the challenge and who will be going home.
As for hosting, I like to have as much memorized as possible, so I go over every script the night before. Then beforehand, I will discuss with the executive producers any changes or extra information I may need. It's a lot of information and rules for the contestants, and I always want to have a full understanding myself.
LC: Season one was light on the guest judging, and then the guests became more frequent in subsequent seasons. Why?
MW: That was always the plan to have more guest judges, but we needed to establish our format and regular group of judges for the audience.
LC: Who has been your favorite guest judge and why?
MW: I've had many favorites: LeVar Burton since I grew up on [the] set [of Star Trek] with him; Catherine O'Hara made me speechless because I'm such a fan; and in season four, Bryan Singer was SO much fun! I hope he comes back one day because he was a blast!
LC: Do you have any input into the challenges for each episode?
MW: I do not. There is a whole team that handles that along with the executives.
LC: Much was made of the fact that the eventual season three winner was eliminated, and then brought back several weeks later in a twist. Will previously eliminated contestants return in season four?
MW: We will have to wait and see!
LC: Season three was the first season you had a live finale. Will there be a live finale for season four? Does America get to decide the winner again?
MW: I know you're trying, but I'm not giving anything away here! Lol! I do, however, feel the viewers will be very pleased with the new season.
LC: Did anything go wrong hosting last season's finale live?
MW: Amazingly, it went off perfectly! No problems, which is rare, but thank God since it was live TV. I had a blast and can't wait to do more live!
LC: Will your father be a regular part of season four? What is it like working together?
MW: My dad has now entered the Face Off team as the show's mentor. He does the weekly walk throughs to guide the artists and teach them what they need to know to create the best makeups. It was a dream come true having him there. My dad is my hero, and to have that time with him, driving into work, laughing and hearing stories is something that I am so grateful for.
LC: Given your family lineage, did you ever think of going into the makeup business yourself?
MW: Absolutely! I started taking classes as a teen and helped my dad in the lab many times, but at the end of the day I couldn't give up my love of acting and singing.
LC: How did this job come about for you? Did you have to audition?
MW: I had been told of the show, and yes, I did go in for auditions. Hosting is so different from acting!
LC: You got your big break in Hollywood as the lead for ten years on the ground breaking soap, Passions. What do you make of the recent announcement Prospect Park is bringing All My Children and One Life to Live back to life online?
MW: I find it interesting. I still don't know how with budget costs they can exist online, but only time will tell, and I truly hope there is life to be had there. Both soaps and their fans deserve to have a come back!
LC: What's next for your career? Do you see yourself returning to the soaps or pursuing your love of music while remaining on Face Off?
MW: Well, I have a few films brewing, but right now my focus is Face Off. To be perfectly honest, I would love to rejoin daytime to some capacity. I miss that world!
LC: Have you learned anything new about makeup you didn't know before you started hosting the show?
MW: I feel each week I learn little tips here and there, either from my dad or our panel of judges.
LC: What are a couple of them?
MW: Most are SFX-based, but a few I've walked away with are simple beauty tips. On the FX side, it's amazing what you can accomplish with dental dam! In the near future, I'll be coming out with my own set of tips I've learned from my dad and mom, as well as a few of my own through trial and error.
Face Off airs on Tuesdays at 9:00 pm EST/PST on Syfy.