Jeff Probst has hosted the hit reality show Survivor on CBS for over a decade. In September, he launched The Jeff Probst Show, a daytime talk show syndicated by CBS Television Distribution to NBC owned and operated television stations across the country.
Initial ratings have been lackluster. It remains to be seen whether affiliates will give The Jeff Probst Show the time it needs to develop an audience. Speculation is mounting that affiliate stations are questioning their commitment to the show.
In the interview that follows, Probst spoke with candor about the pressure to achieve ratings, the differences between hosting and producing Survivor and The Jeff Probst Show, and his mission to create a show that stays true to his positive outlook on life.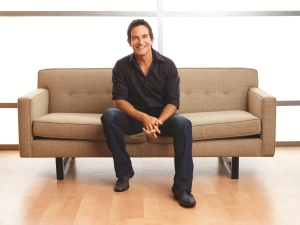 Lesleyann Coker: What impact do the ratings have on survivability of the show, and who makes the decisions? Do you have certain thresholds that need to be met to remain in production? What are your metrics for success?
Jeff Probst: Ratings are everything and the only thing. You don't get paid because you have a great set or really cool clothes. You have to deliver eyeballs.
You have to figure out how to match your voice and your truth to the audience's desires. If there is a match, you're good to go, and if not, you're in trouble. There are definitely shows on television that I'd want no part of - but lots of people are watching them - which is why they are still on the air and making lots of money for everybody.
LC: As you and your fellow producers viewed the first day's ratings, and then the first week's ratings, what went through your minds? Did the ratings cause you to make adjustments, either in booking upcoming guests or in the format of the show?
JP: The trickiest part of doing a daily show is that you get daily ratings. Every day there is a ratings number and every number gets evaluated by many different groups of television execs and other television experts and focus groups, who then share their advice on what you can do to increase that number. And yes, that process begins on day two!
It is an approach that makes a lot of sense to a lot of people, and so there are lots of opinions! I get it. I absolutely appreciate that there are people paying for this show and they want results and they want them quickly.
I think the key is allowing yourself enough time to breathe and give your show a chance to find an audience, because if you chase the rating point it's very easy to wind up running in circles. We are still very early in the process having been on less than a month, but the pressure is definitely on and I welcome it and respect it.
LC: Since taping of The Jeff Probst Show began, what have you learned that you couldn't have anticipated?
JP: I had no idea how much work would be involved in producing a daytime talk show! Amy Coleman and I executive produce together, so we're in the trenches together. We've all put in more than a few very late nights! Everyone tells me this is how it goes on a start-up, and it gets easier once you find your rhythm. Fortunately, we are having so much fun that it's not a burden. I've learned so much, I wouldn't trade this period of time for anything.
LC: Is producing and hosting a talk show more difficult than producing and hosting Survivor?
JP: From a producing stand point, the biggest difference between the talk show and Survivor is that Survivor has been on the air for 13 years. We figured out how to produce the show years ago, now we just have to stay on point and work hard to keep it fresh by adding new twists. But the day to day is much easier, because we know what we need to do to please our audience and that allows us to focus on the "big picture" questions. We're an infant in the day time world. Just born. Barely out of the womb. So you spend more time on the day to day rather than "big picture" - that's the biggest difference.
LC: How has your hosting style on Survivor carried over into interviewing guests on the talk show or does it require a different set of skills?
JP: When I'm interviewing on the talk show I think I utilize a bit of my Survivor interview style, along with a healthy dose of empathy - which I don't use quite as much of on Survivor. But Survivor has absolutely shaped how I interview. I'm not afraid to interrupt to clarify, and I'm not afraid to go a bit deeper than might at first seem appropriate because I've learned to trust my sense of human behavior. Most people want to talk. It's just a matter of how you approach them and knowing the right time to ask the right question
LC: What does The Jeff Probst Show bring to daytime television that existing shows don't offer?
JP: Talk shows ultimately come down to one thing, and that's the point of view of the host. So in that way, what is unique about our show is me. But the key to a talk show working, in my obviously limited experience, is making sure the voice of the show matches the voice of the host. That's the best you can hope for, and after that it's up to the audience to decide if they're interested in what you're putting on the air.
My attitude toward life is to have fun and to live as big of a life as you can, because at best your life is going to be too short. I like mixing that in with some celebrity interviews that we're calling the "Say Yes" interviews.
I believe that most successful people have said "Yes" in life many times - even when they weren't sure, or were afraid or had no idea what they were even saying "Yes" to - they just jumped in and went for it. Our interviews focus on a performer's career and life from the entry point of all the times they have said "Yes," and how it has helped get them where they are in their career and life.
LC: What has been your favorite show and/or guest so far and why?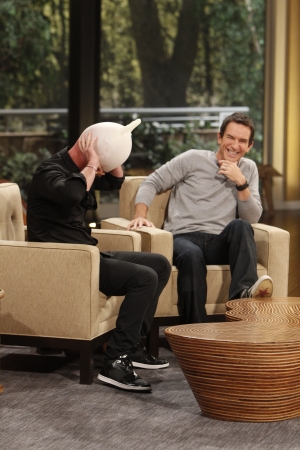 JP: It's too soon to have a favorite, but among the highlights: Howie Mandel [shown at left] doing his "surgical glove" bit that he hasn't done in 20 years; Jon Cryer, a multi-Emmy Award winning actor, explaining that at one point in his career, Newsweek called him a "show killer," and his wife thought he was gay when they first started dating; three feisty sisters in their 80's (The Golden Sisters) talking about sex in a way that had me falling off my chair; and a woman with no arms and no legs who is more inspirational and living a bigger life than most people I know. Those are a few.
LC: If you could have any guest on the show, who would it be and why?
JP: Oh, that list is long and varied. I love conversation of any kind. There are lots of stories out there waiting to be told!
LC: How much runway does a new daytime talk show have to find its audience?
JP: Fortunately, we haven't been told what certain rating number we need to hit in order to stay on the air, so we are simply showing up each day and trying to put on the best show we can! I'm very earnest in my attempt to communicate with the audience in a fun, playful way that makes an hour worth spending with us.
The Jeff Probst Show airs daily in syndication. Check local listings.
Images source: The Jeff Probst Showhttp://www.jeffprobst.com/. Used with permission.