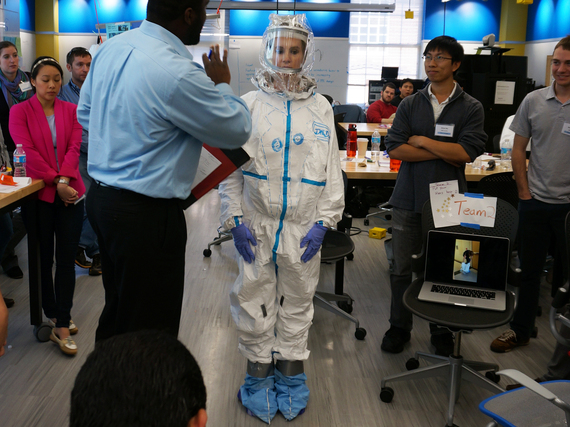 A team models and explains their innovations to the personal protective suit during the Jhpiego and JHU Center for Bioengineering Innovation & Design (CBID) hosted Emergency Ebola Design Challenge. Photo by Youseph Yazdi
The unrelenting Ebola virus outbreak in West Africa has taught the world many harsh lessons in emergency preparedness, health system inequality and health worker safety. Lessons that we all must learn from and apply moving forward in the fight against this deadly epidemic that has claimed over 4,900 lives, including over 240 health providers.

One key lesson we've learned is that health workers on the front lines of the crisis--nurses, midwives, doctors, community health workers--need to have the support, proper training and equipment to do their jobs safely and with confidence. This not only helps recruit critically needed health workers to join the fight, but it also benefits the patients they serve, both those with Ebola and the many expectant mothers, newborns and children who are unable to access needed services because health facilities are understaffed or shut down because health care providers fear for their safety. In Liberia and Guinea, Jhpiego is supporting the ministries of health in their efforts to address the Ebola crisis as well as resume these critical maternal and child health services by updating and reinforcing infection prevention and control skills for health care providers and support staff, upholding proven standards of care in facilities and implementing quality assurance policies. By taking these steps, we are making it possible for health professionals to deliver services confidently, effectively and safely. Through this crisis, we are committed to helping health systems build back better.
One area that deserves our immediate attention is personal protective equipment (PPE). It has become abundantly clear that we are sending our valued and talented health workforce to fight Ebola with equipment that can be improved. The brave nurses and doctors who contracted Ebola in West Africa and the U.S. are incredibly smart and capable, yet the gear they depend on to protect themselves is very complex, requiring multiple steps to put on and remove safely, which creates opportunity for human error. Extreme heat generated while wearing PPE, especially in the West African tropics, limits the amount of time health workers can wear PPE to approximately 60 minutes. This forces them to repeatedly put on and remove their gear, each time causing them discomfort and stress, as well as putting them at risk for deadly exposure. Simply put, we must do better.
Responding to the call from the U.S. Agency for International Development (USAID) for innovative solutions and harnessing the brain power and expertise of the Johns Hopkins University community, Jhpiego and the JHU Center for Bioengineering Innovation & Design (CBID) recently hosted the Emergency Ebola Design Challenge. While some global health problems require the gathering of like minds, extremely complex ones like Ebola often need people of unlike minds to come together. The design challenge did just that--bringing together 90 participants, including employees from Jhpiego, Johns Hopkins medical institutions, the Applied Physics Laboratory, schools of public health and engineering and the Maryland Institute College of Art, as well as a seamstress, midwife, architect and robotics expert, to develop new and better protective gear for health workers fighting Ebola.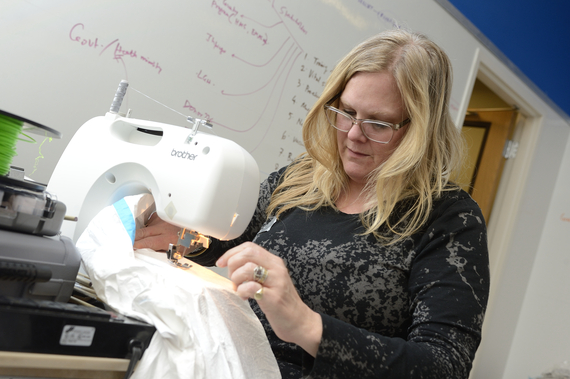 Baltimore bridal dress designer Jill Andrews works on a solution for 'doffing' a suit--reducing contamination when a health worker removes protective gear. Photo by JHU/Will Kirk
Organized and executed in under 10 days, the event focused on developing innovative solutions that can be manufactured and delivered to the field in a matter of months, not years. The weekend challenge produced extremely promising and innovative concepts around more rapid and safe removal of PPE, cooling of PPE to allow users to keep them on longer, and low-cost and easy-to-use protective gear for those caring for Ebola patients at home.
With seed money provided by the BioMaryland Center to create prototypes and mock-ups, the ideas will be reviewed by experts to further refine and improve the designs. The goal is to develop these solutions to a point where a commercial partner can help manufacture, sell and distribute the new gear quickly and put it into the hands of health workers who deserve the best equipment possible.
If ever there was a public health crisis that merits the finest science, medicine and innovation the world has to offer, it is this one. We know how to stop this epidemic, but it will take speed, innovative ideas and a unified approach to make that goal a reality. We must double our efforts to get a range of innovations and interventions--including better protective equipment and updated infection prevention training packages for health care providers and support staff--on the ground and into practice today. The lives of the health care workers in harm's way and the vulnerable patients they care for depend on it.