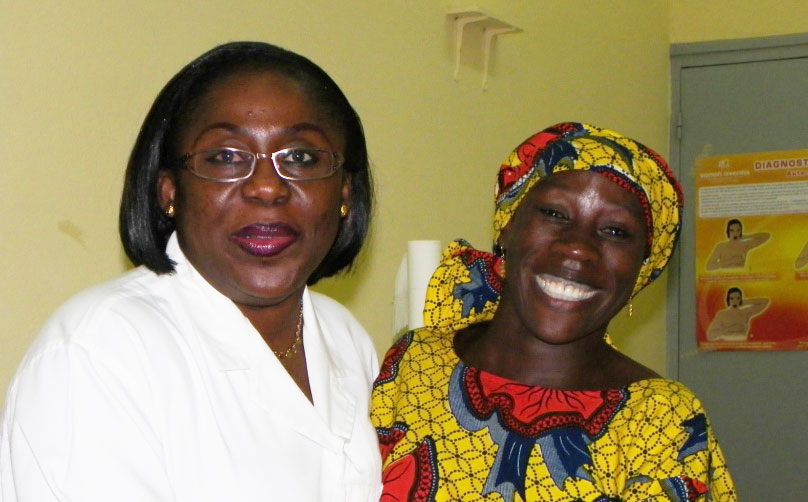 Dr. Zahui Annick Ori, an OBGYN from Cote D'Ivoire, with her patient, Mariam Cissé, who was treated successfully for a precancerous lesion
Sunita. Anita Devi. Mariam Cisse. Three mothers living in very different parts of the world, but all recognize that the well-being of their families is dependent on their health. For 40 years, Jhpiego has been working around the globe to ensure that mothers, just like these three, have access to quality health care services so they can remain healthy and strong, and their families can thrive.
Sunita, Anita and Mariam have each benefited from global health programs supported by Jhpiego in partnership with their governments, health facilities and community leaders. Our staff of experts in maternal and child health, family planning, cervical cancer prevention, HIV/AIDS, tuberculosis and malaria are helping 50 countries on three continents develop the capacity to create a well-prepared network of health care professionals and a strong health care system that they can build upon.
Sunita, a mother of three from Nepal, participated in a Jhpiego-supported project that provides free calcium supplements to pregnant women to prevent pre-eclampsia, a blood pressure disorder that can be harmful to the mother and her unborn child and that can lead to eclampsia, the leading cause of maternal deaths in Nepal. This project represents a determined and innovative effort by the Government of Nepal to reduce maternal deaths from eclampsia.
Anita Devi, of India, received family planning counseling following the birth of her fifth child. In the past, her in-laws had objected to any attempt to safely plan her next pregnancy, despite the health consequences for Anita and her children. But with this birth, a Jhpiego-trained midwife discussed the benefits of healthy birth spacing with Anita's family and persuaded them to support Anita's choice of a long-acting, reversible family planning method. Our work in India is producing great results as part of the government's strategy to save women's lives by significantly reducing the unmet need for family planning.
Mariam Cisse, a mother of three in Côte d'Ivoire, has benefited from our efforts to build the capacity of health care providers to screen and treat women for cervical cancer, a preventable yet silent killer of more than 270,000 women each year worldwide. Using the low-cost, Jhpiego-pioneered single visit approach, which consists of screening and treatment in a single visit, Côte d'Ivoire has established a cervical cancer prevention program that has screened and treated more than 7,000 women, including Mariam Cisse, who says, "I am living proof of the success of this approach."
On International Women's Day, Jhpiego salutes women, many of whom struggle every day to keep themselves and their families alive and healthy without the guarantees of nutritious food, good health, basic education or a safe home. On this day dedicated to women, we recognize their courage, strength and resilience. We reaffirm our commitment to work on behalf of women by preparing frontline health care providers to address complications at birth, innovating to save lives, and helping countries provide quality health care for all.