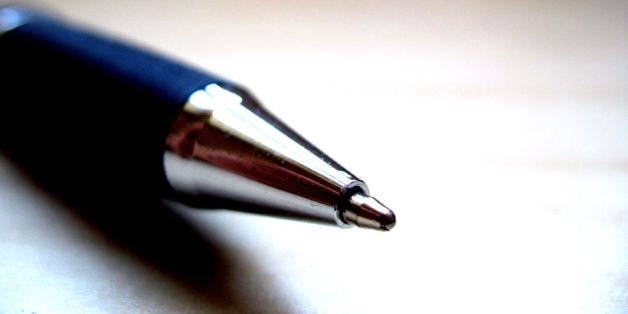 Goodbye to All That
The streets are busy, yet they feel empty. Life continues, but as a hollow version of itself I cannot recognize. New York -- that living, breathing monolith clawing at an indifferent sky -- has ceased to exist to me. Like the warmth of a first kiss, it has faded from my memory. Now, like unrequited love, this city is a thought I once had, never to be finished. New York, my love, you have done what dozens of men in the fleeting midnight hour could not: You have broken my heart.
This year has made me question a number of things, my love of New York among them. There was a time I thought that love would be forever unwavering. That, along with my love of writing. Love is funny that way, though. It burns and it burns, white-hot, blindingly hot, until it burns itself out. And I'm all burnt out on New York, on writing, on it all.
A Hard Quill to Swallow
I've been self-consciously referring to myself as a writer these past few years as a way to defend against and explain away whatever quirks, eccentricities and general crazy manages to squirrel its way into my life. Oh, it's OK, I'm not an alcoholic; I'm just a writer. No, I don't need therapy; writing is my therapy. My astrological sign and my profession were my reasons, were reason enough. I'm crazy because I'm a writer because I'm a Scorpio. They were the ingredients in the recipe of my very nature.
Last December I was evicted from my apartment only to be fired two weeks later from my job as an editor of an LGBT pop-culture website. Because life has a way of kicking you while you're down. Kicking you, then stealing your wallet and leaving you for dead. Still, I managed to sidestep moving into a crowded subway car, and, while crashing at a friend's, I started freelancing full-time. At one point I was freelancing for five different outlets, including the one that had fired me. Though I'd sworn I would never work for them again, I was busy and successful enough that I didn't care and counted them as just another check. Still, I felt validated being courted by the one who had previously scorned me. An ex-lover realizing what he'd had now that it was gone.
The operative word in freelancing is "free." There's so much freedom in it! I am free from an office or regular hours; coffee shops and bars and the gym are my office, from 9 to 5 or from whenever to whenever. My need for freedom -- freedom at all costs -- is met, but other needs have fallen by the wayside. "Free" is the operative word. As in what you end up working for sometimes. Often I wasn't paid on time, if I was paid at all. Freedom, at all costs. Of course, if I wanted to make tons of money, I wouldn't have become a blogger. If anything, I wanted to make a name for myself while making money doing what I loved. Blogging was never my destination, only the road by which I would get there. It never occurred to me the road could be a dead end.
There's something wonderful inside me. I often speak of it in hushed, reverential tones. It is a gift. A reflection of love, if not love itself. I lost the opportunity to truly nurture it when my college career, for financial reasons, came to an end. I had to drop out of NYU, thus depriving myself of the opportunity, the time, the guidance, and the freedom to nurture that comes with a liberal-arts education. But I understood from an early age that this something wonderful was a gift, greater than myself, that even if I didn't understand it, I could at least protect and nurture it to the best of my ability. This gift was my love -- my maddening, all-consuming love -- manifested in the words I couldn't bring myself to speak, that the world couldn't be bothered to hear.
My reticence to and of the world was made tolerable, even poetic, by this inner reflection of love, so that writing became as natural and as vital as breathing -- if not nearly as easy. But who gets paid to breathe? On the one hand, I feel incredibly lucky to have found even a modicum of success with this gift, but it's not something wonderful. I've yet to live up to my love, this maddening, all-consuming love that drives me mad and consumes me so. Love, unfulfilled, calcifies and turns to hate, so that every day I have to resist the urge to light a match and burn all the bridges that got me here.
Breathe.
Every day that I open my mailbox to a check that doesn't come is a reminder that I'm literally working for nothing. Breathe. Every day that I have my words taken away from me or my work bastardized is a reminder of the ego inflated to make room for this maddening, all-consuming love. Breathe. Every day that I neglect my own projects is a reminder of the potential I have yet to reach, the potential I fear I'll never reach. Breathe. Every day part of the something wonderful inside me dies, and with it my love for writing turns inward, shrinking in on itself. Perhaps, then, it's foolish to love anything that cannot reciprocate -- whether it's a person, a city, an ability or an idea.
Breathe.
I am crazy, I am a writer, I am a Scorpio. My very nature. But nature can change. I don't drink as much as I used to. I'm in therapy. Writing is no longer my explanation, yet it remains my reason and reason enough. That will not change. The change will be in how and why I choose to write, if I choose to write for any other reason than my own: love.
To be continued...