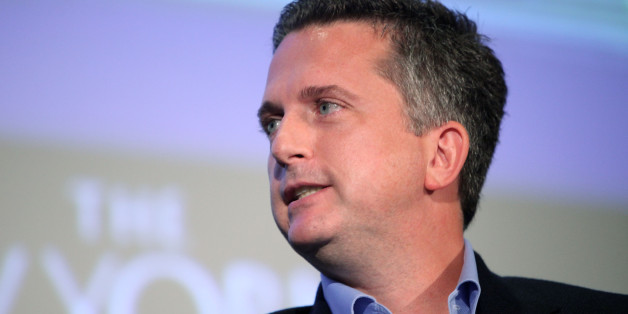 Is truth about domestic violence and those who enable it more important than a company's corporate partnerships? I think so.
That's why I'm concerned about ESPN's suspension of columnist and Grantland editor-in-chief Bill Simmons for three weeks for a rant on his B.S. Report podcast in which Mr. Simmons called out NFL Commissioner Roger Goodell for lying about the Ray Rice scandal.
Mr. Simmons was, of course, alluding to Mr. Goodell's insistence that he and the rest of the NFL's corporate office was unaware that Ray Rice had brutally punched and knocked out his then-fiancé, Janay Palmer.
Telling the truth about domestic violence -- and those who shield it -- should not be punished.

The length of ESPN's suspension of Mr. Simmons is concerning and the message it sends is wrong.
Several months ago Stephen A. Smith, also an employee of ESPN, suggested in response to the Ray Rice incident that women need to take more responsibility for their role in bringing domestic violence upon themselves. For this truly repulsive and harmful statement, ESPN suspended Mr. Smith for just one week.
The three-week suspension of Mr. Simmons is also strangely symbolic under the circumstances because it is longer than the NFL's initial punishment of Ray Rice.
One likely reason is because ESPN is trying to preserve its own relationship with Mr. Goodell and the NFL. ESPN and the NFL have a multi-billion dollar agreement for the right to broadcast the NFL's Monday Night Football. But protecting Mr. Goodell in this circumstance puts ESPN squarely on the wrong side of combating domestic violence.
Mr. Goodell has, by his own admission, completely botched his handling of the Ray Rice incident, initially only suspending the player for two weeks. More significantly, Mr. Goodell faces an ongoing crisis concerning when he and the NFL brass saw or learned of the incident.
Regardless of the truth, there is more to this issue than what Mr. Goodell knew and when he knew it.
For generations America and its institutions have refused to acknowledge the true severity of the harm that domestic violence imposes on our society. By initially punishing Mr. Rice for a mere two weeks, Mr. Goodell was either helping to perpetuate, or willfully blind of, the harm caused by domestic violence. And despite acknowledging that he "got it wrong," Mr. Goodell's response demonstrates that he doesn't view domestic violence as a problem to him or the NFL unless it directly impacts his bottom line.

ESPN's suspension of Mr. Simmons illustrates their concern about protecting Roger Goodell and preserving their relationship with the NFL; their commitment to preserving corporate alliances over protecting victims.
Someone as powerful as Roger Goodell hardly requires ESPN's protection. He is the commissioner of the world's wealthiest sports league and last year earned upwards of $40 million.
He has lawyers, advisers and employees to protect him and, perhaps, take the fall for his failure to properly respond.
Why does the New York City Public Advocate care about the actions of a sports entertainment company?
Simply put, by suspending Mr. Simmons, ESPN has demonstrated that, like the NFL, it too places a higher priority on profits than on sending a proper message about domestic violence and in essence condones the shielding of domestic violence perpetrators. That's a message that cannot be allowed to go unchallenged.