The Bearded Ladies cabaret has an carved out an avid theater following in Philadelphia in just a couple of years. The nine-member troupe explores the many traditions and forms the art of cabaret can take, even for the opera stage. Artistic director John Jarboe is collaborating with Opera Philadelphia on ANDY: A Popera about the world of Andy Warhol to premiere in March 2015, meantime the troupe is presenting cabaret versions at the Wilma Theater this month.
David Devan, director of Opera Philadelphia has been nurturing bolder programming along with standard classical repertoire and the upcoming season includes new operas about gay icon Oscar Wilde and jazz great Charlie Parker.
Jarboe talked about the development of ANDY at rehearsals earlier this month. "David is a visionary. He is will to take risks." Jarboe observes. "Because the cabaret the Beards do is music driven and has its own kind of virtuosity, we thought there was a strong connection," Still, opera and cabaret are very different animals.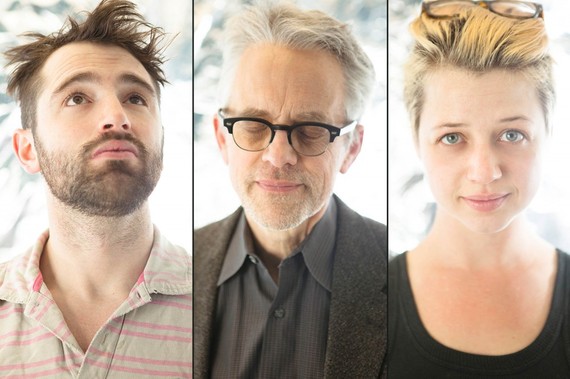 Beard Ladies director John Jarboe, musical director Heath Allen and performer Kristen Bailey who portrays Warhol superstar Edie Sedgwick
(Photos courtesy of The Bearded Ladies)
Jarboe explains a big difference in cabaret from creating opera:
We prioritize the performer-audience relationship over anything else. Something that the opera world might have difficulty with. We are deliberately making ANDY in stages, so we can use the energy that happens between the performance and audience to learn. It doesn't mean that we will change things because of audience feedback, but it is more about the heat of the encounter. We can feel what works and what does not.
In ANDY, they have "appropriated Velvet Underground and famous arias, yes there are soup cans singing opera," Jarboe said. The Beards have been working with four singers from Opera Philadelphia who are contributing ideas as well. Heath Allen, the troupe's musical director, has written an entire cabaret score for ANDY, which will be married to opera music and vocal passages in the next several months.
The eight member troupe will portray characters from Warhol's Factory including Ultra Violet, Marilyn, Edie Sedgwick, Candy Darling and Valerie Solanas, Warhol's would-be assassin. Even though they are treating ANDY at the Wilma as a finished version, there will be adjustments and refinement for the full production, because eventually there will be 16 more singers in a much larger space for the Opera Philadelphia premiere.

The troupe is known for their satirical scripts, but mostly for their parodies in such shows as Beards are For Shaving, plays with the James Bond personas and gender roles and in Marlene and the Machine, there were multiple incarnations of the legendary Dietrich. Jarboe is famous also for his transcendent incarnation of Edith Piaf. His Piaf was cheered by 5,000 spectators in front of a guillotine at the Bastille Day celebration day last week, in a re-enactment of the French Revolution in front of the battlements of Eastern State Penitentiary.
Earlier this summer Jarboe went on a cabaret tour in Europe to investigate "the social-political aspects of our work. I was in Paris and Berlin on an independence Foundation Grant to study contemporary cabaret, practice and compare it to those two origin cities, because that's where it all started."
"I was happy to get back and have something like ANDY is a piece that we have a dancer, an electric guitarist, opera singers and the Beards working with all of these different genres creating a piece." Jarboe sees Warhol as a cabaret artist "of the visual world. He made us look at culture and art differently. "My ex-boyfriend was obsessed with him. He had his diaries, which I read and then of course I went to the Warhol Museum and became immersed." Jarboe is directing and co-writing the script for the opera is still determining how Warhol himself will be appear in the piece. "Part of the whole journey is trying to find Andy too," Jarboe intimates.
The Bearded Ladies Cabaret 'Andy: A Popera Stage 2 at the Wilma Theater, Broad and Spruce Sts. Philadelphia July 16-27, check www.beardedladiescabaret.com