Christopher Isherwood
Liberation: Diaries, 1970-1983
Edited by Katherine Bucknell
HarperCollins Publisher
Hardcover, 859 pg. $39.99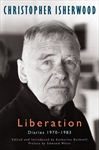 Christopher Isherwood left England for America in 1939, with his chum Wystan H. Auden -- both as vilified expatriates for not staying and fighting the Germans. Auden decamped in New York and Isherwood headed for the West Coast to become a screenwriter and pursue a monastic Hindu life alongside a glamorous Hollywood arrangement with his soulmate Don Bachardy, 30 years his junior. Isherwood was full of self-realized contradictions and public poses -- motives all to be self-examined in his journals, which he officially started in 1939.
Katherine Bucknell, Isherwood scholar and executor of his private papers, has just edited the final volume of Liberation with entries from 1970 through 1983, the year he stopped writing -- three years before his death in 1986.
This book picks up from Bucknell's previous volume The Sixties when an aging Isherwood was on and off with Bachardy. By the '70s, they were an old married Hollywood couple with Isherwood a randy 65 years old, and Don, the much younger lover, overcoming insecurities and starting to emerge as an artist in his own right. Isherwood was liberated from the past, even as he re-examined it pursuing liberation as a gay Hindu disciple, openly in love with Don and not caring a wit about his literary persona as he organized the final years of his life.
Early on in Liberation Isherwood writes "I have kept this diary doggedly, day by day, because I believe a continuous record, no matter how full of trivialities, will always gradually reveal something of the subconscious mind behind it." He adds, "There are always a few nuggets of literary value under all that sand."
Actually, Isherwood as the seasoned and meticulous creative writer kicks in on many levels to avoid any literary 'sand.' Even as the most casual writer, as Gore Vidal suggests, Isherwood always intended the diaries would be published.
In 1970, Isherwood is trying to get a new play off the ground in England, hanging out with luminaries in Hollywood and London including Tennessee and Truman (of course), John Schlesinger, Deborah Kerr, John Gielgud, Somerset Maugham, E.M.Forster, Vanessa Redgrave, Lance Loud and Mick Jagger --among many other luminaries. Equal attention is paid to non-celebrities including his dormant and often drunken brother Richard.
Later, Isherwood is back in England, to be on hand for the premiere of a new play to be directed by Tony Richardson. He is reluctantly thrust into the world of British theater and cinema, but typical to Isherwood, not enjoying it and feeling adrift away from the California coastline, his Swami and life at Vedanta, but mostly from Don, who had to remain in the States to work on an upcoming art exhibition.
Bucknell assesses that "He used his diaries as raw material for his novels... but also as a place to evaluate his life and decide whether to change his course. As a follower of Ramakrishna, he meditated almost every day for nearly 50 years, training himself to withdraw from his ego and study it from the outside." Some of the most moving entries belong to his final, elegiac meditations on his relationship with Auden.
Author Edmund White writes that Isherwood was willfully aware of his foibles, and only slightly self-effacing when he was anti-Semitic, misogynous, possessive, hypochondria prone, body obsessed, given to familial loathing and unapologetic bitchery. There is evidence in these pages that even internalized homophobia could be added to the list, but that remains a question since Isherwood was, demonstrably, 'post-gay' before the concept was even a crack in Stonewall PC.
For Isherwood readers and certainly anyone interested in 20th century gay lit, these volumes have renewed merit. Bucknell expertly positions Isherwood's private papers and private life vis-à-vis his place as a gay literary giant and restores his diaries as unique literary archives.
By the time Isherwood came to America he was already famous for several books, the most famous being Goodbye to Berlin, which turned into various campy theatrical vehicles and made him a prisoner of his own success. Isherwood enjoyed the financial benefits, much discussed in Liberation, but had to free himself from its shadow.
He went to Berlin "for boys" is how he later put it as he further explains the city in Liberation as a sexual homeland. Even after he got out of Berlin with the rise of the Nazis, he returned to try to facilitate, unsuccessfully, his lover Heinz's safe passage to England. With the publication of A Single Man in the '60s and in the '70s his Christopher and His Kind [he became] a gay cause-celeb as he explicitly writes about the gay life. Some self-censorship lead to a diary gap, eventually released as The Lost Years which chronicles his most sexually active period.
As Liberation explores, Isherwood was at the forefront of pre-eminent out authors and his diary recounts how moved he was when Christopher and His Kind was released and fans lined up around the block at a book signing at the Oscar Wilde bookstore in New York.
For gay readers this is not only essential literature from a closeted time, but part of an unbroken chronicle of the gay subcultures in England, Europe and the U.S. As Isherwood grows older and his health falters, Don's devotion is doubly poignant. After the author stopped writing, Bachardy documented his life with a series of unflinching drawings of the ill Isherwood. It was his last wish that Bachardy even draw him, at his request, post-mortem. Those drawings are as unflinching as the writer's pen in his diaries. Ultimately Liberation is a real-time gallery of men in love at a time when the world was nowhere near catching up with them.