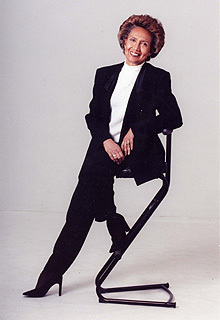 Joan Myers Brown (photo courtesy of Philadanco)
Joan Myers Brown is a Philadelphia legend as founder and artistic director of Philadanco and establishing her school of dance, just for starters. Brown is also founder of the International Association of Blacks in Dance (IABD), a performance forum and broad-based cultural exchange.
Last year, Brown even received a National Medal for the Arts Award at the White House from President Obama, which she said she was honored to receive, but at the time was more concerned with the fiscal shape of her company. But, even at age 82, getting ready for her company's 45th season, there is no time for a victory lap.

"If I don't get the company back on its feet, financially, I'm going to have start from scratch," Brown said at Philadanco's home studio in West Philly last week. For years she has been one of the few companies to contract her dancers with year-round salaries and recently she was forced to put them on a two-month furlough. Brown spoke a week before her company performs the third annual Founder's Day Concert at the Dell Music Center in Fairmount Park. It is a celebration of Philly dance, but it is also for quick revenue.
Philadanco is anything but a static dance company, Brown nurtures new choreographers and new artistic collaborations with other city arts institutions like the Philadelphia Orchestra. 'Danco typically tours 40 plus weeks a year. Last season they premiered James Brown: Get On the Good Foot set to which opened at Apollo Theater in November to hostile reviews, but sellout audiences, in New York as well as LA and Florida.
Back home in Philly this spring they performed Blood, Sweat and Dance to fuller houses mid-season. But it is never enough in ticket sales to pay all the bills. Like many other arts organizations, dance companies have to secure grants and corporate funding to remain solvent.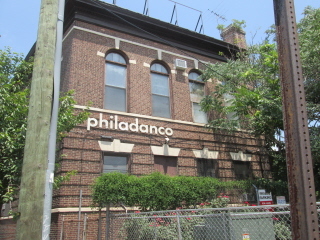 Danco Studios in West Philly (ph: LW)
Brown's started her school in 1960 and and company a decade later for black dancers at the time hoping to nullify entrenched racism in ballet, modern and theatrical dance. Last month at a talk with fans at the Barnes Museum in Philadelphia, Brown talked about the industry impact starting 55 years ago.
"Those dancers stayed with me and then moved on the Ailey company, the Dance Theater of Harlem, here we are 45 years later, my dancers are still moving on to top jobs out of Philadanco. I always told them if you are going to leave 'Danco move to something better," -- and by that she means, for their specific career goals.
"... when people compare me to Ailey, I say why don't you compare me to Paul Taylor, or Hubbard St. too? It's because we're predominantly African American, but I can't talk about prejudice if I have an all-black company." Brown said that dancers from many ethnic backgrounds audition to be in her company. "I have a company that represents our culture, our city and I think that's healthy."
'Danco is scheduled for another International tour in January, "We have a European tour- Germany, Switzerland, Luxembourg, Hungary, so I have to exist from now to then. We went to Chile last year. One of my former dancers, choreographer Christopher Huggins is going back to teach, choreograph, and we built that relationship, we do that kind of thing all the time," Brown assures.

Philadanco has been awarded many arts grants over the years, but in the last decade, dance grants are disappearing or becoming more bureaucratically arbitrary and difficult to negotiate. Brown echoes the frustration of a lot of artistic directors who have proven track records, yet still have to prove themselves worthy. "Being dictating to, what you can and can't do, so you are not allowed to do your art. I get grants, but there are strings attached," rather than lamenting, Brown is even more resolute. "After 45 years, what do I have to prove," Brown asks, half jokingly.
Meanwhile, Brown also continues to build new audiences with the Founder's Day Program, it is a celebration of multicultural with most of the concert tickets are priced at $10. Brown is looking to recoup the entire cost of booking the Dell from the city with sales and anything above to underwrite her upcoming season.
Philadanco will perform three signature works including Suite Otis set to the music of Otis Redding, and the electrifying Bam choreographed by Donald Byrd. Also on the program -- performances by Danco's apprentice and student troupes and guest companies The Pure Project, Fuego Dance Theater, Just Sole Street Dance Theater and Iquail & Company.
"I get a lot of money from New York, but what about backers in Philadelphia," Brown asks. Funded or not, Brown finds a way. Her unwavering vision and dedication to her dancers, her students, her city and the state-of-dancearts continues without pause. How priceless is that?
'Danco at the Dell - JULY 18, 2014 DELL MUSIC CENTER 2400 Strawberry Mansion Drive, Philadelphia, PA (215) 685-9566 | or check www.philadanco.org