~Verizon Hall, Philadelphia
Wolfgang Sawallisch Memorial Concerts
May 25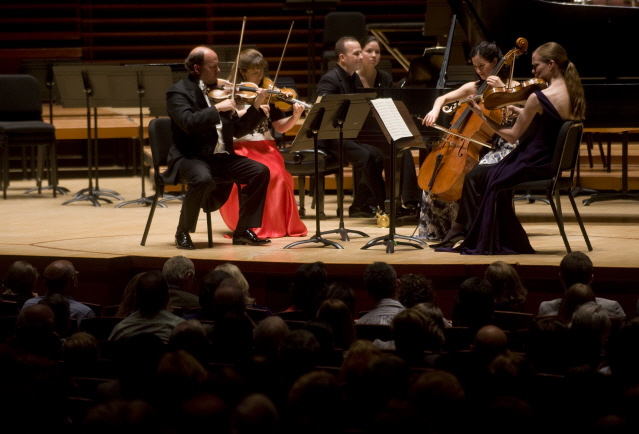 Conductor Yannick Nézet-Séguin at the piano in an impromptu Brahms jam session with members of the Philadelphia Orchestra (photo:Robert Williams)
The Philadelphia Orchestra returns to China on their eighth tour at the end of their concert season in Philly. The ambitious itinerary, with stops in Hangzhou, Shanghai, Tianjin, Beijing and Macao includes coaching sessions with music students in the People's Republic and several co-performances with China's own symphony orchestras. The Philadelphians will also conduct "pop-up" concerts in public spaces, continuing as cultural ambassadors, which began in 1973 at the request of then U.S. President Richard Nixon. Guest conductor Donald Runnicles will be leading the orchestra during the tour, not Yannick Nézet-Séguin, just finishing his inaugural season.
Meanwhile, Nézet-Séguin was completely energized for the season closer in Verizon Hall last week with guest soloist Gil Shaham, in a vibrant program to honor the distinguished musical legacy of Philadelphia Orchestra Conductor Laureate Wolfgang Sawallisch, who died earlier this year.
Nezet-Seguin and concertmaster David Kim honored Maestro Sawallisch's legacy with a concert of works that Maestro Sawallisch admired, starting with the Schumann Adagio expressive from Symphony No. 2. The sonority of the strings, luminous under Sawallisch, was as dimensional as ever. A perfect prologue to the first stunner of the night Leos Janacek's Sinfonietta, with that iridescent horn and percussion fanfares that just punched through another dimension. The five-movement work has so much sonic power and fine line delicacy. The orchestral thrust, so savage at point, but never overdone, never vamped. The woodwinds' wending steeled lines through Eastern European folkloric orchestral streams.
Then Shaham took the stage for the Brahms Violin Concert with a string entrance, so supple and steeled with the orchestra. Shaham energy is completely engaged with the musicians and Nezet-Seguin. He dances around lunging toward the podium, very inside the musical moment. Shaham's joyous deportment with the players shows he is not in his own soloist's zone. But what a welcome zone. His bowing and interpretive technique masterful, his contours of Brahms's musical drama. His duet section Kim, with a contrast in simpatico tone and reflexive phrasing. Shaham's solo section is unfussy virtuosity, completely expressive of the joy in him playing this music.
Seguin keeps his foot on Anton Dvorak's Slavonic Dances, with its propulsive drive galloping, but wrapping the Allegretto middle movement into a sensual orchestral as intimate as gypsy salon. It was a glittering finale, then, there was to be a very generous surprise. The orchestra has been arranging spontaneous chamber concerts this year and Seguin announced that he would join four players at a classical jam session after concert. Nézet-Séguin at the piano for Johannes Brahms's F minor Piano Quintet. Almost the full house stayed for 45 more minutes for this captivating performance. Seguin gave a disclaimer that he was not up to the performance level of the string ensemble, but on balance, he held his own among the muscled performance level of the strings by Paul Roby and Dara Morales (violins); Kerri Ryan (viola) and Yumi Kendall (cello).