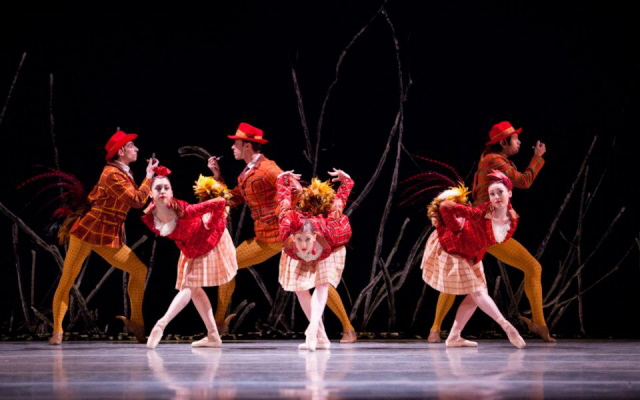 Pennsylvania Ballet Academy of Music
Photo: Alexander Iziliaev
It was family dance event time at last week's Saturday matinee performance of The Carnival of the Animals with adults and children filling the Academy of Music. What was so interesting is that the youngest audience members were patient enough to wait for two Balanchine ballets to get to those dancing animals of Christopher Wheeldon's fantasy choreography, if not tv star John Lithgow.
The program opened with Ballo Della Regina with corps dancer Lillian Di Piazza stepping in for Brooke Moore at the last minute in the lead. Even though she and partner Jong Suk Park repeated made corrections on their central pas de deux turns, they both danced with flair and skill. Di Piazza has a supple and razor-sharp arabesque, for one and Park's brisse reaching amplitude and precision. Ballo is also a showcase for the corps de ballet, and at this performance they looked a bit scrambled in the front scenes, but by the third pass got themselves together. Meanwhile in the solo sections Evelyn Kocak, Abigail Metzner, Rachel Maher and Gabriella Yudenich dug in with interpretive technical polish.
The Four Temperaments is the Balanchine masterpiece that can look particularly brittle if it is over-thought and performed as a choreographic Olympus, which was not the case in this performance, the PB dancers attacking it with immediacy and technical muscle. Elizabeth Mateer and apprentice Harrison Monoco danced the short lead duet with distinction, setting the pace and atmosphere. Andrew Daly didn't pull back from a full-throttle Melancholic, those backward danseur collapses building its existential drama, meanwhile he was superbly lithe executing those hyper extented backbends. Gabriella Yudenich is so steeled and supple as Choleric, especially thrilling with her jete work that bolts and suspends in the air. Lauren Fadeley and Francis Veyette who are still newlyweds, got to partner onstage for Sanguinic, are in fact fine unfussy partners, with sublime chemistry. The corps keeping those moderne ballerina geometrics as a crystallized flowing stream of Balanchine alchemy. Of course, pianist Martha Konenmen was completely inside the driving Paul Hindemith score with in tandem with fine orchestral pacing by ballet orchestra.

Wheedlon's Carnival of the Animals, first danced by PA Ballet five years ago, hasn't lost any charm. As I noted then, Wheeldon's sense of character and comedic dance may be basic and predictable, but always fast and fun. Lithgow plays the night watchman at a natural science museum and escorts Oliver, an overnight runaway in the museum after hours, and narrates the exhibits in verse for each dance-y exhibit. Jonathan Block is a stage natural as Oliver. Lithgow, the golden voice narrator appears in hilarious grande dame Elephant drag with Liberace chorus boys to lift her.
Veyette plays the lion professor ready for grand pirouettes at any moment and the luminous Amy Aldridge doubles as the kangaroo librarian and, a second later, the screen siren mermaid. Jermel Johnson plays the baboon piano teacher, swinging his hammer arms like a metronome and otherwise correcting Oliver's lessons. Just as much fun are the corps de ballet bits with rats and weasels, "Fossil" ballerinas, cheerleader birds and, in the center ring, those comely poses of the jackass wrestlers.
For the finale, that harp/celesta lullaby used by all of the fantasy movies in the past 20 years, was in fact composed by Camille Saint-Saens and sounds even more magical live in the Academy of Music. It leads into the denouement that has Julie Diana as the aged prima ballerina famed for her Odette/Odile. She reprises her star turn as The Dying Swan (this being a Saint-Saens score) from the viewpoint of aged ballerina, which reflects off the Fokine's fluttering arms, now held close to the body, but still expressive.