Philly jazz festival sizzles at Clef Club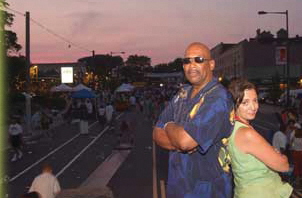 Festival impresarios Warren Oree & Graziella D'Amelio (ph: LifeLine Music)
Philly music impresarios Warren Oree and Graziella D'Amelio previously created festivals, notably West Oak Lane Jazz Festival bringing together Philly's sometimes ignored, but no less vibrant jazz and poetry scene. West Oak folded in 2011, but now they have teamed up again bringing everyone together in downtown Philly with the first annual Philadelphia United Jazz Festival and Celebration. They just wrapped up a week of events included jazz concerts on the streets of Philadelphia, in museums and at high-profile business locales.
The new festival culminated in two days of non-stop performances with an impressive line-up at the Clef Club which included among others -- Joanna Gardner, Taeko Quartet, Trio Interplay, Julian Pressley Quartet, Abdur Rashid, Carl Grubbs Quartet, Lisa Chavous, Odeon Pope -- perhaps most inspiring, The Clef Club Youth Band. One of the most unique aspects of the festival is that the musicians from different bands are collaborating onstage for jam session.
The Clef Club had a distinct festival atmosphere with audiences filing in and out for the nonstop celebration of the city's jazz heritage. Between sets, Oree talked about the mission of the festival was to bring musicians and audiences together.
Oree said:
For eight years we produced the West Oak Lane festival but that still wasn't a pure jazz festival. And this definitely is. There is resurgence now in Philly, of appreciation of jazz again. Look at the other festivals starting up around town. I don't look at it as competition, the more the merrier and it's all collaborative.

Philly's jazz heritage is legendary and still being written even without the vibrant club scene that once dominated around town, in the schools, concert jazz venues and the few remaining clubs like Chris' Jazz Café and the Clef Club that have the feel of the good old days for future generations..
Among the many festival's inestimable performance highlights-
The jazz funk of the Sun Ra Arkestra headed by the agelessly legendary sax of Marshall Allen. The band dressed in sequined ancient Nile garb that fit their intergalactic set from "Walking on the Moon" to "There Will Never be Another You."
Bobby Zankel and The Warriors' expansive session of Zankel's composition "Trickster." Zankel's architecture just kept evolving in an era bending jam session. The sax line commanding with sonic progressions and violinist Diane Monroe's string line wending like a time lapse of tree branches. They paid tribute to John Coltrane with a thoughtful and progressively meaty version of "A Love Supreme."
The Warriors were followed by the uniformed (in every way) Jazz Ambassador's U.S. Army Band. Between the potency of back-to-back big bands, you wonder how it is possible that big-band music is such a rarity. The Ambassadors, based in Washington, DC are currently under travel restrictions of 100 miles because of budget cuts, were just inside their borders in Philly. The Ambassador's can have the distinct sounds of iconic big bands of Basie to Ellington, but mix it up with great interpretations from every genre, like a muscled up-tempo arrangement of "My Funny Valentine."

Oree and Zankel were among the musician in a sterling tribute to Philadelphia's jazz icon John Coltrane with a 20-minute seismic version of Coltrane's composition "Impressions." Later Oree brought on his Arpeggio Jazz Ensemble starting with a sweltering rendition of Dexter Gordon's "Hanky Panky" with wry mise-en-scenes, including note bending and otherwise brilliant special bass string effects from Oree.
Later, Oree's composition Hill 875 dedicated to his battalion that served in Vietnam in the 60, is ambient of time and place, then intensifies in its sense shattering, concussive guitar lead. They followed it up with Oree's potently cinematic On Ridge Avenue.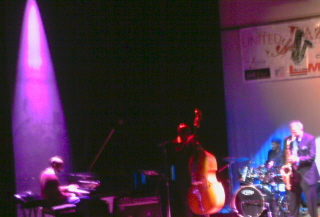 A bluesy Coltrane moment during Coltrane's "Impressions" (ph: LW)
The drum fueled "LiLi" written and played by Ju-Ju is a sonic manifesto about a US slave revolt in 1851 when black men were prohibited by law to play the drums. It builds it from slow rolling thunder to an unforgettable climax, then progresses to an equally riveting orchestral.
Jay Michael Harrison, host of the Jazz Bridge on WRTI radio, shared intro duties when Oree was onstage and weighed in on the importance of reclaiming Philly as a premier jazz town.
Harrison noted:
There are a lot of groups and artists now, who are trying to make this happen. There has been a renewed interest and commitment by everybody in the jazz communities. We're so musically diverse in Philly. Just look at this stage this afternoon, to have Bobby Zankel and the Warriors and following that with the U.S. Army Band, is priceless.