On one of the top opera recordings of the year, there isn't a tenor or soprano to be heard, it is conductor Jose Serebrier's labor of exquisite love, Verdi: Complete Ballet Music from the Operas leading the resplendent Bournemouth Symphony Orchestra in ballet scenes from 'Othello', 'Macbeth', 'Jerusalem', 'Don Carlo', 'Aida', 'Il trovatore' and 'I vespri siciliani'.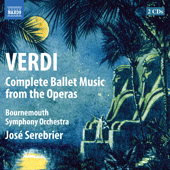 Verdi: Complete Ballet Music from the Operas
This is a collection of Verdi's deleted ballet scenes and is a defining recording of this rarefied work. In fact, Verdi himself preferred that they be cut. Verdi was contractually required to write a ballet into every third act of his operas that premiered at the Paris Opera and composed them reluctantly, often just under the production wire. He preferred they be left out of future performances. For one, he felt that ballets interrupted the dramatic flow.
Not all of the music is completely obscure -- Verdi retooled some of the selection to other operas, not necessarily as ballet scenes, or they were used over the years as stand-alone concert pieces. But some, like the four extended scenes from Jerusalem, are literally being brought back from opera oblivion by Serebrier, who searched basements of concert halls and opera houses in Europe for Verdi's original composer sheets.
Serebrier is known for orchestral balance and this quality is certainly evident with Bournemouth Symphony Orchestra on this two-disc set very well engineered by Phil Rowlands at The Lighthouse studios in the UK over a three-day period in 2011.
Among the many highlights:

For generations, Don Carlo was reduced, sans its the lengthy ballet scenes, including the Metropolitan Opera new production conducted by Yannick Nezet Seguin. The music has stately symphonic drama at the opening, which fades and a haunting violin weaves in and out of the lengthy sequence, then the very dancey mis-en-scenes appear.
So alluring is the "Danza sacra delle sacerdotesse" from Aida with what they used to call exoticism, but it is a subtle mix of folkloric musical markers that stands out now. And "Ballabile danse" is one of the most recognizable orchestral passages from the Verdi canon, and given brilliantly crystallized symphonic depth on this recording, separated out from the vocal fireworks.

Bournemouth is equally vibrant on what can be termed textbook ballet music from Il Travatore inserted for the third act at Paris Opera, but left out of most of the subsequent productions. Verdi has Rossinian pulse in the ensemble section, followed by the delicate woodwind led adagio 'Sevillana danse,' probably designed for a solo dance. Serebrier is masterful at the detailing the character of these dances.
The 'L'Inverno' opener of I vespri siciliani' seems like a galloping divertissement in a classical ballet, it recalls the esprit of the ballet'la Bayadere' and you just can envision a Ballets Russes star in the grand pirouette sequence breaking into a furious pirouette run. You wonder if Serebrier is pacing them as if there were performers, since the vespri is already so dancey.
It's hard to conjure how a ballet scene would work in Macbeth even encased as some sort of court entertainment for the murderous royals. But musically, these are some of the most interesting tracks. With ominous, even Prokofievean orchestral streams swirling.

Musically, Jerusalem strikes as the most decorously balletic, in the archaic sense of music narration driving the story of the ballet. The pas de deux and solo sections conjures so much dance under the whimsical harp and woodwinds, then the driving orchestral, you can just imagine what choreographic master Marius Petipa would have done with them or Balanchine for that matter.